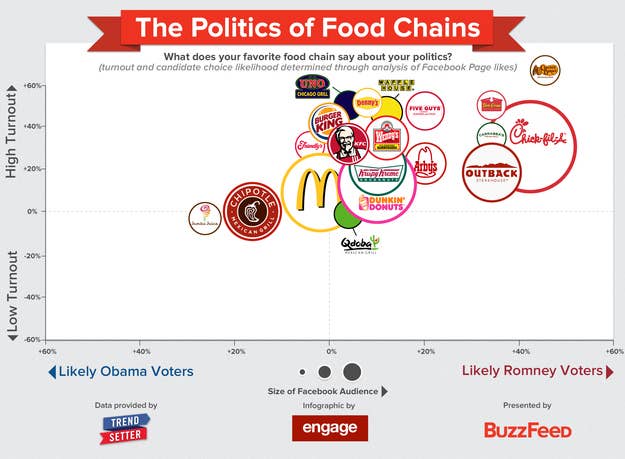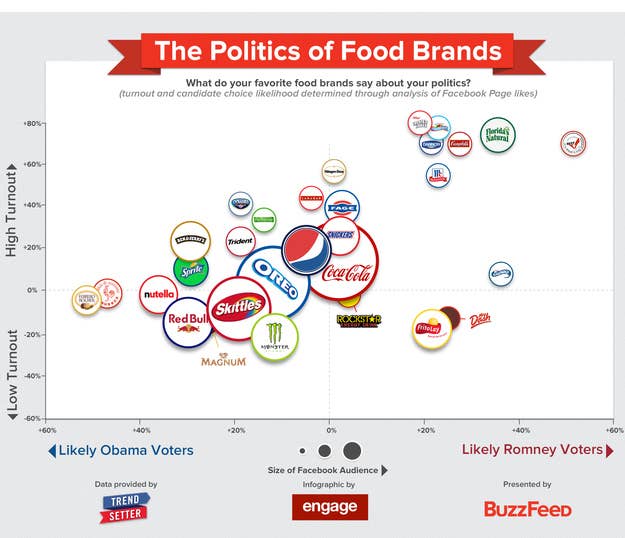 Engage, a digital agency based in Washington D.C., will be teaming up with BuzzFeed through the election to break down what your preferences — for food and alcohol, television and books, movies and games — say about your politics.
Using data from its Trendsetter app, which cross-references polling data with influence and page "likes" from Facebook, Engage shows that politics is often determined by the cultural choices we make daily.
"Whether you support Obama or Romney, that support is more often than not a manifestation of where you live, what you watch and where you fit in culturally," said Patrick Ruffini, president of Engage.
"This is where we think other attempts to 'match' you to candidates based on issue quizzes go wrong," said Ruffini. "Voters don't necessarily behave rationally. We think the subcultures you inhabit say an awful lot about your politics."
This summer, Ruffini's team mapped the politics of the social web. This week — starting with two graphics, on food brands and food chains — Engage will roll out 12 new infographics.
"Americans have tended to associate more with like-minded people from across the country and the globe, and less with the person who lives right next door," said Ruffini. "Nowhere is this tendency stronger than on Facebook."