Here's What It's Like For Women And Children Refugees Fleeing War
BuzzFeed News spoke to families that arrived at Tabanovce train station in northern Macedonia, near the Serbian border. "I miss my old life," one mother said. "That life is over."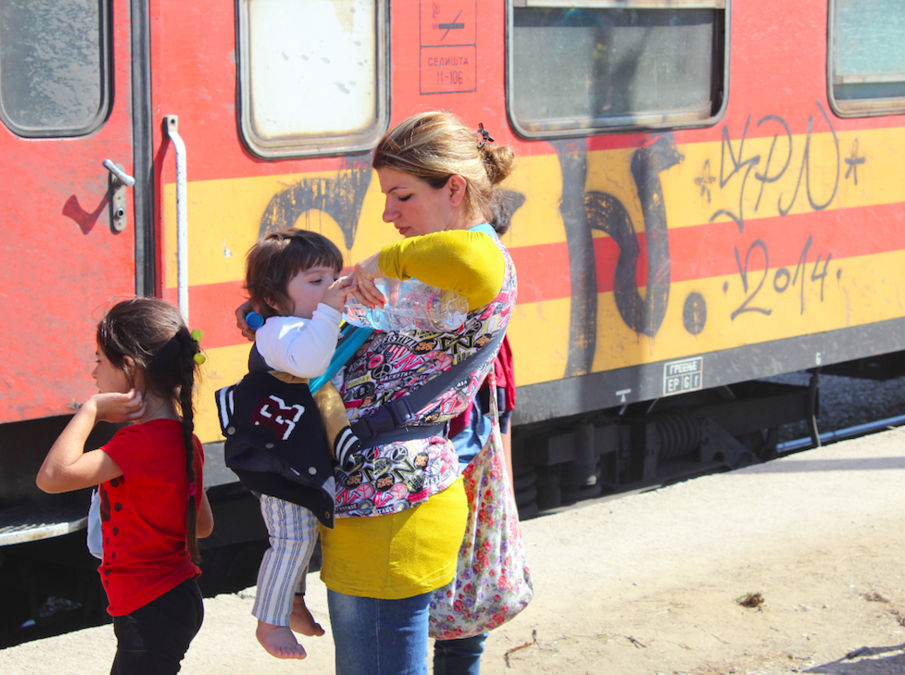 TABANOVCE, Macedonia — In her small home city in Iraq, Safa was a pediatric doctor. She practiced medicine for seven years and loved her job.
"My life was fine. I had a good job, I lived in a safe and nice house," she said, clutching her 5-month-old baby, Hefa, at Tabanovce train station in northern Macedonia. "Then suddenly, you have nothing. You're under open sky."
Two months ago, Safa and her family were forced to flee their home. Traveling by boats, trains, and foot, they are now in search of safety and a better life in Germany.
"It is so hard to walk for kilometers and kilometers with your child in your hands," she said. "I am at least glad that this small baby won't remember any of this, unlike my older children."
Safa and her family's grueling journey to Europe is similar to that of many of the thousands of families currently traveling through Macedonia and Serbia and toward Western Europe. Her family struggled to stay together while crossing country borders and have spent thousands of euros.
When they finally reached Greece, they were abandoned on a ship at sea — the captain, panicking that he'd be caught for smuggling people, swam to the shore and left them to steer for themselves. They were later rescued by Greek police.
Safa says that when she arrives in Germany, her only hope is to be a doctor again, and she hopes that "doctors are appreciated" in the country.
"I miss my old life," she said. "That life is over."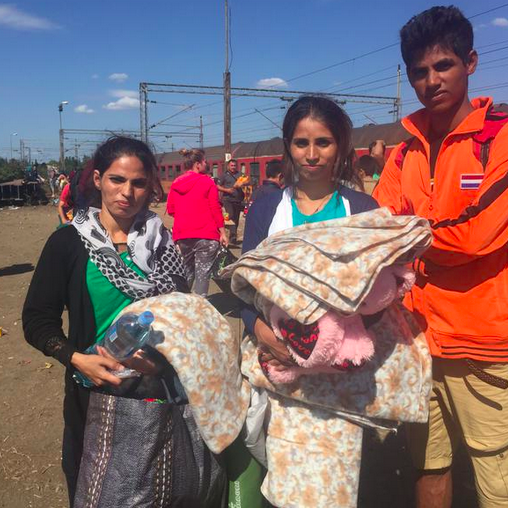 Every day, a number of trains carrying refugees leave the city of Gevgelija in southern Macedonia. They later arrive at Tabanovce train station on the Macedonian-Serbian line, where the refugees disembark to cross the border by foot.
Lydia Gall, a Human Rights Watch researcher, on the Macedonian-Serbian border, told BuzzFeed News that they expect 24,000 people to arrive through Macedonia Tuesday evening and Wednesday. The first train that arrived at Tabanovce station today held an estimated 2,000 men, women, and children.
An increasing number of people passing through Macedonia into Serbia in seek of refuge seem to be women and children, according to UNICEF.
During the first six days of September alone, over 10,000 people were registered crossing into Macedonia from Greece — more than 40% of those registered were women and children, UNICEF said. As many families traveling through Macedonia do so without being registered, the numbers are likely to be far higher.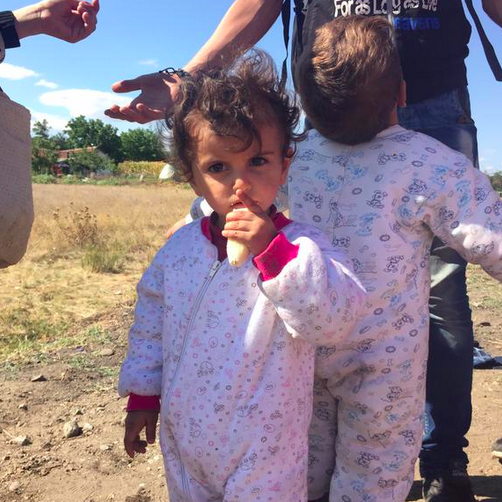 For those on the train arriving in Tabanovce's station on Tuesday, there was no time to waste.
When the doors opened, people streamed off and the station became chaotic. Most people rushed toward the water, food, and clothing that volunteers had collected and placed on sheets by the train track. Parents ran to the donated shoe pile to fit their children in comfortable shoes. Young men and women rifled through the heaps of clothing. Others chugged bottles of water and collected bags of food.
Many of the people on the train had arrived from Afghanistan, Somalia, and Syria. Some families told BuzzFeed News that they had struggled to survive the perilous journey.
The influx of those entering from Macedonia into Serbia has skyrocketed in recent years, according to a recent UN report. The report found that as of May/June this year, over 100,000 people had registered. In 2012, only 2,700 people had claimed asylum.
Amidst the commotion at the train station, several larger families sat down together on pieces of cardboard. Many of the children stood still and quiet, clutching to their parents' clothes. One boy, shoeless and wearing a red top, ran off the train and lay down in the middle of the main area where refugees stood. He began to cry.
"It's the heat, he's struggling," the boy's father said as he rushed over. He picked him up and told him: "It's OK, we'll be OK, I promise. We haven't got much longer now."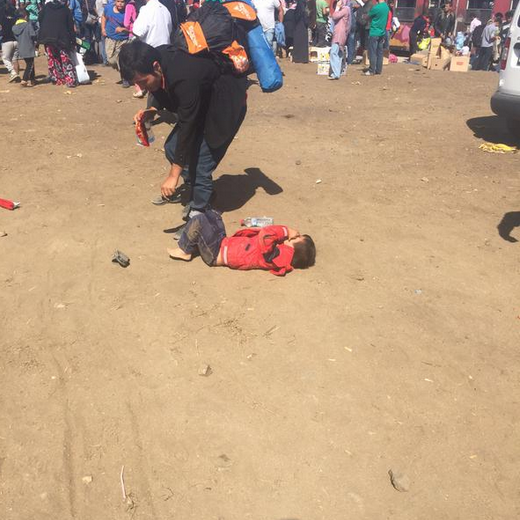 Before the train had arrived, siblings Mahmoud, 21, and Joodi, 9, sat on the concrete floor, waiting for the other refugees to arrive. They had traveled from the south to the north of Macedonia by taxi. Although it's not common for most refugees to travel by car across Macedonia, around 10 taxis had arrived within the hour, mostly families.
Mahmoud and Joodi were from Syria. Their father was a lawyer, and they lived a happy life in a big family home. Seven months ago, their parents were killed in a bomb attack.
"I look after her," Mahmoud said, fitting a new pair of donated shoes on Joodi. "We take care of each other on the road. Most people are protecting each other on the way."
Mahmoud said they had crossed Turkey's border illegally, caught a boat from Greece, and "walked many miles" before reaching Macedonia. Although they have no one else and don't know anyone in Europe, he said they hope to reach Germany.
"For now, we don't know what we want," Mahmoud said. "We just want to go somewhere safe. We only have each other."
On the route through Macedonia into Serbia, unaccompanied children is commonplace. An Amnesty International report said hundreds of people, including pregnant women and unaccompanied children, are detained in appalling conditions at Macedonia's Reception Centre for Foreigners without any opportunity to claim asylum. Many are held for months with no understanding of when they'll be released.
"It is a fact that if you're traveling with children, especially if you're on your own, you're in more danger," Gall, the Human Rights Watch researcher, told BuzzFeed News at Tabanovce train station as the final groups of people walked off to Serbia. She said that female refugees face additional hardships when crossing the country borders.
"It's always harder being a woman in these kinds of situations. The children are tired and weary, they're trying to be a mother, and trying to explain to their child why they are dragging them from country to country. There's an emotional hardship to it."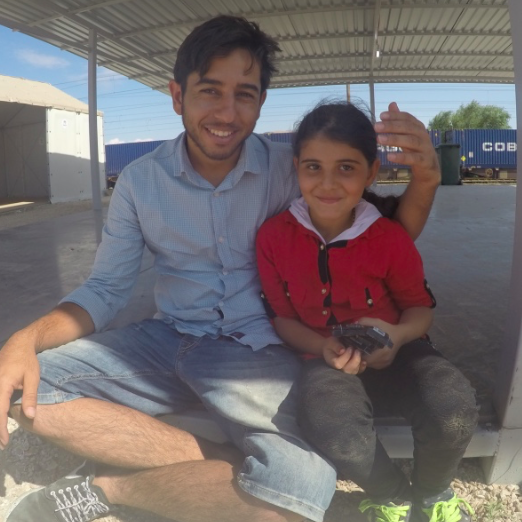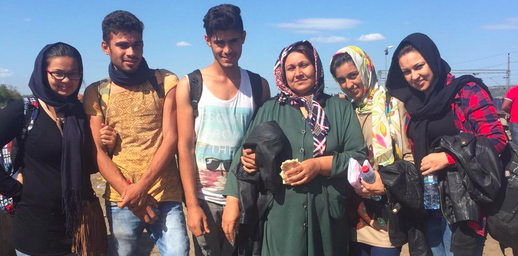 Layla and Farzane, two sisters aged 20 and 16, watched as the crowds of people began to walk the last stretch toward the Serbian border. They had been traveling for months with their two brothers, mother, and one other sister from Afghanistan.
The sisters kept looking at each other, giggling. Layla peered into a bag of donated items left on the floor.
"Is there any face wash?" she asked, holding a mini bottle of shampoo in one hand and a bar of soap in the other. The pair inspected the packaging.
They were dressed like most teenagers in Europe: backpacks, leather jackets, denim jeans. When asked what they want when they reach Germany, they both said they want to go to school to study psychology and architecture.
"I also want a normal life," Layla added. "I just want a life."
Nearby, a married couple, Fahim and Nazak, stood in the shade with their daughter, Atana. They had been married six years and were fleeing Afghanistan. They were also traveling to Germany, but with 20 other members of their family. Fahim said her mother was waiting for them to arrive.
Germany's vice-chancellor, Sigmar Gabriel, said today they expect they can take 500,000 refugees each year for "several years." They expect to receive 800,000 asylum seekers this year alone.
"We cannot wait to get to Germany," Nazak said. "It's been so difficult; everything has been so hard. We want Atana to go to school there. Right now, she's very tired."
Within an hour, the entire train station was practically deserted once again. At the last minute, a taxi arrived. Inside was a father, mother, and one child. When a volunteer rushed over to hand them a bag of food, the father smiled but politely declined, and they quickly set off to catch up with the other refugees up ahead.
"Why didn't they want the food?" someone asked the volunteer.
"They said that they were OK and that another family may need it more than them."