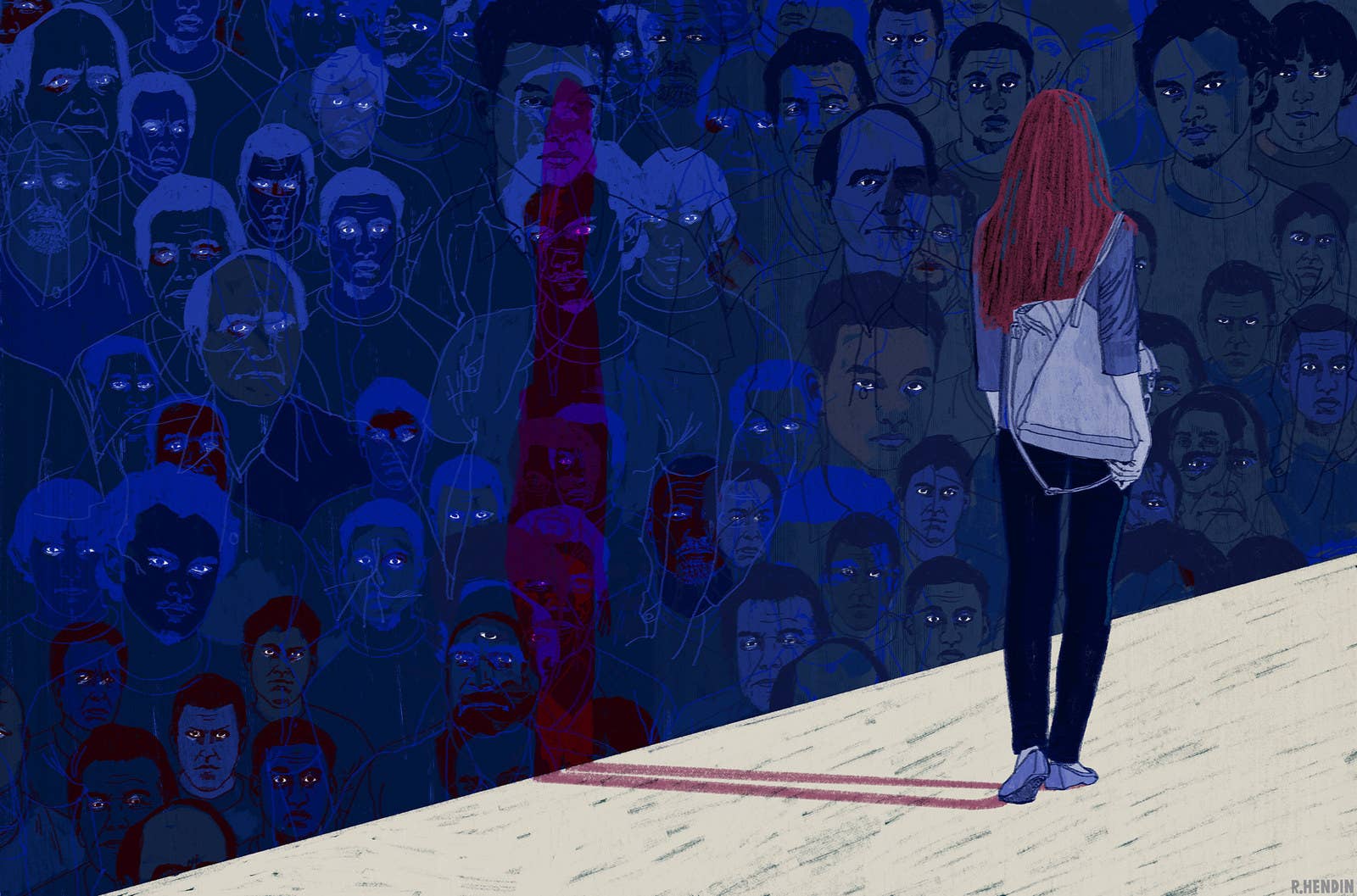 Does street harassment differ in different countries? How is it perceived and challenged? We asked our colleagues in eight BuzzFeed offices to describe what sexist harassment is like where they live.


Lane Sainty, Australia:
Street harassment is common in Australia. A 2015 study found 87% of women had experienced verbal or physical street harassment in their lives. It happens slightly more often to women who are alone, and while it's not unusual for it to occur in broad daylight, there's an added risk at night.
A lot of harassment in Australia is delivered from people in cars, whether it's honking, leering, yelling, or slowing down to intimidate and follow people. It also happens on public transport, as well as just on the street. While there's a growing perception of street harassment as unacceptable, it's certainly still ubiquitous – and something that society doesn't see a priority.
Marie Kirschen, France:
Unfortunately, it's very common. Catcalls can easily turn into insults but they are seen by a lot of people are some kind of compliment that women should be happy about. Street harassment can also take place in public transportation. According to a study that took place in the suburbs of Paris, 100% of women have been harassed on public transportation. Some men, called "frotteurs" (as in "frotter", to rub), take advantage of the crowded subway cars or buses to touch themselves or rub themselves against women. But a lot of their victims don't even realize they could press charges over that type of harassment. Some other are afraid they will not be taken seriously or are too ashamed to complain.
Nirali Shah, India:
With all the crimes against women happening in India, it's worryingly common to be harassed on the street. We even have a special word for it – eve-teasing. They either stare at you like they're trying to figure which exotic species you are or serenade you with sleazy Bollywood songs under their breath. The general public is pretty lax about it and girls are often advised to "just ignore it".
I also do believe that Bollywood is irresponsible in what it shows (lesser-educated) viewers about "getting the girl". Sex education is still not a norm in most Indian schools and not too many parents (even in cities) have "the talk" with their kids. Here's a whole post I wrote about it.
Eimi Yamamitsu, Japan:
The term "street harassment" is rarely recognized in Japan. It's not an everyday thing, but there are men who harass women on the street. It's just quite rare that these things happen, so it's not talked about. Instead, what are more commonly known, and somewhat related to street harassment, are "suspicious greetings" whereby people lure you to get in their cars (for example, kids are told that there are snacks inside, adults are told that their family's in danger, etc). People lure women or children to get in their cars to molest, sexually attack, or abduct them.
Also, molesting on trains is a serious problem in Japan which we have not found a solution to yet, but since we are not familiar with the term "street harassment," nobody has ever really categorized molesting on trains under it.
Jina Moore and Nanjala Nyabola, a Kenyan writer and political analyst, Kenya:
Men generally think it's not a real thing and women think it's inevitable. But it's not so much catcalling in Kenya, at least based on what we've seen lately. Kenyan women are more afraid of out-and-out violence. You try to protect yourself by dressing a certain way — conservatively — and hope for the best. Women have been stripped and beaten for being "indecently" dressed, and that can happen quickly, so a lot of Kenyan women are walking around with this perpetual fear constantly in the back of their minds.
Bibine Barud, Mexico:
It's pretty common, it happens every day and there's no active solution, not from society, nor from the government. When you are a woman you'll get nervous walking down the street when you realize you'll have to pass a group of men, and they most certainly will say something to you. Fortunately it's usually not something very aggressive, more like a call for attention like "hello, pretty" or "smile, girl". Most of the girls I know don't feel particularly comfortable going out in what could be perceived as a sexy outfit (anything from shorts to skirts to tight jeans) because we'll get attention we never asked for.
Sometimes it escalates and turns into something horrible, like this that happened recently (actually, it was International Women's Day) in Mexico City. A girl was walking down the street and a guy came running up to her just to pull up her skirt and pull down her panties. One of the worst things was people's reaction online – it was very disappointing and sad to see.
This aggression towards women can easily reach a far more terrible tone, like in Estado de México or Ciudad Juárez.
Rossalyn Warren, U.K.:
In the U.K., street harassment is perhaps not seen as much of a serious issue by many, but it's certainly commonplace. Street harassment is seen as "friendly banter", something that should be sucked up because there are worse issues that women face, and that actually it's a "compliment", so they shouldn't be offended. Because it's so often dismissed as not being a real problem, it's overlooked, and therefore women are made to feel like they should just shut up and stay quiet about it.
What's worrying is that almost all women have a story to tell. When one woman I spoke to was asked by a stranger to smile, she refused, and so he called her a bitch. Another said she gets "really pervy" comments from men when she's with her girlfriend. One woman said she's racially harassed, with men shouting "konichiwa" at her in public. Most girls and women feel intimidated when walking on their own late at night, especially on a Friday or Saturday when people are out drinking in the streets.
A fourth woman said that when she was walking home once in London, a man approached her and complimented her outfit. She said thank you. He then told her, "You're turning me on so much right now I want to stick my hard dick in your wet pussy." When she told him to go away, he asked her why she didn't appreciate his honesty and said that he was just giving her a compliment.
Rachel W. Miller, U.S.:
I think it depends on who you ask and where you are in the country. While there are many, many women who are vocal about how much they hate it, there are still a lot of people who dismiss it as no big deal, or who simply don't understand how prevalent it is. I know that one of my male co-workers a few years ago didn't realize how big of a problem it is until we started taking an afternoon walk each day, and he saw how often I got honked at. Even among the men who don't do it, and who agree it's shitty, I don't think most are taking active steps to discourage it.

Lane Sainty, Australia:
More people are calling this kind of behaviour out, both actually on the street when it happens and on social media. However, an anti-street-harassment sentiment is yet to really infiltrate the mainstream. A lot of the time, it's dismissed as annoying but harmless behaviour. This is particularly the case if the verbal harassment is considered a "compliment" – for instance, a woman being asked, "Hey gorgeous, how you doing?" There's very little mainstream denouncement of this kind of commenting on women's appearances, even when the attention is unwanted and can make people feel unsafe.
Marie Kirschen, France:
In 2012, Sofie Peeters, a student living in Brussels, filmed with a hidden camera catcalling by men on the streets. This documentary was quite talked about in the French press and on social media. Of course, feminist groups also helped a lot. A group called "Stop Harcélement de rue" (stop street harassment) organise from time to time "areas without annoying men" to raise awareness of this problem.
Two Tumblrs (later turned into books) also expanded the conversation: Paye ta shnek publishes testimonies of women, and the Crocodile Project posts cartoons based on true stories. Of course, Twitter and Facebook are more and more used by women to denounce the behaviour they have to put up with on the streets, sometimes with the hashtag #StopHarcelementDeRue.
Nirali Shah, India:
With the rise of social media, a lot of Indian women are taking their stories to the internet. Trending hashtags like #MyFirstPublicIndecency have started getting a lot of attention. You'll notice that it's obviously a HUGE problem with just the number of responses.
Eimi Yamamitsu, Japan:
There's no awareness about "street harassment" specifically, and part of the reason is because there is no strong culture in Japan of catcalling, or talking to a complete stranger on the street in general.
Women who have been molested on trains have been, for a long time, crying themselves to sleep because it's considered shameful to be molested. But recently, there's been a movement for women to stand up and ask for help.
Jina Moore, Kenya:
There was a big rally in late 2014 to protest that a woman was publicly stripped by minibus conductors and passengers because they said her clothes were too "tempting." The rally turned into a mini-movement called #MyDressMyChoice, and it was really the first time feminists and women's rights leaders organized in response to the street harassment problem. But that's quieted down in the last months.
Nanjala Nyabola, Kenya: On the other hand, intense street harassment goes hand-in-hand with economic stagnation — the mid '90s were terrible. But more and more women in the Central Business District — basically downtown Nairobi — wear knee-length skirts or shorter, which is something many of us born in the 1970s or 1980s would have been terrified of doing even five years ago. If you grew up in Nairobi, you can really see the difference these movements against street harassment have made.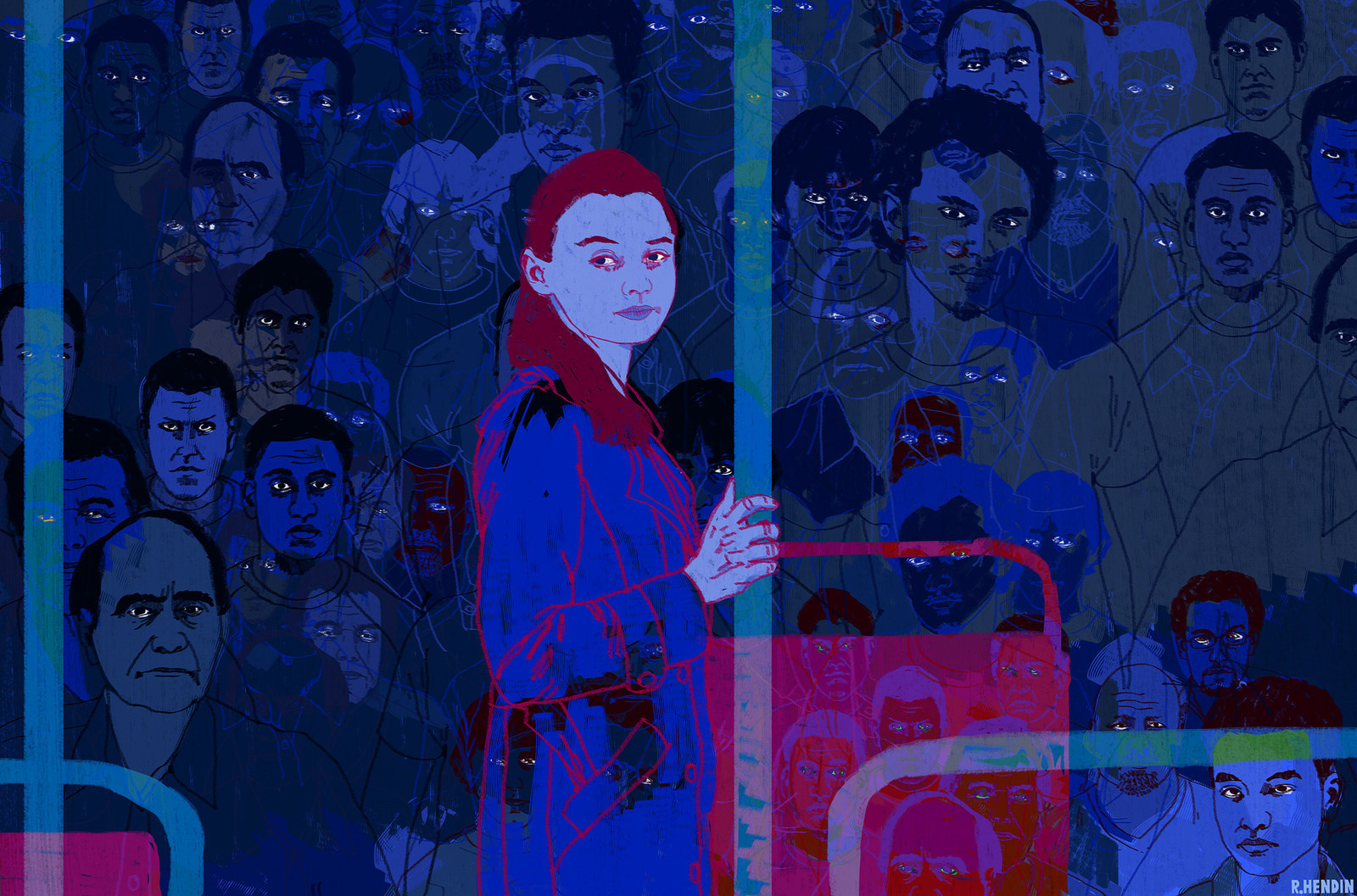 Bibine Barud, Mexico:
Not until recently have people started talking about it as a problem, at least on social media, because it's usually perceived as something "normal". Unless it turns physical or violent, the guy was "just giving you a compliment", so it kind of becomes your fault for not being chill about it. This discomfort towards street harassment hasn't been widespread, but we need to talk about it so it changes for good.
Rossalyn Warren, U.K.:
Social media has massively helped with awareness of the problem. I often see girls and women, from all over the country and of different ages, turn to social media to speak about it. I always see tweets from schoolgirls saying they were catcalled while in their school uniform, or Facebook updates from colleagues saying someone groped them on public transport.
The Everyday Sexism project was started in the U.K., too, in an effort to highlight how prevalent the issue of street harassment is for women. That's been a massive boost for raising awareness of the crap women have to deal with here, as well as around the world.
Rachel W. Miller, U.S.:
I think in the past few years, women have done a great job of raising awareness and most of that is thanks to the internet. Just by giving it a name — street harassment, something that I know wasn't in my vocabulary five years ago — they've made it easier to talk about and call out. I think of the rise of the organization Hollaback, the viral video 10 Hours of Walking in NYC as a Woman, and also Jessica Williams' segment on it on The Daily Show as major moments in the conversation.
Hannah Giorgis, U.S.:
Absolutely. And I'd definitely name artist Tatyana Fazlalizadeh's "Stop Telling Women to Smile" public art series as a huge part of that push. Her work places portraits of women in public spaces alongside phrases like "My Name Is Not Baby" that allow them to speak back to harassers.

Lane Sainty, Australia:
While there aren't any significant groups that focus on denying street harassment as an issue, there's a culture of deeming the behaviour as unimportant or something women should just put up with. "Feeling like you're constantly on display is a form of being hurt," one woman told BuzzFeed News.
Marie Kirschen, France:
Unfortunately, some still do deny that street harassment is really a very common situation. For instance, when a woman tells her story on social media, it's not rare to see men doubting her or trying to minimise the extent of this problem. Another example: Last year, a female TV commentator tweeted in reaction to the study revealing that 100% women have been harassed on public transportation, saying that one should not "mix up" situations and that it is "rather pleasant to be whistled at".
Nirali Shah, India:
India's going through a HUGE movement against sexual crimes right now. There are politicians and MRAs saying absolutely absurd things to sweep the issue under the rug. Politicians have gone on record to say that "boys will be boys" and that cell phones and jeans are responsible for these issues.
Eimi Yamamitsu, Japan:

People neither deny nor acknowledge that street harassment exists. Women crying themselves to sleep implies the sad social norm that victims are sometimes blamed by others for their own faults as well.
Nanjala Nyabola, Kenya:
Sure. A lot of Kenyans – men and women – think it's up to women to protect themselves by covering up their bodies. What I find most interesting is that there aren't more men deeply offended by the idea that they are animals who can't control their baser instincts. There's a bit of colonial hangover in there – morality in the commons in colonial Kenya was basically the idea of protecting white women from black "savages" who when "confronted with the temptation of white flesh could not contain themselves". It really bugs me that Kenyan men don't realize how much of what they think is "decency" basically stems from the disgustingly racist idea that black men cannot control themselves.
Bibine Barud, Mexico:
I don't think anyone would dare to deny it but we are a deeply anti-feminist society that believes that certain actions just answer to "the man's needs". So there's no denial but there's no confrontation. Sometimes the media even promotes it: This happened in Mexico back in October and Televisa actually pressured the girl into saying they were just playing. It was something really sad to see. But I mean, it's absolutely horrible.
Rossalyn Warren, U.K.:
We don't have a huge presence of anti-feminist groups or journalists in the U.K., but the ones we do have are certainly vocal. The belittlement of the issue of street harassment is most often seen on social media, and voiced by anti-feminist groups. But on the whole, the mood is shifting, and people's views on street harassment are changing for the better.
Rachel W. Miller, U.S.:
Of course. I mean, as long as there is sexism, there will be people everywhere denying it exists or telling women to just get a grip. There are still so many people who insist it's a compliment, that it's no big deal, etc. Read the comments on any article about street harassment and you'll see those voices.
Hannah Giorgis, U.S.:
Any time I've written about street harassment, I've had to prepare for the blowback of "it's not a big deal! Why don't you just smile nicely and say you're not interested?" from even well-meaning men. It's exhausting, sometimes even more so than the harassment itself. And of course there are more organized, malicious groups like men's rights activists who go out of their way to invalidate women's voices.

Lane Sainty, Australia:
Many women feel let down by governments and police when it comes to street harassment. In a lot of public rhetoric, the onus is placed on women to "keep themselves safe" by doing things like not walking home alone at night and not attracting attention. However, this simultaneously puts pressure on women and blames victims of harassment.
Various Australian women told BuzzFeed News they use tracking apps, pretend to be on the phone with someone, are vigilant about texting their friends when they get home, or carry keys in the palm of their hand when alone in case they are attacked.
Marie Kirschen, France:
Last July, the government launched a programme to fight against sexual harassment on public transportation. It included an ad campaign in several cities that said "Stop, it's enough", but also an experiment where buses on some lines stop on demand, so that women don't have to walk alone a lot at night. In the region of Paris, a new unit of eight policemen is in charge of preventing sexual assaults on transportation, ranging from people rubbing themselves on women to rape.
But it is to be noticed that the measures taken are only against sexual harassment on public transportation and that nothing is done against catcalls and insults on the streets.
Nirali Shah, India:
There have been safety apps launched like these. There are even special women and children cells to take action when something happens. But you rarely have a case unless you can prove it. There have been a few cases of harassment by drivers from Uber, etc. So major companies have an SOS button on their apps now.
Also, women's-only cars in trains are common and well implemented in all major cities. Mumbai is actually just about get pink-coloured auto rickshaws driven by women and for women. It's been implemented in Ranchi, Odisha, Bhubaneshwar, Cuttack, and Gurgaon too since 2012. There are even some women's-only cabs but I have never personally used or even seen one.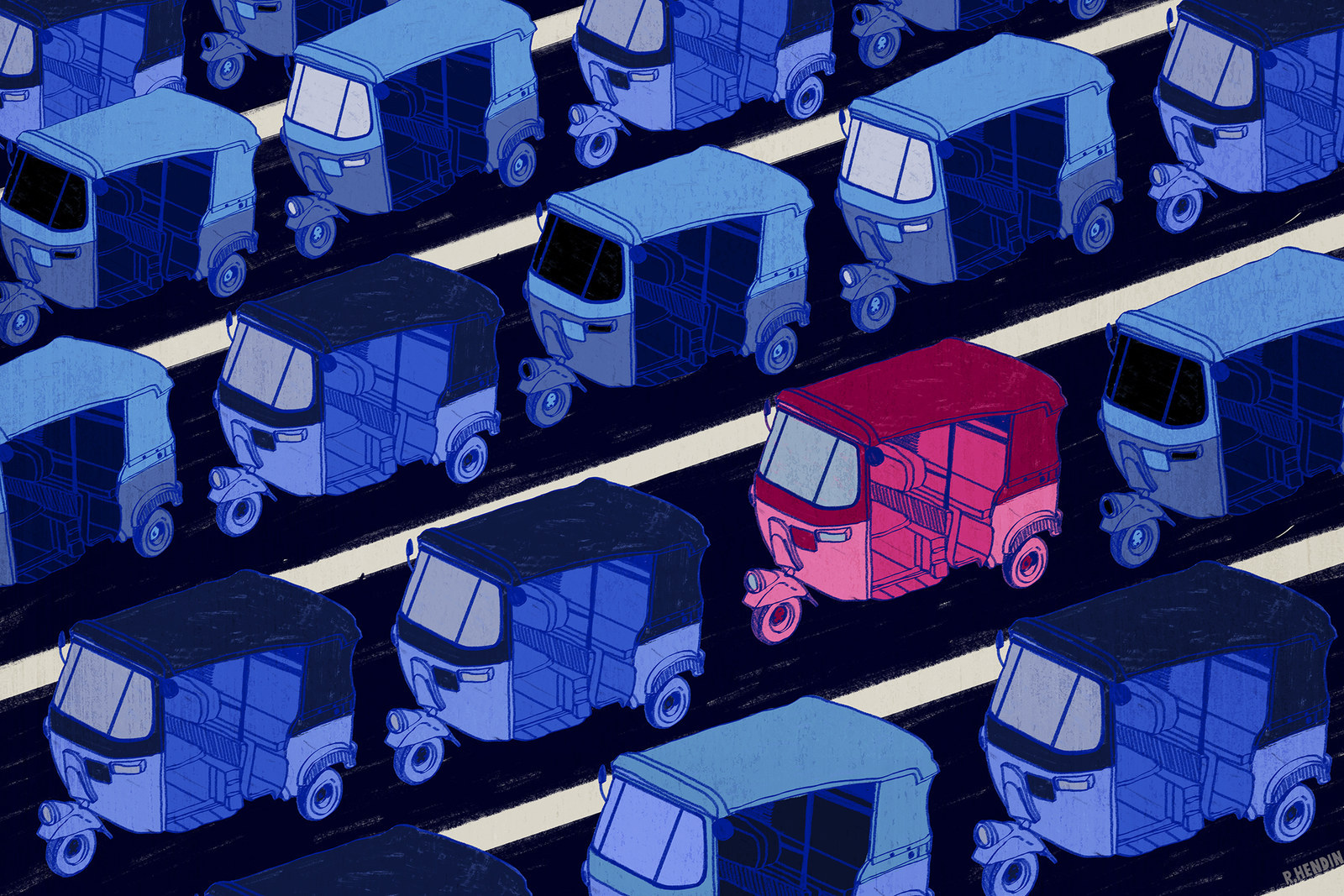 Eimi Yamamitsu, Japan:
Unfortunately, none for street harassment. Prefectural offices mostly advise people to not casually follow strangers talking to them on the street. However, society has undertaken a lot of measures to prevent children from danger on the street. You might be surprised that a lot of school students (especially up to elementary school) carry a "safety buzzer". Kids can let people around them know that they are in danger with a buzzer if they are approached by a suspicious person.
The women-only train cars were implemented mainly in Tokyo during the 1980s, to stop molestation. Prohibition of men on such train cars has no legal basis, but it's made possible "with the cooperation of men passengers". More recently, transportation companies have come up with molestation prevention stickers and button badges for both women and men (for women, badges say "I will not cry myself to sleep" and "molesting is my enemy" for men).
Jina Moore and Nanjala Nyabola, Kenya:
There was a lot of pushback after the minibus driver stripped a woman in downtown Nairobi, and a lot of protestations by politicians and transit companies that this is unacceptable — but then, there were also a lot of copycat incidents. And we can't think of any of those that have been prosecuted.
Bibine Barud, Mexico:
Well actually, transportation in Mexico has changed a lot while trying to deal with this problem, but the solution just makes us sad. There are special taxis and subway and Metrobus cars that are "for women only" and they are actually painted pink. It's terrible that we have to resort to these ridiculous but much-needed measures.
I mean, every woman I know has gone through some kind of street harassment but it becomes physical in crowded places like public transportation.
Also, there was recently a campaign made by Las Hijas de Violencia, who are a group of Mexican women who speak out directly to their attackers through punk music, just as a way to express how uncomfortable street harassment is.
Rossalyn Warren, U.K.:
There are mostly just campaigns run by transport companies, such as Transport for London, that try to tackle harassment (posters, warnings, etc) but in terms of day-to-day street harassment, it's not generally seen as something that warrants a lot of police or political attention.
Rachel W. Miller, U.S.:
I think there have been some campaigns but I'm not sure how many have been widely successful. But it does sound like some groups have been successful with getting the MTA [New York's Metropolitan Transport Authority] to increase their efforts to end sexual harassment.

Lane Sainty, Australia:
Laws against street harassment vary across Australian states and territories. In every jurisdiction, assault is a criminal offence and there is some kind of law against offensive or obscene speech. These are the most common laws that would normally be applied to street harassment – however, they are not specific to the issue.
However, social attitudes to street harassment as unimportant or not that big of a deal often result in women not speaking up about it through official channels for fear of their concerns being dismissed. This is particularly the case when the harassment is verbal, rather than physical.
Marie Kirschen, France:
Insults can be reported and can be punished by six months of prison and a €22,500 fine. For fondling, it can go up to five years and €75,000. But that's in theory, because most of the time women don't dare press charges and because these attacks are very difficult to prove. Moreover, whistles, insistent looks, or unwanted flirting are not taken care of by the law.
Recently, a member of parliament introduced an article in a draft bill to fight sexist harassment on public transportation. The article of law asked transport companies to set up a prevention plan to fight sexist harassment, and to implement awareness training for some of their employees. But, in February, it was removed by the senate, which caused a controversy, with some people saying that the senators really did not care about women's issues. But after the polemic, it was quickly reintroduced.
Nirali Shah, India:
There are laws in place pertaining to street harassment. For instance, obscene gestures, remarks, songs, or recitation are forbidden by the Indian Penal Code (Section 294), as is showing pornographic or obscene pictures, books, or papers to a woman (Section 292). Under Section 509, obscene gestures, indecent body language, and negative comments directed at any woman or girl or exhibiting any object which intrudes upon the privacy of a woman, carries a penalty of imprisonment for one year or a fine or both.
However, the trauma is such that most cases go unreported. The problem is also with how the police deal with such cases where eventually the victim ends up humiliated, harrowed, and exhausted. It's getting better now that women are using camera phones and social media to shame and as proof. Here's a great example of that.
Eimi Yamamitsu, Japan:
Many municipalities in Japan have enacted ordinance against disturbing the peace on the street, which forbids molesting, peeping, taking peeping films/photos, or obscene behaviors.
About molesting on trains, there is no concrete definition of what molesting involves, and it is hardly considered a criminal law unless the act involves indecent assault. Instead, gropers are usually punished under anti-nuisance ordinance.
Jina Moore and Nanjala Nyabola, Kenya:
Kenya doesn't have any laws on verbal abuse, and street harassment is basically covered by the basic penal code's assault laws. The problem isn't whether there's a law, though, the problem is the enforcement of laws that exist. Uganda, where this is also a problem, opted for a new law — banning miniskirts — in 2014. Women, of course, were pissed.
Bibine Barud, Mexico:
There's an article in the penal code that sort of protects women from sexual harassment, mostly in the workplace. But the aggression has to be done repeatedly and the person needs to be your superior of some kind. The crime is punishable with six months to four years in prison. So we are all pretty vulnerable when it comes to sexual harassment as a whole.
Rossalyn Warren, U.K.:
There are laws punishing public disorder-type behaviour, which means there are some laws where people can be arrested for being abusive in public, but nothing that specifically addresses gendered street harassment. Police do generally take complaints of sexual assault and groping in public fairly seriously, but catcalling and verbal abuse less so.
Rachel W. Miller, U.S.:
There are some laws on the books; they differ by state. But it's hard to imagine most of them being enforced because it sort of relies on the assumption that a police officer was nearby to see the incident and detain the harasser, or that you know the harasser's name. In most incidents of street harassment, that's not practical.
Hannah Giorgis, U.S.:
And what's worse, that also assumes that people experiencing street harassment would trust the police enough to report it. For women/LGBTQ people of color, interacting with the police is often more dangerous than a civilian harasser. The police not only commit sexual harassment themselves, but also levy physical violence with relative impunity (even against people seeking their help). That's hardly the kind of recourse that would make me feel comforted after experiencing harassment.