The Sweet Story Behind A Wedding Photo That Went Viral Thanks To Some Unexpected Guests
When this couple shared their striking wedding photo, it was seen by millions in a matter of days. But it turns out their journey into life as a married couple had an even sweeter start.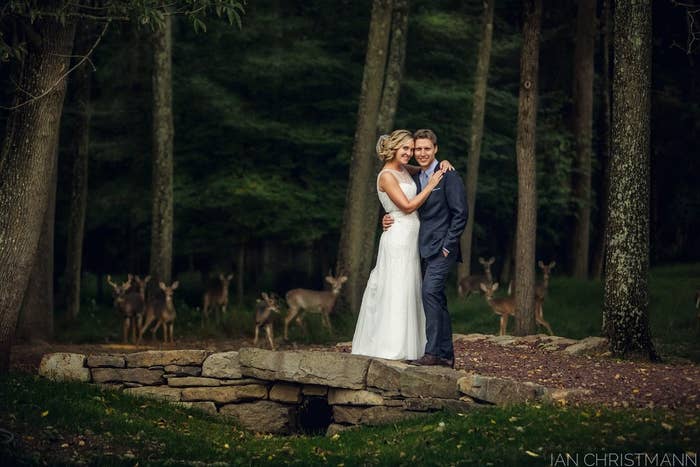 Last Saturday, a couple marrying in Stockton, New Jersey, had some unusual guests join them for one of their first photos as newlyweds: A group of deer.
As the couple posed for the shot, the slightly bewildered-looking deer looked out from the woods behind them, making for a striking fairytale scene for the photographer.
It's not every day that a wedding photo captures its surroundings so beautifully, so the groom's brother shared the snap by uploading the photo on to Reddit.
Within two days, the photo had been seen over 3,470,523 times.
Ian Christmann, the photographer behind the snap, told BuzzFeed News that they had been noticing deer around the private property where the wedding was being hosted throughout the day.
"During dinner, just around sunset, quite a few deer appeared at the edge of the woods, so we crept over to them while they were eating some food on the ground," he said. "They were bit a jittery but they hung around long enough for us to grab a few shots."
He said he is always on "the lookout for epic backgrounds" when shooting a couple.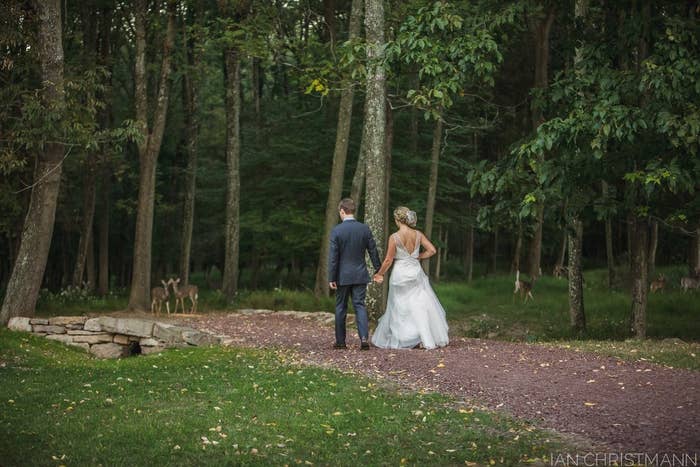 The couple are Lauren and Erick Fix, an actress and a screenwriter from Brooklyn who met four years ago while shooting a short film together.
"We saw them gathered there and thought it might be a neat photo!" Lauren told BuzzFeed News as she explained the story behind the snap. "We were excited that they didn't run away."
Lauren said that although the final photo was unexpected, it was "gorgeous", and she'll definitely be framing it.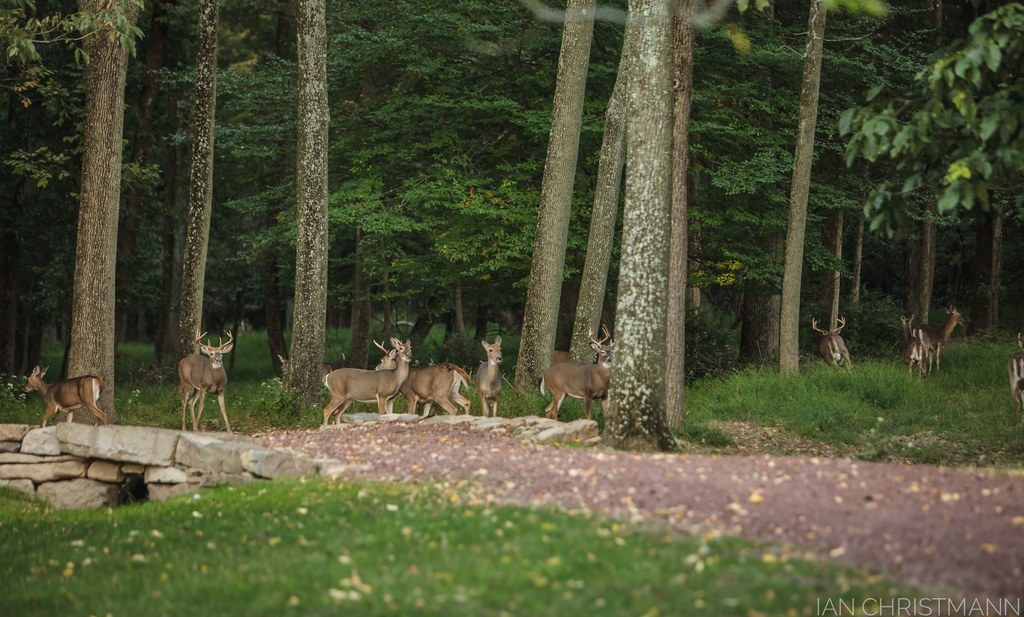 But as it turns out, their journey into life as a married couple had an even sweeter beginning.
When BuzzFeed News asked about their relationship history, Lauren revealed that Erick proposed by surprising her while she was in character shooting a scene for another short film, "Callie Wants a Solo", which she wrote and he directed.
She emailed over a video of two takes of the scene.
In it, Lauren plays Danielle, a woman who is accidentally proposed to by a friend. She wears a hoodie and sits facing the camera, with the kitchen in view in the background.
As she sits, a man walks up to her from behind, kneels down, and proposes. When she turns around, he jumps up in horror upon realising he's confused her for somebody else.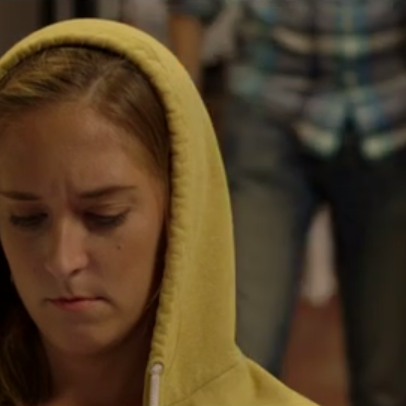 Suddenly, another woman (who we presume is his girlfriend) comes running into the scene, and – although initially confused by the man holding a wedding ring towards Danielle – hugs him when she realises that he intended to propose to her.
For the second take of that scene, Erick replaced the actor and proposed to Lauren for real.
Erick told BuzzFeed News that the "element of surprise" was one of the reasons why he decided to use this film setting to propose. He called Lauren's mother and explained what he'd be doing, enlisted the help of one of her best friends to help find a ring, and told his business partners the plan.
He said he only became nervous in the final hours before the big scene. "I became acutely aware that I was directing an actor on being nervous about proposing to a girl while living it myself. There is a scene I came up with last minute where I have him chug a glass of wine to work up the courage. This had been me moments earlier. The actors had no idea because I didn't want to put any added pressure."
"It went off without a hitch, and was the perfect story for us. "