Schoolgirls Were Sent Home Because Their Trousers Were "Too Tight"
Angry parents have set up a Facebook campaign to protest after their daughters say they feel upset and "fat".
Pupils at Bridlington Headlands School have been placed in isolation or removed from school because their trousers were too tight around the "calf and bottom areas".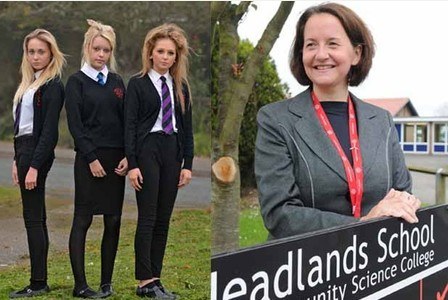 Headteacher Sarah Bone said that parents were consulted about the uniform standards at the Bridlington Headlands School in Bridlington, East Yorkshire.
She told the Hull Daily Mail: "Dealing with inappropriate uniform matters detracts from time devoted to learning, so thank you to all our parents and students who have supported us in this matter.
She added: "Students who are not in correct uniform, in line with Department for Education guidance, may be sent home to change or secluded from other students at breaks and lunchtimes."
But angered parents have set up a Facebook group to protest against the uniform restrictions.
Parents are leaving comments in the "Headlands Parents Uniform Unite" page describing their experiences, with several claiming their daughter's trousers had previously passed a uniform check by the headteacher.
One parent claimed teachers were unsympathetic, saying: "My daughter was told 'it's not my fault you can't find trousers big enough' and she was not the only one to be told this. Girls have put on Facebook how they now feel fat and extremely upset."
Another parent told the Hull Daily Mail that her daughter came home crying after a warning that her "trousers may be causing an infringement as they are tight around the calf and bottom area."
But the girls at Bridlington Headlands School are not alone: Girls across the country have taken to Twitter to complain about their own school uniform restrictions: