A popular Pakistani model and social media personality, who was famous for being outspoken and championing female sexuality, was killed by one of her brothers for "dishonoring" their family, police say.
Qandeel Baloch – real name Fouzia Azeem – had been at her family home visiting her parents in Multan, Pakistan, when she was strangled to death on Friday night, police said.
Her death was reported to police on Saturday morning by her parents. Police in Multan said her father, Muhammad Azeem, told them that his son Waseem had strangled her. She was 26 years old.
Her brother, 25-year-old Waseem Baloch, was arrested in Dera Ghazi Khan, central Pakistan, later on Saturday in connection with her murder.
He has confessed to killing her by drugging and strangling her because he believed she had been "dishonouring the Baloch name," according to local news reports.
Baloch was a an at-times controversial internet star who starred in viral videos – the provocative selfies she shared prompting her to be dubbed Pakistani's own Kim Kardashian. She was murdered after her brother warned her to stop posting photos and videos on social media, her parents said according to The Express Tribune.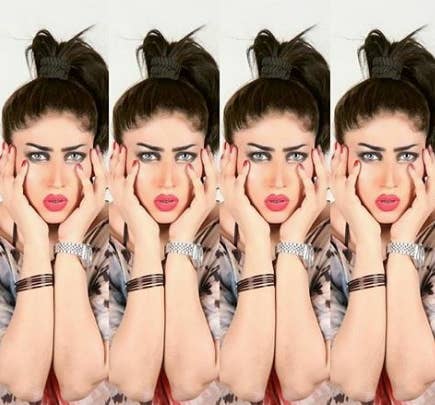 Baloch had more than 600,000 Facebook fans and more than 100,000 followers on Instagram.
Just three weeks ago, she had asked police for protection after receiving numerous death threats, particularly on social media where she was the target of misogynist abuse.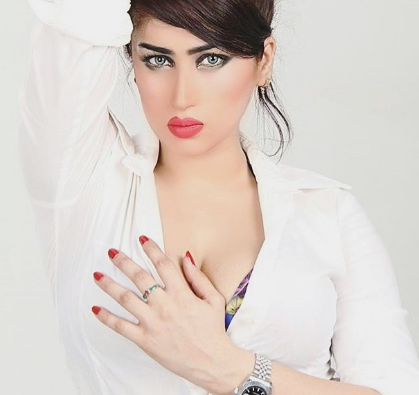 Many young women praised Baloch for not being confined by Pakistan's conservative culture, and hailed her a champion of women's sexual freedom. Baloch described herself as a "modern day feminist."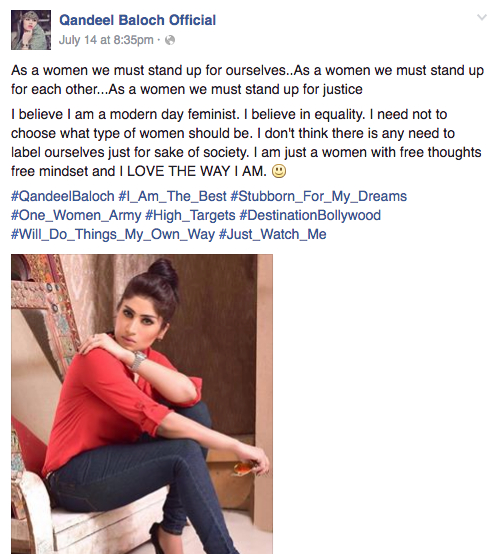 On Friday, Baloch shared a Facebook post that read: "I believe in equality. I need not to choose what type of women should be. I don't think there is any need to label ourselves just for sake of society."
Baloch would also share messages about women's rights on Facebook and Twitter. She recently said "this patriarchal society is bad," and described herself as a voice for "ladies who are treated badly."
Baloch criticised the media for not "giving any credit for speaking about empowerment of women, girl power," particularly in light of her escape from a forced, violent marriage.
Baloch's parents forced her into a marriage with an "older, uneducated" man when she was 17. She described the marriage as violent, and that he once tried to throw acid on her, telling her 'I'll burn your face because you're so beautiful'. The relationship ended when she was 19, and she had one child with him.
"I want to give those girls a positive message who have been forcefully married, who continue to sacrifice," she had told Dawn. "I want to be an example for those people. That's my aim."
"What about my self-worth? My identity?," she added. "I don't know how many girls have felt support through my persona. I'm girl power. So many girls tell me I'm girl power, and yes, I am."
In the same interview, Baloch said the entertainment industry was difficult to break into because people "try to misuse girls," and that "it is difficult it is to move around as a woman in this society."
She said her boldness "was her revenge" to her country.
Gender-based murder by relatives is widespread in Pakistan. According to the Pakistan Human Rights Commission, more than 3,000 women were killed in so-called "honor" cases between 2008 and 2014.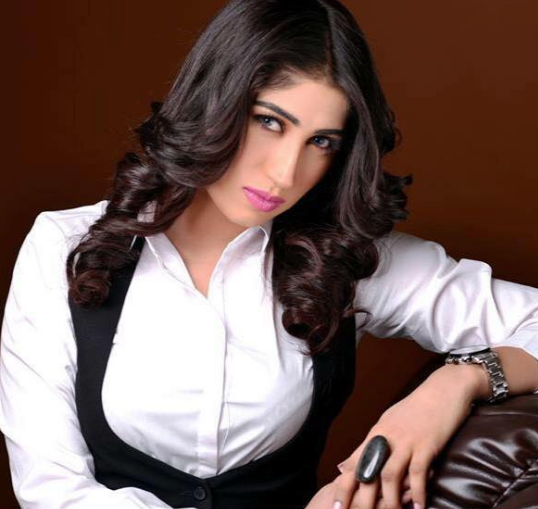 Baloch's death prompted a huge response on social media, and her name trended on Twitter for the majority of Saturday as people posted tributes and shared their memories.
Some remembered her as a woman who "didn't conform to the norm."
Others described her as "unapologetic" and "larger than life."
Protests were planned in the cities of Lahore and Karachi.
However, some people in Pakistan celebrated her death, and described her as a "disgrace for the country."
Others said her murder was "good news" and that she "deserved" to be murdered.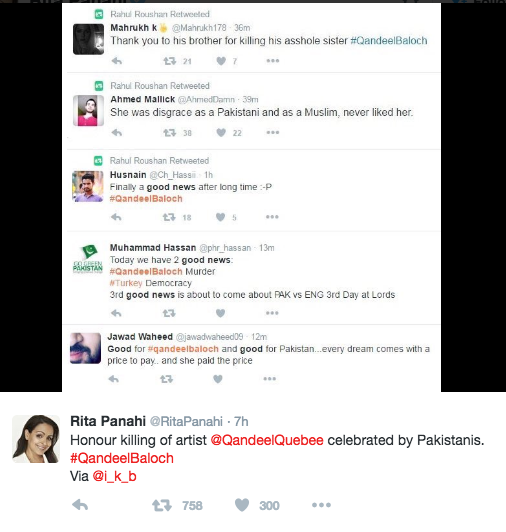 Many said her murder was an important rally cry for anti-honor killing legislation to be passed by the government.