Behind The Shocking Letter About The Rise In Anti-Semitism In The UK That Went Viral
"What is this? Racism. Where is this? Britain and Ireland. When is this? Now. Who am i? I am a Jew."
Last week, Stephen Ryde wrote this letter to The Independent.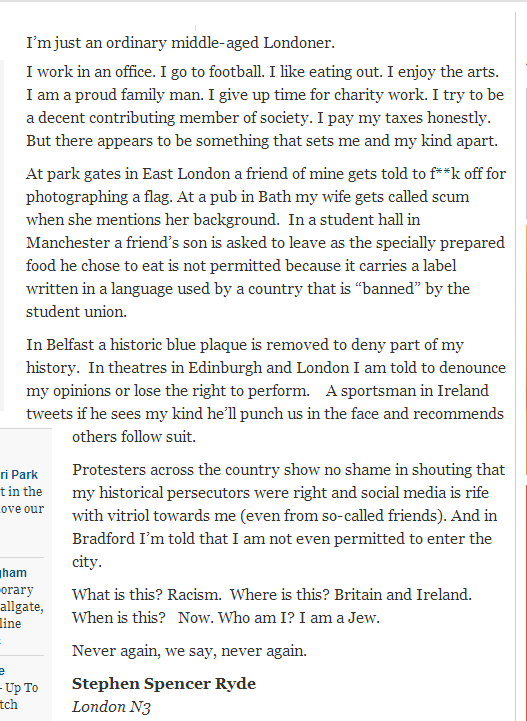 In the letter, Ryde details his recent experiences of anti-Semitism in Britain and Ireland. His letter quickly went viral as people across the world shared it in outrage.
BuzzFeed spoke to Ryde about the letter, who told us that he has a long history of writing to MPs, leaders and newspapers when he is concerned about a problem. "When I feel like something is wrong, I would usually write to that organisation or person to complain," he told BuzzFeed, adding "I write because I think it's important. I'm not a prolific writer, but I write when I feel moved to."
According to Ryde, the response to his letter has mostly been kind and supportive.
Ryde stressed that he did not set out to write the letter to further aggravate tensions in the country, but rather to help people understand "how isolated and threatened they feel right now." He told BuzzFeed that ever since the far-right English Defense League set fire to mosques in his local area two years ago, his synagogue has been hosting Ramadan in support of Muslims in their community.
BuzzFeed asked Ryde for further details about each of the claims made in the letter. Below is a breakdown of each incident.
1.
"At park gates in east London, a friend of mine gets told to fuck off for photographing a flag. At a pub in Bath my wife gets called scum when she mentions her background."
Ryde told us that his wife was verbally abused, but that they did not report the incident to the police.
This type of attack is not uncommon. The Community Security Trust says it received 240 reports of anti-Semitism in the UK in July. Many of the incidents in the charity's report describe incidents of verbal abuse.
2.
"In a student hall in Manchester a friend's son is asked to leave as the specially prepared food he chose to eat is not permitted because it carries a label written in a language used by a country that is 'banned' by the student union."
Ryde told BuzzFeed that his friend's son, a student at Manchester University, was in the student union (UMSU) eating kosher food. According to the student, after someone reported this he was told he was "not allowed to bring Israeli products" on site because of a boycott of Israeli products. When the student tried to explain that the food he was eating was bought in Manchester city centre and was Jewish, not Israeli, he was asked to leave.
A University of Manchester Students' Union Spokesperson told BuzzFeed: "The University of Manchester Students' Union have never received a complaint through our complaints procedure of such matter and would rigorously investigate any such claim that this incident occurred within the Students' Union. We have a welcoming and inclusive environment for all University of Manchester students. There is no policy or boycott in place to ban Israeli sourced produce and we would not discriminate on these grounds."
This is not the first time the university has come under fire on this issue. According to The Guardian, a 2002 debate on a boycott of Israeli goods by UMSU was followed by attacks on Jewish students. In 2007, the local Jewish community claimed that there had been an increasing number of anti-Semitic attacks against Jewish students at Manchester University.
According to the CST's 2012 report, more anti-Semitic crime was reported in Manchester (586 attacks reported) than London (244 attacks reported) that year. Ryde said his daughter had been looking to go to Manchester University, but was now having second thoughts.
3.
"In Belfast a historic blue plaque is removed to deny part of my history."
According to the Belfast Telegraph, the Ulster History Circle plaque, which marked the birthplace of a former president of Israel, Chaim Herzog, was removed after the building was vandalised.
4.
"In theatres in Edinburgh and London I am told to denounce my opinions or lose the right to perform."
In Edinburgh earlier this month, during the Fringe Festival, a hip-hop opera called The City run by a Israeli theatre company was cancelled after only one performance after pro-Palestine groups protested the event.
In London, as BuzzFeed reported earlier this month, "the Tricycle Theatre refused to allow the UK Jewish Film Festival, which had been held at the venue for eight years, to take place there again unless the organisers returned £1,400-worth of sponsorship from the Israeli embassy. The theatre said the organisers should not take money 'from any party to the current conflict' in Gaza so the Tricycle could remain politically neutral, and offered to provide the lost sponsorship itself."
The Tricycle Theatre has since lifted its ban on Jewish Film Festival.
5.
"A sportsman in Ireland tweets if he sees my kind he'll punch us in the face and recommends others follow suit."
Footballer Tommy McGuigan tweeted: "If you are lucky enough to know or work with a Jew, punch him right in the nose tomorrow."
He has since deleted the tweet and his account.
6.
"Social media is rife with vitriol towards me (even from so-called friends). And in Bradford I'm told that I am not even permitted to enter the city."
Ryde told us he has reported anti-Semitic pages, groups, and tweets, and that friends of his have sometimes reported abuse directed at them to the police.
In Bradford, the Respect MP George Galloway was filmed declaring Bradford an "Israel-free zone" in front of a Palestinian flag. Local police have since launched an investigation into his comments.