A 13-Year-Old Girl Admits She Wasn't Kidnapped And Raped By Migrants
Social media rumours and a viral news video led to outrage and protests in Berlin. Update: Police said the girl later admitted her story wasn't true.
Berlin police were forced to publicly deny a media report that claimed a 13-year-old Russian-German girl was kidnapped and raped by migrants after a video of the report went viral on Facebook.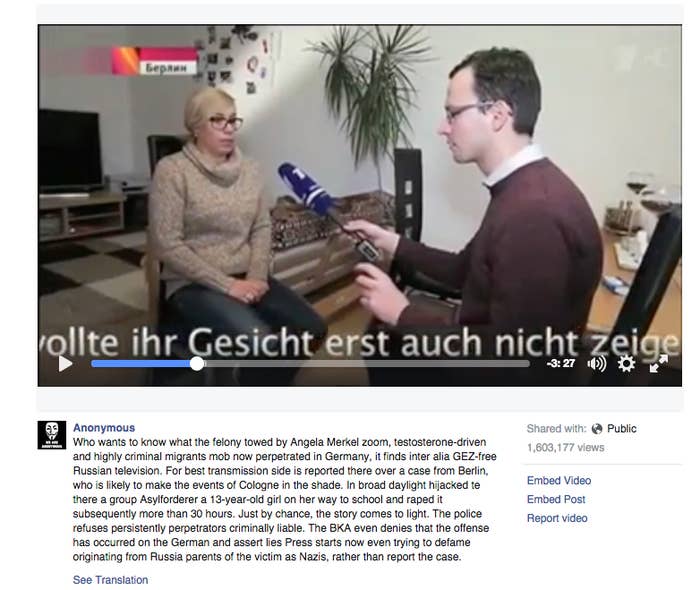 In a statement released on Facebook, police confirmed that a 13-year-old girl in Marzahn, Berlin – for her protection the police did not name the girl – had gone missing on Jan. 11.
Officers said she was found the following day, after her parents filed a report, and that investigations showed there was neither a kidnapping nor a rape.
Police urged the public to "handle the issue sensitively in social networks" after the report proved to be of "interest to the internet community."
On Tuesday, police said they were still examining the case, but did not change their original statement.
Prior to their statement, the story of the missing girl was shared widely on social media, and unverified claims that she was kidnapped and raped by "migrants" who had "lured her into a car" spread like wildfire.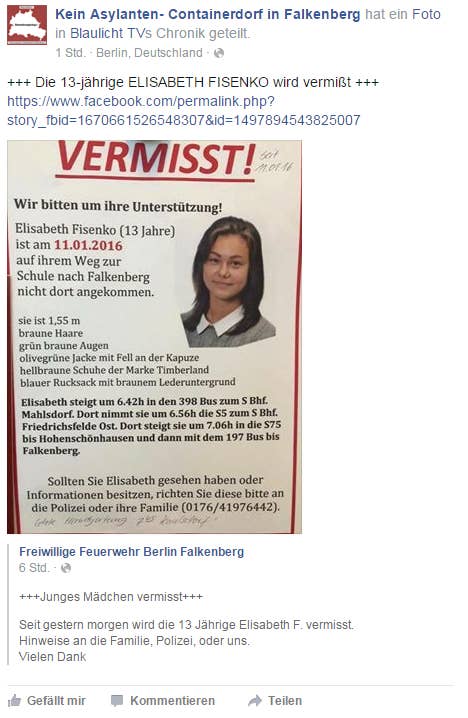 One viral Facebook post – which is shown above and has since been deleted – said that a relative of the victim was the source, and that police were "silent on the crime."
The post described the missing girl as a "victim of crazed men" and claimed she was "detained for 30 hours and raped several times by these wild strangers."
The social media rumors were later reported as fact by Russian state television, four days after police say the girl was found and returned home.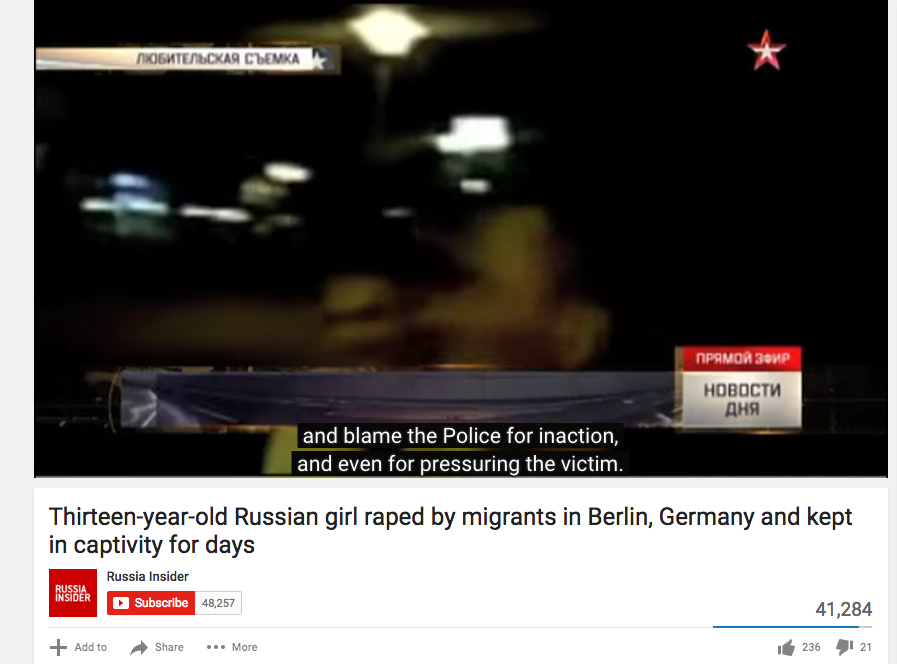 Russian TV station Channel One reported on the missing girl on Jan. 16 in a four-minute video clip.
In the video, Ivan Blagoy, the station's Berlin correspondent, spoke to a woman claiming to be the girl's aunt. She told Blagoy that the girl was held for 30 hours, raped, and beaten.
Blagoy also spoke to local residents who said they are fearful when walking past refugee shelters.
Videos of the report soon went viral. One version shared on Facebook has been watched more than 1.6 million times.
Far-right Facebook groups and blogs seized on the Russian report, which was then picked up by several German and international news sites.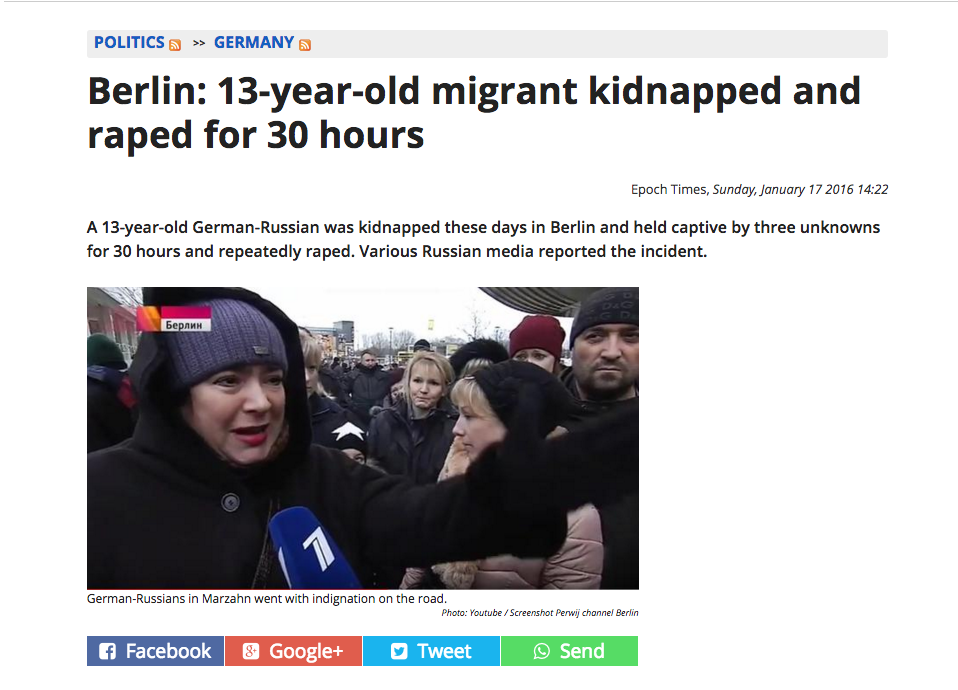 Despite the police statement, around 250 locals in Marzahn, the area where the girl went missing, gathered to protest against the alleged "cover-up" of the case on Monday night.
Following the New Year's Eve attacks in Cologne – in which more than 100 women were attacked or sexually assaulted by perpetrators police described as "migrants" – people claimed the police in Berlin were involved in covering up the incident.
Far-right groups and scores of locals rejected the police statement, and videos of the report – which are still available to watch on YouTube and Facebook – stated the "police are covering up a rape by refugees."
However, some have since described the report as a "godsend" to nationalist groups, such as the NPD, "which now present their fight against immigration as a righteous one to defend German women."
Columnist Leonid Bershidsky wrote for Bloomberg that, as the "Russian state propaganda machine" spreads the story, Russian President Vladimir Putin is "actively using the continent's refugee crisis and the Russian-speaking diaspora's wariness about it to destabilize governments that are hostile to him, including Chancellor Angela Merkel's in Germany,"
A German lawyer has since filed a complaint against Ivan Blagoy, the reporter in the Russian news clip, describing his report as "extremely dangerous, especially for the refugees."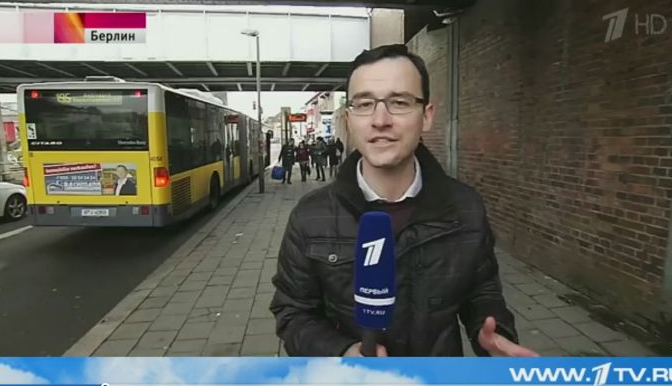 German lawyer Martin Luithle filed a report with authorities accusing Blagoy's report of misinforming the public and inciting ethnic hatred.
Luithle said that since since Blagoy's report was produced in Berlin, he violated German law, and his case should be handled by Berlin authorities.
Update:
On Sunday, Germany police said the 13-year-old girl admitted she wasn't kidnapped and raped by a group of migrants.
Martin Steltner, the spokesman for the state prosecutor, said that while she was questioned by specialists this week, "she immediately admitted that the story of the rape was not true."