A former top editor at Reuters was fired in 2016 after a subordinate filed a complaint saying he repeatedly sexually harassed her — only for him to land a job as an executive at Newsweek Media Group months later.
Reuters removed Dayan Candappa from his role as Americas editor after a senior reporter complained to Reuters management about his behavior on Feb. 2, 2016. One of the allegations, according to the complaint, which was seen by BuzzFeed News, was that Candappa promised to further his subordinate's career at Reuters if she complied with his sexual demands.
The document, which was sent by a law firm, had the complainant's name redacted. She remains an employee at Reuters.
The complainant didn't respond when contacted by BuzzFeed News. Candappa didn't return three emails requesting comment. A person who answered his home phone number on Monday hung up.
Shortly after this article was published, Newsweek management told staff at a meeting that Candappa had been placed on leave pending an independent investigation, a source told BuzzFeed News. At the meeting, Newsweek management said "three weeks of due diligence" was conducted before hiring Candappa but it did not uncover anything more than rumors. The company is now hiring a law firm to conduct an internal investigation into his hiring.
"Based on allegations raised today on BuzzFeed News, Newsweek Media Group has put chief content officer Dayan Candappa on leave while the company conducts an independent investigation," Newsweek said in a statement to BuzzFeed News.
Candappa was hired at Newsweek Media Group on May 23, 2016. He is currently the global editor-in-chief of the International Business Times and chief content officer of Newsweek Media Group.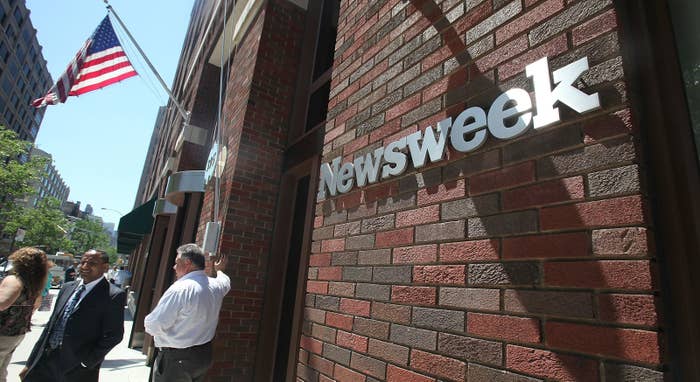 Claudia Parsons, who was Newsweek's international news editor at the time, told BuzzFeed News she encouraged managers at IBT Media — which rebranded to Newsweek Media Group in April 2017 — to investigate why Candappa was removed before hiring him for the editor-in-chief position. Parsons said she'd heard Candappa's departure from Reuters was on bad terms.
Parsons told BuzzFeed News she discussed the issue with her boss at the time, Jim Impoco, who was editor-in-chief of Newsweek. Impoco told Parsons he took it to upper management, and management told Impoco that they had investigated Candappa's departure and decided to hire him. Parsons and Impoco have since left Newsweek for unrelated reasons.
In an email, Impoco said he would not dispute Parson's account but declined to comment further.

"Newsweek Media Group conducts rigorous pre-employment checks on its employees. These checks were completed when we hired Mr Candappa to the role of Global Editor-in Chief of The International Business Times in 2016. Our company has a zero tolerance policy for any form of harassment. We will treat any report seriously and if necessary take appropriate action," Newsweek Media Group told BuzzFeed News in a statement.
The complaint alleges Candappa repeatedly harassed his subordinate over a course of nearly 10 months from 2015 to 2016.
Candappa was an editor and correspondent at Reuters between 2005 and 2016. Over the years he managed hundreds of journalists, and was posted in London, New York, Singapore, Dubai, and Colombo, covering foreign affairs and business. The complainant first met Candappa in August 2014 in Reuters headquarters in New York City.
The woman said in the complaint that Candappa began to harass her in April 2015. That same month, according to the complaint, he told her "it would not be good" if she did not demonstrate interest in him.
He told her "it would not be good" if she did not demonstrate interest in him.
She said that if she were traveling for work, Candappa made efforts to work in or visit the same city at the same time, insisting she meet him over dinner or drinks. She said she feared that declining his requests might have negative consequences for her career, and so she agreed.
One evening in April 2015, she said in the complaint she agreed to meet Candappa after a corporate dinner. Candappa, who was visiting from New York City, asked her to join him in his hotel room so he could drop off his suitcase. She declined, horrified that a senior editor would invite a female subordinate to his hotel room, and waited downstairs for him.
Later, she said he insisted on walking her home, despite her repeatedly telling him that she could go alone. When they arrived at her door, Candappa grabbed her and tried to kiss her. She pushed him away and quickly went inside. The next day in the office, he told her she was "heartbreakingly beautiful," according to the complaint.
On another evening in May 2015, the complainant agreed to meet Candappa for a drink. He told her that he could be helpful to her career with Reuters, and that he wanted to assist her. He also said he was looking for love, and that he was unhappy in his marriage. "I want to cum — to release myself and not worry about it," he told her, according to the complaint. She said she tactfully refused his advances. She told him that because she worked in his chain of command, it would not be appropriate for her to become involved with him. Candappa then appeared visibly angered, the complaint said, and told her "you need to think about 'us.'"
Worried about losing her job if she rebuffed him again, she began to cry, said she wanted to go, and left abruptly. The next day, she was stunned that Candappa approached her in the office and said, "I want you to seriously think and consider what I told you last night."
Though her work cell and landline numbers were available through the corporate directory, Candappa asked her in May 2015 for her personal phone number. He used it repeatedly to call her to discuss non-work-related topics, according to the complaint. She tried to avoid his calls and meetings, but maintained a friendly demeanor so she didn't offend him. She said she never asked him to call her except for a work-related reason.
In one phone call in May 2015, Candappa called her "hot" and said she "looks good in everything she wears." He referred to himself as "the most powerful man in Reuters America."
The complaint said Candappa frequently sent her text messages and emails, often at early hours of the morning. His texts, she said in the complaint, included comments such as:
"I may quit and come after you. Be warned."

"You've not responded to my hints about send me a picture so I guess I should make the trip in person."

"I've been thinking about you. Always on my mind."
During this time, the complaint said she worried that if she declined his requests for dinner, or didn't reply to his messages, her career would suffer. She tried to dodge him but also felt pressured to appease him. She said she was terrified of losing her job because she provided financial support for her parents.

At one point, she said in the complaint, she grew so emotionally exhausted that she considered accepting a non-journalism job elsewhere. She confided in a colleague that she felt like resigning because she could no longer tolerate Candappa's advances. The colleague encouraged her to stay in her chosen industry.
In May 2015, he told her he felt she wasn't being responsive to him and that she wasn't interested in him. According to the complaint, he told her "that is not good" in an "ominous" tone on a phone call. In an effort to appease him, she reverted back to taking a more relaxed, friendly tone with him in emails and texts.
Candappa pressured her for a sexual relationship at least three more times between October and November 2015, according to the complaint. He told her he couldn't stop thinking about her, and pushed her to start a sexual relationship with him over a lunch. She rebuffed him, but he angrily replied she needed to give him a chance and change her behavior.
"Why can't you just give yourself the chance to see where this goes… I'm not here to hurt your career, I'm only here to help you."
During one phone call, where he pressured her to enter a sexual relationship with him, he complained she was "difficult," and asked "why can't you just give yourself the chance to see where this goes… I'm not here to hurt your career, I'm only here to help you," according to the complaint.
She'd had enough. During a two-hour phone call with Candappa in November 2015, she said she could not become romantically involved because of their working relationship and told him she'd like to stop all personal communication, according to the complaint. He again pressured her for sex. She said in the complaint she told him she was afraid that rumors would impact her reputation and successful career. She reminded him he was married, and that she needed the job to financially support her parents.
Candappa refused to accept her decision, according to the complaint. He told her that he understood her reputation would be at risk by becoming involved, but that no one gets ahead in life without taking risks. She pleaded with him to not fire her.
After this conversation, she quickly began to see what she believed were negative consequences in her performance reviews at work.
In January 2016, the complaint said, she was told her performance rating for 2015 had decreased to "Meets Expectations" — despite receiving "Exceeds Expectations" or "Far Exceeds Expectations" ratings from 2012 to 2014. She said she was told by managers in July, October, and November of 2015 that she would be receiving "Exceeds Expectations" for the year, according to the complaint.
The complaint said Candappa, the head of Reuters' executive subcommittee, rejected her manager's recommendation of "Exceeds Expectations" rating and reduced it to "meets expectations" in retaliation for her having refused his sexual advances.
With nowhere else to turn, she decided to go to human resources and formally complain.
The complaint was filed to Reuters management and human resources on Feb. 2, 2016. After an investigation, a source familiar with the investigation said his last day was announced on Feb. 19.
That source told BuzzFeed News, "Reuters acted quickly to investigate and substantiate the complaint, and fired Candappa within days. They did the right thing and have done everything to help the victim get back to her career."
Reuters told BuzzFeed News it does not discuss individual employment matters, but said, "we have a zero-tolerance policy toward harassment and respond quickly and decisively to complaints."
The company added: "As a general rule, we work to protect the privacy of an employee who complains of harassment if that is the employee's preference."
Three former Reuters employees who were there at the time of Candappa's departure told BuzzFeed News that Editor-in-Chief Stephen Adler didn't say why Candappa had left. In Adler's email that refers to Candappa's departure — seen by BuzzFeed News – Adler's only reference says: "Our current editor for the Americas, Dayan Candappa, is leaving the organization to pursue opportunities outside Thomson Reuters, effective immediately. I would like to thank Dayan for his many contributions since joining Reuters as a stringer in 2000. We wish him well."
Adler also hosted a "town hall" meeting with editorial staff following Candappa's departure, according to a report by the Baron. The report says that during the meeting, several employees tried to ask Adler about Candappa's departure, but Adler reportedly "rebuffed" the questions.

Candappa is currently one of the ten employees — eight men and two women — who leads Newsweek Media Group, which owns and operates Newsweek, Newsweek Events, and 14 digital media properties including the International Business Times (IBT), Latin Times, and Medical Daily. The group boasts of 100 million readers worldwide, and has offices in New York, London, Singapore, and Bangalore.
Two former Newsweek employees told BuzzFeed News that Candappa is one of the few editors in charge of managing editors, news directors, and the direction of content, holding regular meetings on news decisions and strategy. Both said they'd heard from colleagues and friends in the industry that Candappa left Reuters following sexual harassment allegations. They said they were not informed by Newsweek management.
One former senior colleague of Candappa's says people should have second chances. But the person was unsure Candappa should have had a second chance in such a senior position, because the reasoning behind leaving his old job wasn't transparent and there's the potential for him to "repeat his behavior."
Two former employees at Reuters told BuzzFeed News Candappa's hiring and the lack of communication from management was "sickening" and an "incredibly unjust situation." One former Reuters staff employee told BuzzFeed News, "He's not someone who should have been rewarded with a job like that."
Craig Silverman contributed reporting.