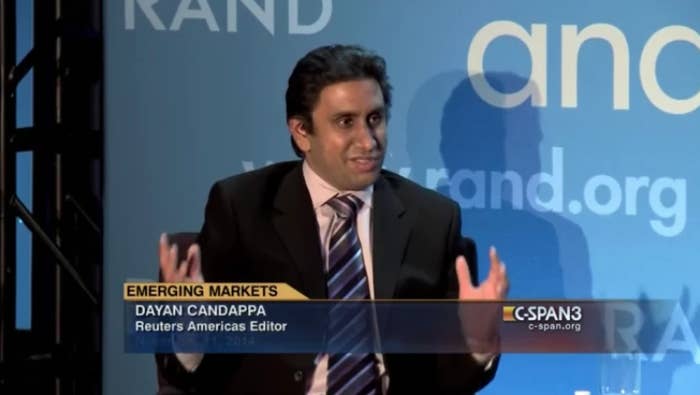 Newsweek Media Group told its staff on Friday that Dayan Candappa will remain chief content officer, nearly two weeks after BuzzFeed News revealed he was fired from a former for job for sexual harassment allegations.
In an email sent to staff on Friday afternoon, management informed employees Candappa will be returning to his role on Feb. 12.
Newsweek Media Group say their independent external law firm did a "thorough investigation" and "did not find evidence to substantiate the reported allegations of sexual harassment during his tenure with his previous employer," Reuters.
Newsweek also said "the investigation found that Candappa has conducted himself in a professional manner at Newsweek Media Group."
Candappa and a spokesperson for Newsweek didn't immediately return a request for comment.
Mike Delikat and Renee Phillips, the two partners who led the law firm's investigation, said in a statement they "conducted a prompt and thorough investigation into the allegations of workplace harassment against Mr. Candappa while at his former employer Reuters. Newsweek was committed to determine the truth, and fully supported our efforts, including examining Mr. Candappa's interactions with employees at Newsweek."
"We then conducted extensive interviews with more than 25 individuals both inside and outside of Newsweek and reviewed documents made available to us. Based on that investigation, we concluded that there was no evidence to substantiate the claims against Mr. Candappa while at Reuters, and that he has conducted himself in a professional manner as a Newsweek Media Group employee," the statement said. "We are confident in the integrity of our investigation and its conclusion."
In an exclusive report published Jan. 29, BuzzFeed News found Reuters removed Dayan Candappa from his role as Americas editor after a senior reporter complained to Reuters management about being seuxally harassed by Candappa. One of the allegations, according to the complaint, which was seen by BuzzFeed News, was that Candappa promised to further his subordinate's career at Reuters if she complied with his sexual demands. Candappa later went on to work for Newsweek Media Group.

The company responded to the report by conducting an independent investigation led by the law firm Orrick Herrington & Sutcliffe LLP to review the allegations.
"Based on allegations raised today on BuzzFeed News, Newsweek Media Group has put chief content officer Dayan Candappa on leave while the company conducts an independent investigation," Newsweek said in a statement to BuzzFeed News at the time.
Newsweek Media Group emailed employees on Feb. 1, saying the investigation had begun into sexual harassment allegations against Candappa, the hiring process, and his time at Newsweek Media Group. In the email, management also encouraged employees to contact the lawyers involved in the investigation if they "may have information relevant" to the inquiry.
Several current employees spoke to BuzzFeed News on the condition of anonymity, citing the recent firings at Newsweek.
One current employee at Newsweek described the company's decision to keep Candappa on as an employee as "disgusting." The person added "everyone is livid" at the decision.
Rachel Brody, a former reporter for Newsweek, tweeted on Friday afternoon: "Dayan Candappa has just put another nail in Newsweek's coffin by accepting the offer to return as CCO. If he cared at all about the journalists in that newsroom, or the shit they've been through, he would have said no."

A second current employee told BuzzFeed News, "We're shocked, it's very disappointing to see this outcome. Many of us have said that they would not feel comfortable being anywhere near him. It just illustrates the dire straits the company is in."
And a third current employee felt the investigation wasn't "transparent."
"Anyone who has been terminated previously for sexual harassment in the workplace should have no place in a newsroom, let alone directing a media company and its culture," the employee said.
The Manhattan District Attorney recently raided Newsweek's New York offices, and the International Business Times has been buying traffic and engaging in ad fraud.