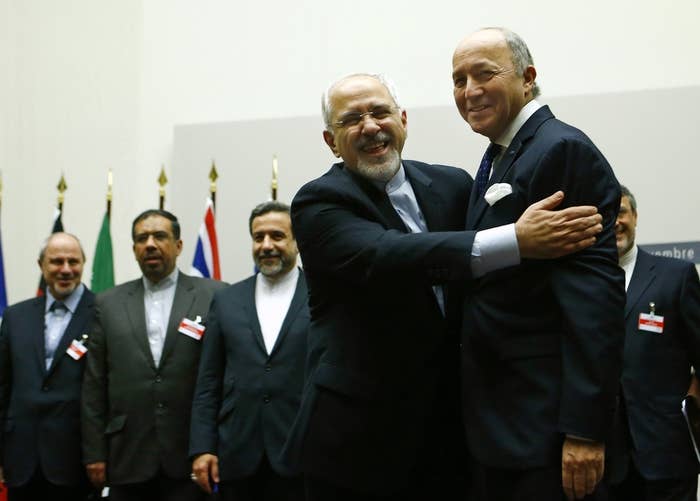 GENEVA — Six world powers reached an interim deal with Iran on its nuclear program in the early hours of Sunday morning after almost five days of intense negotiations that at times seemed perilously close to falling apart.
"Today, diplomacy opened up a new path toward a world that is more secure, a future in which we can verify that Iran's nuclear program is peaceful and that it cannot build a nuclear weapon," President Obama said late Saturday night in an address from Washington.
The agreement — which is not a final deal on Iran's nuclear program but instead an interim one that lasts for six months — was finalized after days of tense negotiations at Geneva's Intercontinental Hotel.
As of 3:30 a.m. local time, the exact details of the deal remain unclear, though some specifics have begun to emerge; the Associated Press reported that the right to enrich uranium, which the Iranians had at some points presented as non-negotiable, is not in the deal. According to the New York Times, the Iranians agreed to cease uranium enrichment beyond five percent. Iran will be required to dilute or convert to oxide its stock of 20-percent enriched uranium and is not allowed to install new centrifuges. The White House sent this fact sheet to Congress.
The United States will provide between $6 and $7 billion in sanctions relief in return for these actions, according to the Time. According to a fact sheet sent out by the White House, some sanctions on precious metals, the auto industry, and petrochemicals will also be suspended. Another part of what Iran gets out of the deal is that the agreement will "facilitate humanitarian transactions that are already allowed by U.S. law."
In a press conference taking place after negotiating parties signed the agreement, Iranian Foreign Minister Javad Zarif said that the deal would result in the "removal of any doubts about the exclusively peaceful nature of Iran's nuclear program." '
"I hope the outcome of this process in addition to the resolution of the nuclear issue, will be to take concrete steps in the restoration of confidence, particularly the confidence of the Iranian people towards the west," Zarif said.
Speaking after Zarif, Secretary of State John Kerry called the deal "a serious step towards answering all of those important questions that had been raised through the UNSC, the IAEA and individual countries."
"This first step does not say that Iran has a right to enrichment," Kerry said, though Zarif had asserted that the document allows for that right in his remarks.
Obama emphasized the impact of U.S. sanctions in his address on the agreement, but was clear that the administration will not support new sanctions.
"Now is not the time to move forward on new sanctions, because doing so would derail this promising first step, alienate us from our allies, and risk unraveling the coalition that enabled our sanctions to be enforced in the first place," he said.
Obama emphasized the role of diplomacy in creating a lasting, "durable solution."
"I have a profound responsibility to try and resolve our differences peacefully, rather than rush toward conflict," he said in the statement. "Today, we have a real opportunity to achieve a comprehensive, peaceful settlement, and I believe we must test it."
According to the fact sheet, Iran has agreed not to increase its stockpile of 3.5 percent enriched uranium and has promised no further activity on its Arak reactor, an issue that was also a main sticking point in the talks. Iran has also promised to submit to extensive monitoring and inspections of its program, giving the International Atomic Energy Agency access to its centrifuge facilities, uranium mines and mills, and to the Arak reactor.
According to the State Department, the foreign ministers involved in the negotiations headed to Geneva's Palais des Nations to sign the agreement and a press conference will be held after that at Geneva's conference center.
Word of the agreement first appeared on Twitter early Sunday morning in Geneva.
"We have reached agreement between E3+3 and Iran," said EU High Representative Catherine Ashton at 2:55 a.m. local time in a tweet by her spokesman, Michael Mann.
"We have reached an agreement," echoed Iranian Foreign Minister Javad Zarif at 3:03 a.m. on his Twitter feed in a tweet that was soon favorited by the account of Iranian President Hassan Rouhani.
Reporters camped out in the hotel lobby — some napping on furniture — were roused by a series of sudden signs that a deal had come through — including a thumbs-up from the French Foreign Minister Laurent Fabius, and a tweet from Zarif: