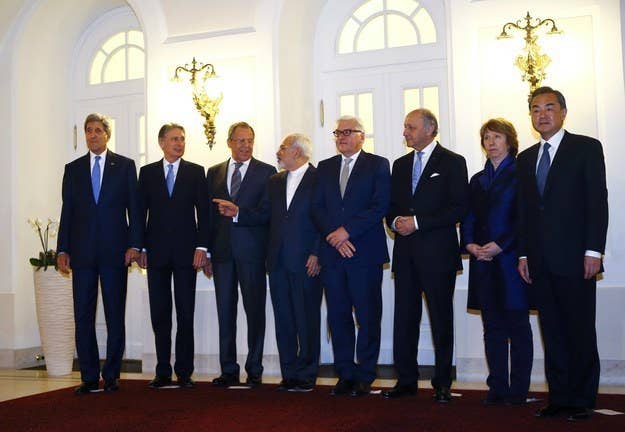 VIENNA — Six world powers and Iran failed to come to a final agreement to curtail Iran's nuclear program by the deadline on Monday, instead extending the talks to June 30, 2015.
A year of diplomacy has failed to produce a final result since the P5+1 (the U.S., France, the U.K., China, Russia, and Germany) reached an interim agreement in Geneva to curb parts of Iran's nuclear program, in exchange for a limited lifting of sanctions.
Negotiators announced on Monday that the talks would have to stop for now, and instead will continue next month in a yet-to-be-decided location, the British Foreign Secretary Philip Hammond said. The extension is taking place under the terms of the temporary agreement that was reached last year.
In a press availability on Monday afternoon, Secretary of State John Kerry confirmed that the talks would be extended for another seven months, with the goal of reaching a framework agreement after four months.
He insisted that progress had been made in the negotiations, though he declined to specify what exactly the progress was.
"We should not and we will not in the days ahead discuss the details of negotiations," Kerry said. "We're doing that simply to preserve the space to be able to make the choices that lie ahead."
"But I can tell you that progress was indeed made on some of the most vexing challenges that we face, and we now see the path toward potentially resolving some issues that had been intractable," Kerry said.
The negotiating parties met in Vienna for what was supposed to be the final round of talks, beginning on Nov. 18. Six days of negotiations do not appear to have produced breakthroughs on the key issues at stake, including enrichment capability, inspections of nuclear facilities, and sanctions relief. An Iranian diplomat told reporters on Sunday that the biggest sticking point was the "scale of enrichment," or amount of enriched uranium Iran would be entitled to produce under the deal.
The negotiations have also focused on technical issues that could have significant ramifications, such as the number of centrifuges Iran will be allowed to keep to enrich uranium, and the exact amount and timeline on which the West will lift its crippling sanctions against Iran.
The two sides have not even produced a framework agreement, as Iranian officials told reporters on Sunday they were planning to do.
Extending the talks, though it gives the two sides more time to reach an agreement, will bring its own problems; opponents of the deal on both sides are losing patience with the negotiations and are fearful that the dragged-out process will produce an unsatisfactory deal.
In the U.S., Republicans in Congress have made it clear they will try to kill a deal they view as unsatisfactory — and they'll be empowered to do so when the new Republican-majority Senate comes to town in January. Sen. Mitch McConnell, who will become the Senate Majority Leader in January, has said he will hold a vote on an Iran sanctions bill that was prevented from coming to a vote by Democratic leadership earlier this year.
"Members on both sides of the aisles are deeply concerned about how much the Administration's proposals have already conceded to Iran in negotiations so far," a senior Republican congressional staffer told BuzzFeed News on Monday.
Members of Congress in both parties are concerned the Obama administration will try to prevent Congress from having a say in the final deal. Skeptics of the deal worry that Iran is deliberately trying to extend the negotiations for as long as possible without coming to a deal, in order to continue getting sanctions relief without having to come to a final resolution about its nuclear program.
"With now yet another extension to the talks, Congress will be asking how to make Tehran pay for its continued nuclear intransigence," said Mark Dubowitz, executive director of the Foundation for Defense of Democracies. "The concern: Tehran continues to run out the nuclear clock and treat Western concessions to its demands as permanent — making further diplomatic progress conditional on greater Western 'flexibility.'"
In his press conference, Kerry said he had been consulting with members of Congress while in Vienna and that "I hope they will come to see the wisdom of leaving us the equilibrium for a few months to be able to proceed without sending messages that might be misinterpreted and cause miscalculation."
Kerry said it was too premature to talk about a potential presidential veto of any sanctions legislation passed in Congress.
Israeli Prime Minister Benjamin Netanyahu told the BBC on Monday that in the case of an extension, sanctions against Iran should be ramped up.
President Obama said on ABC's This Week on Sunday that he was confident he could keep Congress from killing a deal.
"I'm confident that if we reach a deal that is verifiable and ensures that Iran does not have breakout capacity, that not only can I persuade Congress, but I can persuade the American people that it's the right thing to do," Obama said.