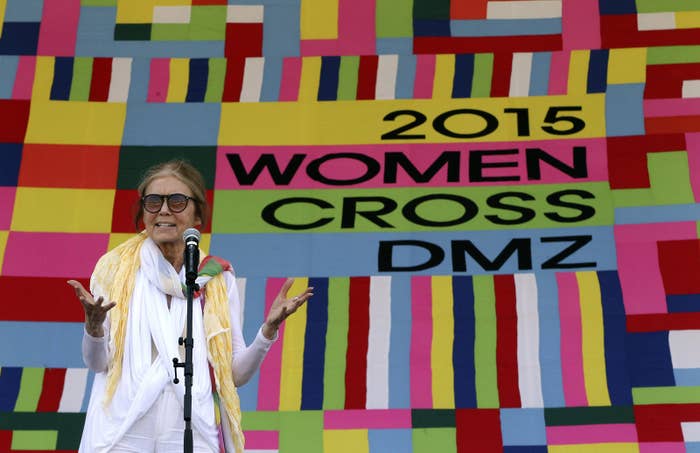 WASHINGTON — Feminist activists who embarked on a controversial expedition to walk across the demilitarized zone separating North and South Korea defended the trip during a panel discussion on Capitol Hill on Tuesday, with one going so far as to accuse critics of "red-baiting."
The leader of the group, Christine Ahn, appeared in meeting room at Washington's Rayburn office building with former diplomat and antiwar activist Ann Wright, documentary filmmaker Abigail Disney, Boston College professor Brinton Lykes, and feminist icon Gloria Steinem, all of whom had gone on the trip in May along with 30 activists calling for peace. The meeting was hosted by the offices of Reps. John Conyers and Charlie Rangel, and Rep. Barbara Lee attended part of the discussion and spoke briefly. The women representing a group called Women Cross DMZ took turns talking about their experiences and defended the initiative against those whom they charged had presented a skewed narrative of the expedition. The group had been challenged in the media for the trip that some saw as legitimizing one of the cruelest regimes in the world.
Steinem said that the group had been unfairly portrayed in the media as "naive" and that coverage of the expedition had been "extremely gendered."
"We did not visit officials, not even the statues of officials," Steinem said.
"Of course we were being shown what they wanted us to see, and of course we could see other things behind walls and so on but you learn almost as much or perhaps as much from what you are shown as what you are not shown," Steinem said. The North Korean government gave the group permission for the trip; in describing the process of obtaining permission, Ahn said they had received permission from North Korea before the South Korean government gave them the go-ahead. It was "difficult getting a response from South Korea," Ahn said.
Ahn advocates for U.S. rapprochement with North Korea and for North and South Korea to sign a peace treaty replacing the armistice that ended the Korean War.
"It's not us just saying this, it's not just North Korea saying this — that's what critics of us have said," Ahn said.
"Unlike the U.S., China and Russia have relations with both North and South Korea," Ahn said. "So we urge Congress to urge President Obama to abandon this failed policy of strategic patience and engage with North Korea."
"Unfortunately, what hasn't changed in half a century is the McCarthyite legacy of the Cold War when it comes to Korea, so that anyone calling for peace is labeled an apologist," Ahn said. She later said that "basically anyone who wants to do engagement with North Korea is red-baited, is subject to be attacked."
Ahn has been accused by human rights activists of downplaying North Korean human rights abuses in her Korea-focused work. She has been a vocal critic of the U.S. military presence in South Korea and has called for the U.S. to end economic sanctions against the regime of North Korean leader Kim Jong Un.
During a question-and-answer session, the panelists took questions from a couple of North Korean defectors, including Grace Jo, who asked how their initiative would help North Korean refugees.
Asked afterwards what she thought of the group, Jo, 24, who escaped North Korea in 2006 after several attempts and whose brothers and father died of starvation, said "they don't have any sincere comment to North Korean defectors. They only comment about North Korean regime."
"Peace is a very good word but that peace will bring to whom? Is it for North Korean people, or only supporting North Korean regime?" Jo, who is now a student in Virginia and works with the North Korean refugee group NKinUSA, said.
"They are doing propaganda for the North Korean regime, not actually bringing peace to the North Korean people — that's what I'm thinking," Jo said. "I don't think it's a good idea, what they're doing right now."
Peter Kang, another North Korean exile who said he escaped from North Korea when he was very young and now runs a group called the Korean Freedom Alliance, told BuzzFeed News he was "really shocked" by the Women Cross DMZ project.
"Before I came here I thought they were purely pawns of North Korea, looking at the TV and radio broadcasts of what they were doing," Kang said. "But today I felt that they are not really admiring North Korean regime, but that they are basically targets of North Korea's deception."
The panel did get a stamp of approval from Rep. Lee, who told them, "I couldn't believe how the media was distorting the purpose of the visit and what you were doing."