Wisconsin Democrats: Cancelled Unity Rally A "Nonstory"
The Wisconsin Democrats cancel a unity rally planned for after today's primary to decide Scott Walker's recall election challenger. Conservatives allege "disunity," while rumors swirl that Tom Barrett's side pulled out.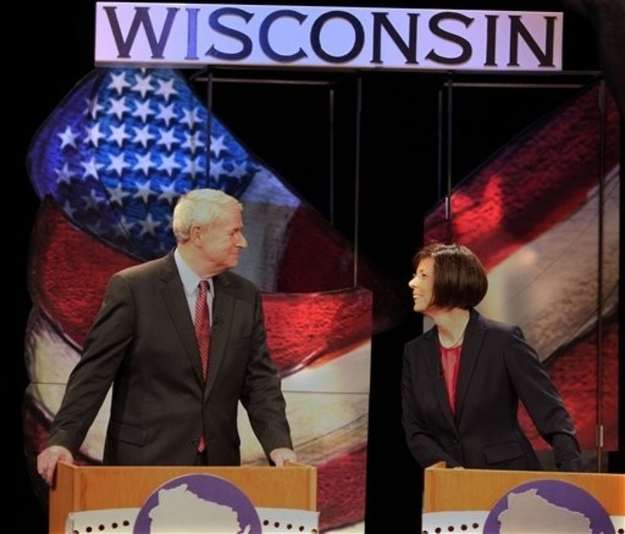 The Wisconsin Democrats are calling their cancelled post-primary "unity rally" a "nonstory," amid speculation that Milwaukee Mayor and frontrunner Tom Barrett's side pulled the plug. The candidates will appear together at a separate event instead, and the original rally will continue without the Barrett campaign or the party.
There's "no bad blood whatsoever," said Wisconsin Democratic Party spokesman Graeme Zielinski. "This idea of disunity is something being flogged and flogged by Republicans who don't want to be talking about criminal corruption and job loss. The call to change the rally to a 'Day of Action' was ours alone and had nothing to do with the candidates, who will all appear together at an event sponsored by our Party on Wednesday."
"This is a nonstory that is getting hot and heavy action because Republicans are bombing every newsroom in the state trying to pimp this, when there are Scott Walker scandals at every turn," Zielinski said.
On their Facebook page on Sunday, the Democrats had written "After serious discussion, we believe we can't afford to lose a single day of voter contact. It is imperative that we do everything we can to contact and turn out the voters we need to achieve what we have all worked so hard for over the past fifteen months - recalling Scott Walker."
The Wisconsin Republican Party, however, is eager to exploit tensions coming from a primary campaign that appears likely to leave the Democrats' key allies, organized labor, with their second choice.
"The decision to pre-empt this rally at the last minute has caused
widespread anger and confusion amongst liberal pundits and activists alike, fueling speculation that Tom Barrett requested that this 'Unity Rally' be cancelled, as he does not want to be seen in the company of union leaders and union members for fear of having images of his participation in the rally being used against him by the Walker campaign," said GOP spokesman Benjamin Sparks in a statement.
The rally was initially planned to take place at Wisconsin's state capitol in Madison at 6:30 p.m. on May 9. The primary battle between Barrett and labor-backed candidate Kathleen Falk has become increasingly heated over the last few weeks, opening the door to criticisms on the other side that the Democrats are too divided to win against Walker.
Barrett's communications director, Phil Walzak, told BuzzFeed that the state party was responsible for canceling the rally. It's
"Sad that an unsubstantiated rumor is getting so much attention," Walzak wrote in an email.
According to a Republican source familiar with the situation, the original rally will continue but "the Democrats and Tom Barrett aren't showing up."
"It's just going to be a bunch of liberal activists," the source said. "It's going to be a bunch of union members, and that's what it's going to be."