Who Is In The Secret Syria Coalition?
Secretary of State John Kerry has said 34 countries and organizations are ready to support the U.S. in its military strikes against Syria. But who are they?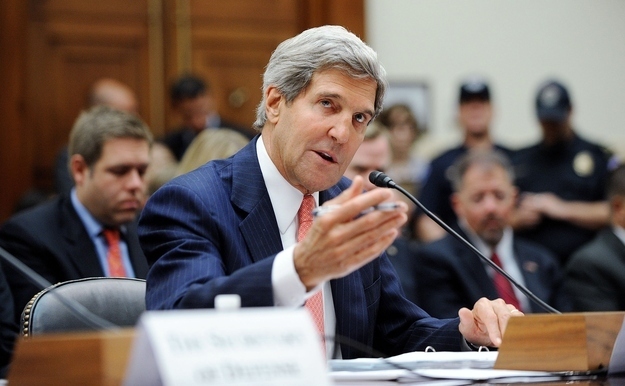 WASHINGTON — Secretary of State John Kerry has repeatedly said in the past few days that dozens of countries are supporting the Obama administration's war plan in Syria. But when it comes time to name names, Kerry has stated just a few examples, some of which are already well-known. The mysterious nature of the coalition has confused lawmakers and added to the impression that the U.S. has failed to garner much international support for military action in Syria.
"We will have very broad, and we have already very broad -- I think we've -- I've been in -- you know, we've had some 53 nations or countries and organizations have acknowledged that chemical weapons were used here and have condemned it publicly," Kerry said on Tuesday in a Senate Foreign Relations Committee on the topic of the administration's proposed authorization of force in Syria. "Thirty one nations have stated publicly that the Assad regime is responsible. And I think we're at about 34 countries have indicated that if the allegations are true, that they would support some form of action against Syria."
In two days of making the case for military strikes to Congress, Kerry listed a handful of countries ready to support the U.S. That leaves dozens that are apparently on board, but whose identities have remained a secret and whose support is unclear.
"I'm guessing we asked our embassies around the world to demarche foreign governments and those that articulated some form of support for our position made our list of allies," said a State Department official who spoke on condition of anonymity.
The State Department did not respond to repeated requests for a full list of the countries and organizations that are publicly supporting the administration's war plan. The White House referred BuzzFeed's questions to the State Department.
During Thursday's press briefing, State Department spokesperson Jen Psaki named nine countries who have "publicly and explicitly expressed support for U.S. military action": Australia, Albania, Kosovo, Canada, Denmark, France, Poland, Romania, and Turkey.
Psaki said that "our discussions with countries are ongoing" and that at least 30 countries have "stated in public or private" that the Assad regime is responsible for the August 21 chemical attack.
Rep. Matt Salmon, an Arizona Republican, pushed Kerry on his claim that 34 countries support the U.S. action in front of the House Foreign Affairs Committee on Wednesday.
"You said, in your testimony, that there are 34 countries who are with us," Salmon said. "What degree are they with us and who are they, specifically?"
"I do not have the full list of them here," Kerry said. "But, the -- the -- I have listed a bunch of them. The Arab League countries have condemned this. A number of them have asked to be part of a military operation. Our -- the Turks, a NATO country have condemned it, pinned it on Assad, asked to be part of an operation. The French volunteered to be part of an operation."
"There are others who have volunteered, but frankly -- and I will let General, you know, Dempsey speak to this, we've got more volunteers than we can use for this kind of an operation," Kerry said.
Speaking before the House members on Wednesday, Kerry specified that he was referring to 34 countries and "organizations." He gave just a few specific examples: "I'd just quickly say to everybody here -- Canada, Stephen Harper has said we should use -- we should take action. Denmark, France, Poland, Turkey, all have suggested the United States should take action, they'd be prepared to take action with us, and so forth," he said during Wednesday hearing.
And Kerry named a few "specific countries that have talked in terms of acting": Saudi Arabia, the United Arab Emirates, Qatar, Turkey, and France.
"We have not seen the list or to what degree those on the list support US action in Syria," said Kristine Michalson, a spokesperson for Rep. Salmon, who pressed Kerry for the countries on the list on Wednesday. "The Secretary said he would provide the list and we hope he does so soon."