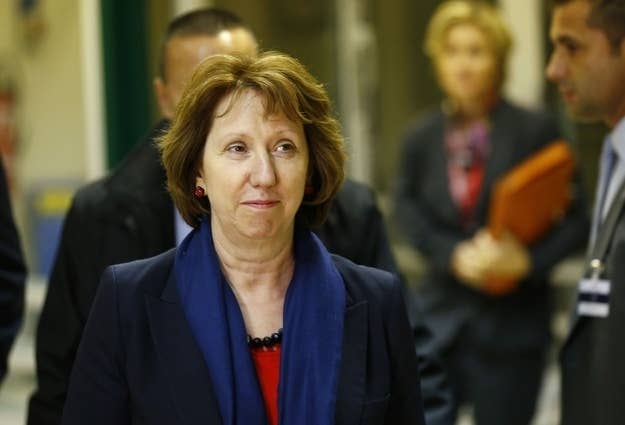 Updated Jan. 13, 11:09 a.m.
WASHINGTON — The text of an agreement reached Sunday to implement the interim nuclear deal with Iran is not available to the public because the European Union is not releasing it, the White House says.
"The EU is not making the document public," National Security Council spokeswoman Bernadette Meehan said on Sunday.
Asked why the document was not being released, EU foreign policy spokesman Michael Mann said that he will "have to ask about that." Catherine Ashton, the EU's foreign policy chief, was closely involved in the talks in Geneva that brought around the interim nuclear deal.
World powers reached an agreement this weekend to implement the interim deal reached with Iran in November to curtail its nuclear program in return for some sanctions relief; the terms of the deal are now scheduled to begin on Jan. 20. According to Reuters, Iran will receive the first $550 million in now-unblocked funds on Feb. 1.
On a conference call with reporters on Sunday, a senior administration said that the decision to release the document would be up to the EU and the International Atomic Energy Agency; "Frankly, ultimately, the IAEA and the EU as a lead negotiating body for the P5+1 will make those determinations about what to make public in those understandings," the official said. The official said that they "would certainly anticipate" that "elements of the IAEA's reporting will be made public over the life of the six months in the implementation of the agreement."
The fact that the document is not being released to the public has started to draw criticism from Iran hawks. "I urge the White House to publicly release the text of the implementation agreement with #Iran for all to review," tweeted Sen. Mark Kirk, one of the authors of the sanctions legislation now moving through the Senate.
President Obama released a statement on Sunday welcoming the agreement as an "important step forward" and sending a warning to those in Congress who are pursuing additional sanctions: "Imposing additional sanctions now will only risk derailing our efforts to resolve this issue peacefully, and I will veto any legislation enacting new sanctions during the negotiation."