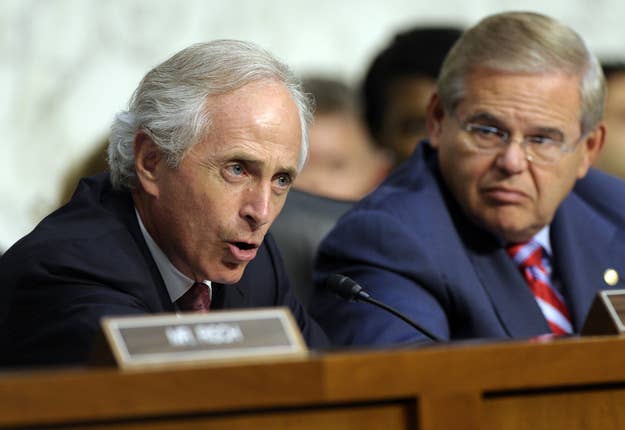 WASHINGTON — The White House has asked senior congressional committee staff to come to a briefing tomorrow in which staffers expect they will be asked to delay a new Iran sanctions bill, according to a source familiar with the meeting.
The source said senior committee staff from at least the Senate Foreign Relations and Banking committees have been asked to come to a meeting in the White House situation room on Thursday. The staff will be briefed by Phil Gordon, the National Security Council coordinator for the Middle East, North Africa, and the Gulf region, and, according to the source, will be encouraged to delay an Iran sanctions bill that is due to be marked up next week.
Asked about the meeting, National Security Council spokeswoman Caitlin Hayden told BuzzFeed, "Congress has been an important partner in our efforts thus far. We will continue our close consultation, as we have in the past, so that any congressional action is aligned with our negotiating strategy as we move forward. Tomorrow's meeting is part of these ongoing consultations, following on the recent P5+1 talks with Iran."
In light of nuclear talks in Geneva and a nascent Iranian effort toward rapprochement with the West, the administration has publicly suggested that Congress hold off on new Iran sanctions recently. The State Department's chief Iran negotiator Wendy Sherman asked the Senate Foreign Relations Committee in a hearing earlier this month to at least hold off until after Geneva talks that took place last week. "We do believe it would be helpful for you to at least allow this meeting to happen on the 15th and 16th of October before moving forward to consider these new sanctions," Sherman said.
Iran hawks in Congress have remained steadfast in calling for new sanctions despite the relative flurry of U.S.–Iranian diplomacy. Sens. Mark Kirk, Kelly Ayotte, and Lindsey Graham released a joint statement last week calling for tougher sanctions. "Now is a time to strengthen — not weaken — U.S. and international sanctions," the senators said. "The U.S. should not suspend new sanctions, nor consider releasing limited frozen assets, before Tehran suspends its nuclear enrichment activities."
"Faced with a steady drumbeat of Israeli officials urging world leaders to hold the line on sanctions until Iran fully dismantles its illicit nuclear program, the White House has decided to put on a full court press to stop the Congress from taking Prime Minister Netanyahu's advice," a senior Senate aide told BuzzFeed regarding the meeting. "The White House can brief until they're blue in the face — but Senators aren't buying what the administration is selling — and they know it will look like appeasement to the American public if they delay consideration of a new sanctions bill based solely on the hollow promises of the world's leading sponsor of terrorism."