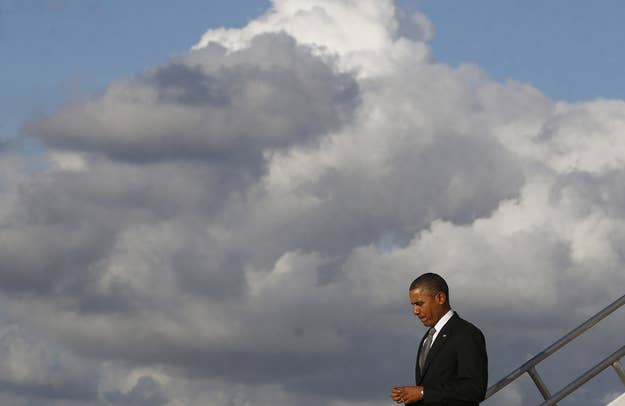 WASHINGTON — The president and vice president are privately urging key Senate Democrats and Republicans to hold off on moving a new round of sanctions against Iran, arguing it could undermine ongoing negotiations with the Islamic Republic.
In recent days, the president has called leading supporters of new sanctions legislation, including Illinois Sen. Mark Kirk, a Republican. Kirk's office confirmed the phone call to BuzzFeed on Monday.
Democratic leaders in Congress are also under "an extraordinary amount of pressure" to back the White House on putting off sanctions, one congressional aide said, and President Obama and other senior administration officials have directly called some to make the administration's case that increasing sanctions on Iran now will throw precarious nuclear negotiations into further doubt after a failure to reach a deal in the latest round in Geneva.
Democrats targeted include Sen. Chuck Schumer, who a Senate aide confirmed had spoken with Vice President Biden, White House Chief of Staff Denis McDonough, and a number of cabinet officials.
National Security Council spokesperson Bernadette Meehan declined to comment on the calls.
"We don't have any information to provide on this, to include whether any calls took place," Meehan said.
Secretary of State John Kerry will brief members of the Senate Banking Committee later this week, after which the committee will decide whether or not to take up new sanctions legislation right now, a Banking Committee aide confirmed on Monday. Kerry and Secretary of the Treasury Jacob Lew briefed members of the Senate Foreign Relations and Senate Banking Committees last week on sanctions as well.
There are signs that the White House pressure campaign is beginning to soften the position of some members. Sen. Tim Johnson, the chair of the Banking Committee, has said that his panel will wait to see what Kerry has to say before deciding whether to move forward with the bill — a change from last week, when Johnson said he had received permission from Majority Leader Harry Reid to mark up the bill.
Sen. Bob Casey, who previously told Foreign Policy that he would not accept a presidential request to ease up on sanctions, wouldn't say Friday whether he still supports imposing new sanctions in Iran while negotiations are still in motion.
"I support efforts to explore a diplomatic opening, but the true test of Iranian sincerity is a willingness to match rhetoric with actions," Casey said.
"Sen. Casey is encouraged by the reports and believes that the true of Iranian sincerity is action," Casey spokesperson John Rizzo told BuzzFeed. "Sen. Casey believes that the sanctions in place have brought us to this point."
But the White House still faces an uphill battle in a Congress where nearly all support continuing sanctions on Iran and the most pro-sanctions players have not given an inch. Two of the most vociferous supporters of sanctions, Sens. Lindsey Graham and Bob Menendez, said on the Sunday shows after the talks in Geneva failed that it was imperative to push new sanctions through.
"A new round of sanctions will be coming from the Congress," Graham said on CNN on Sunday. "The Congress will define the end game, because we're worried about the end game, not some interim deal."
And a vote on the National Defense Authorization Act, with a likely amendment on sanctions, still seems set for the week of Nov. 18 despite some recent rumors that it would be delayed — two days before the next round of talks are set to begin.
"Members of Congress are following the negotiations and are looking forward to being briefed early this week," said one congressional aide. "As far as I can tell, most members continue to view the sanctions, and the potential of tougher sanctions, to be the primary reason Iran is even willing to sit down at the negotiating table. Not sure that would be defined as flipping, but many of the members see talks as being impossible without Iran sanctions and support strong sanctions — as shown by the 400 to 20 vote."
"Certainly the more hawkish [members] who have no real lefty threat in their district are going to be increasingly vocal about their concerns," said another congressional aide. "Especially as Israel ramps up its own rhetoric, I'm quite sure it will have that effect."
Leading Jewish groups with influence on the Hill are also starting to grow impatient; the Anti-Defamation League on Monday reversed its promise to hold off on campaigning for new sanctions for 30 days during negotiations.
The White House push to delay sanctions could also be at least partly theater, showing the Iranians that they are trying to push back the timeline on the sanctions while also keeping the threat of them hanging in the air as leverage during the negotiations.
The White House wants a "markedly, heavily bipartisanly pro-Israel Congress standing with a hammer behind them allowing them to say look at what is coming down the pike if you don't accede," the aide said. "At the same time they're afraid of a timetable that will upend it altogether and push Iran away."
With reporting by Kate Nocera.