White House Admits: No Possibility Of Two State Solution For The Rest Of Obama's Term
"Not in the cards."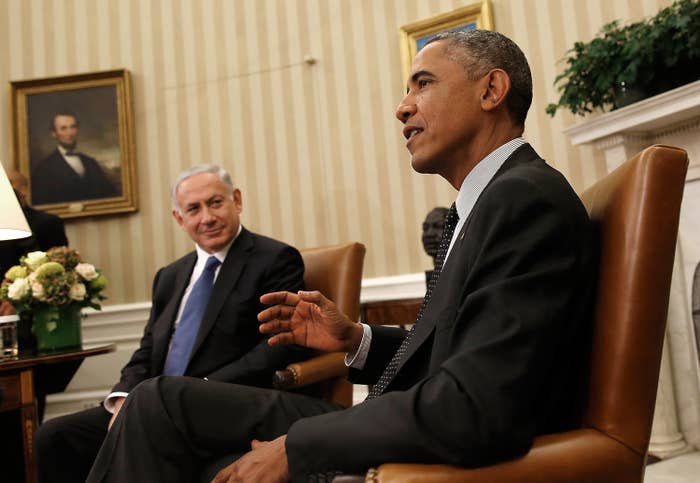 WASHINGTON — White House officials acknowledged on Thursday that there is no longer enough time to negotiate a final status agreement in the Israeli-Palestinian conflict in the remainder of President Obama's term in office.
Speaking to reporters on a call previewing Israeli Prime Minister Benjamin Netanyahu's visit to Washington next week, officials said that the U.S. remains committed to the goal of a two-state solution but that they have reached a "realistic assessment" that a negotiated settlement won't happen in the near future.
"We don't see a clear pathway right now to the type of negotiations that could produce a two-state solution, as much as we would like that to be the case," said deputy national security adviser Ben Rhodes.
Rob Malley, the National Security Council coordinator for the Middle East, said that bringing the two-state solution — which has been the longstanding U.S. position — to fruition is "not in the cards" for the remainder of Obama's term. The last attempt were the talks launched by Secretary of State John Kerry in 2013, which collapsed after nine months.
Though the reality that there are no immediate plans for peace talks has been clear for some time, the level of forthrightness in admitting that the door for more talks has closed for the moment is unusual. Malley said it was the first time since the Clinton administration "where we have an administration that faces the reality that the prospect of a negotiated two state solution is not in the cards" for the time remaining.
Officials on the call, which also included U.S. Ambassador to Israel Dan Shapiro, said the idea of talks right now wasn't realistic given the situation on the ground, where clashes over the Temple Mount earlier this fall spilled over into a wave of stabbing attacks against Israelis and heightened tensions in the area.
In March, Obama told Netanyahu that the U.S. was "reassessing" the U.S.-Israel relationship after Netanyahu said during his re-election campaign that there would be no Palestinian state under his leadership. Netanyahu later backtracked on his comments.
Netanyahu's visit to Washington next week will mark the first time Obama and Netanyahu have met since the United States and other world powers reached a deal with Iran over its nuclear program in July, a deal that Netanyahu has vehemently opposed. The officials on the call said Obama will discuss the deal with Netanyahu as well as other issues in the region such as the Syrian conflict.
Netanyahu is also scheduled to appear at the American Enterprise Institute's annual gala on Monday, where he will receive the organization's Irving Kristol award. More controversially, he is also slated to speak at the progressive Center for American Progress the next day.