Where Did Kim Jong-Un Get His Apple Computer?
A trade embargo between the U.S. and North Korea doesn't stop Kim from being a Mac guy. Did he get it from China?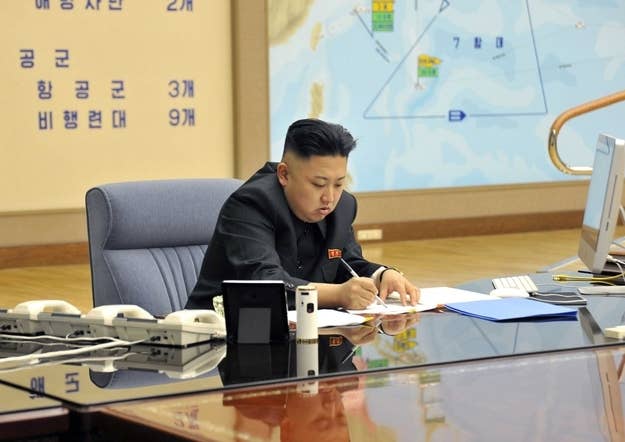 WASHINGTON — One of the North Korean photos going viral on Friday — apart from the one showing plans to attack the U.S. with missiles — shows North Korean leader Kim Jong-un with a shiny iMac desktop computer.
But Apple complies with U.S. trade embargoes on countries including North Korea, meaning its computers aren't meant to end up there. How did Kim get his iMac?
For ordinary North Koreans, up-to-date phones and computers are difficult, if not impossible, to get. North Korean companies have produced their own knockoff iPad competitors and cell phones, but the sale of Apple products is actually prohibited.
According to Apple's website:
The U.S. holds complete embargoes against Cuba, Iran, North Korea, Sudan, and Syria

The exportation, reexportation, sale or supply, directly or indirectly, from the United States, or by a U.S. person wherever located, of any Apple goods, software, technology (including technical data), or services to any of these countries is strictly prohibited without prior authorization by the U.S. Government. This prohibition also applies to any Apple owned subsidiary or any subsidiary employee worldwide.
An Apple spokesperson didn't immediately respond to a request for comment. Nor did a press contact at the Department of Commerce, which regulates trade embargoes.
This isn't the first time Kim's been seen with what might be an Apple product. Kim was photographed in February with a smartphone that looked like either an HTC model or an iPhone 3 — or even a Samsung, the South Korean company.
Personal computers are available in North Korea — in 2011, state TV reported that there were three new models being manufactured there — and there is a North Korean operating system, similar to Linux, called "Red Star." But most of the hardware North Korea has touted has been shown to be Chinese.