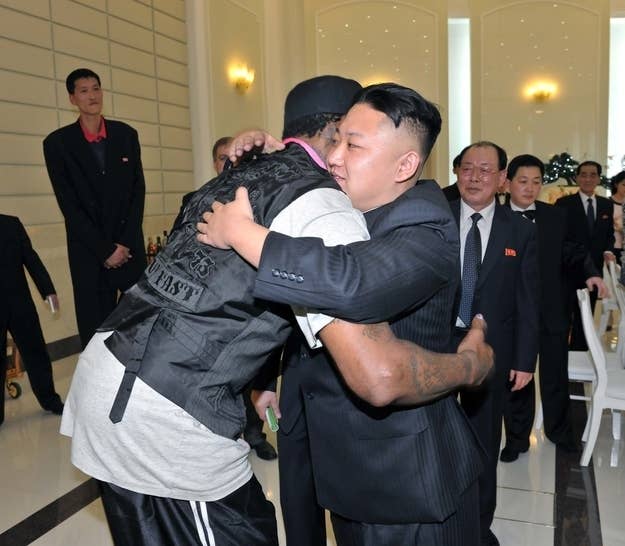 WASHINGTON — Former NBA star Dennis Rodman promised to return to North Korea at the beginning of this month to try and exfiltrate imprisoned American Kenneth Bae, but the trip doesn't appear to be happening.
Rodman told TMZ in May that he was returning to North Korea on Aug. 1 after a much publicized trip in February to try to rescue missionary and tour operator Bae, who was arrested by North Korean authorities in November and has since been sentenced to 15 years of hard labor for alleged crimes against the government.
"I'm gonna try and get the guy out," Rodman said. He criticized President Obama for not personally going to North Korea to win Bae's release, saying that the president "can't do shit."
"I'm calling on the Supreme Leader of North Korea or as I call him `Kim', to do me a solid and cut Kenneth Bae loose," Rodman also tweeted in May.
Representatives for Rodman didn't respond to inquiries on Monday about whether he still planned to make the trip. Unlike other Americans detained in North Korea in the last several years, Bae's case has not attracted high-level intervention on the prisoner's behalf; former President Jimmy Carter was rumored earlier this month to be planning a trip, but his camp shot down the idea in the press.
Rodman took on the unlikely role of diplomat in February, becoming one of the few Americans to have ever spent time with North Korea's supreme leader. The trip, which was documented by a crew from Vice magazine, appeared to result in a real rapport between the two: Rodman subsequently referred to Kim Jong-un as "my friend" during an appearance on This Week.
Bae, meanwhile, was last seen in a video released a month ago from prison where he is shown wearing a stained jumpsuit and looking to be in ill health as he appeals for help from the U.S. government. The State Department has called for Bae's immediate release and expressed "grave concern" about his health.