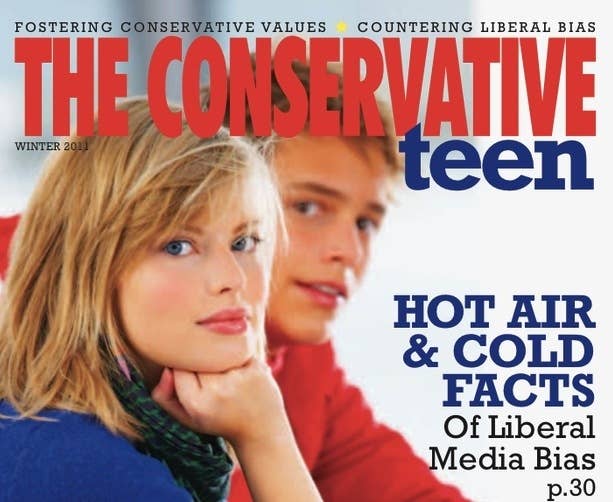 Conservative Teen magazine — an online sensation this week for its goofily wholesome appeal — has vanished as abruptly as it arrived.
The magazine, which featured articles like "Ronald Reagan: The First Black President?" and "GLEE: Songs, Sex, and Sleaze," only ran for one issue this winter before disappearing shortly after highlights excerpted by BuzzFeed went viral.
The fledgling magazine had already warned subscribers it was running out of money, but its abrupt disappearance appears to be less simple than that. Contributors to the magazine say the enterprise ran out of money, but the publisher says he grew too ill to continue. And the man who registered the website has disappeared, his employer said.
The website was down as of yesterday morning, its content gone and an "Under Construction" page in its stead. The phone number listed there has been disconnected. And subscribers have received notices that their subscriptions are no more.
The magazine featured contributions from staffers at conservative organizations like the Family Research Council, the Media Research Center, and the Heritage Foundation, which gave it the look of being those organizations' project, but the publisher is listed as one William R. Smith. Smith responded to BuzzFeed's query via email saying "Unfortunately, I have become seriously ill over the past few months and can no longer work. I appreciate your interest but the magazine is being closed down."
Family Research Council spokesman Darin Miller explained why his organization hooked up with Smith: "He reached out to us and said he was starting a new magazine and looking for contributors." Miller and Peter Sprigg, Senior Fellow For Policy Studies at FRC who contributed an abstinence article to the magazine, both said that The Conservative Teen closed down because it wasn't making money, an explanation bolstered by an appeal on its now-vanished Subscriptions page.
"My understanding is that they didn't get enough subscribers to make it an economically viable operation," said Sprigg. "I had entered a subscription for my teenage son. Because I had entered a subscription, I did receive a notice from them saying they'd canceled the publication."
Smith ran the operation, but the website was registered to Mike Johnson, an IT manager at KRT Inspect, a company in San Diego which inspects China-bound shipemts. An email to Johnson was returned by a coworker, Brian Lane, who told BuzzFeed that Johnson's whereabouts are unknown.
"Mike Johnson no longer works for our company and we do not know where he is at this time," he said. " He was an IT manager and apparently registered numerous domain names without company authorization. We are in the process of resolving this matter."
Lane didn't respond to questions about other websites Johnson may have registered, and repeated emails to Rick Smith asking for clarification went unreturned.