Warren Warns Against Civilian Deaths In Warfare — But No Mention Of Drones
"Whatever our righteous intentions, the world does not hold us blameless when civilians die."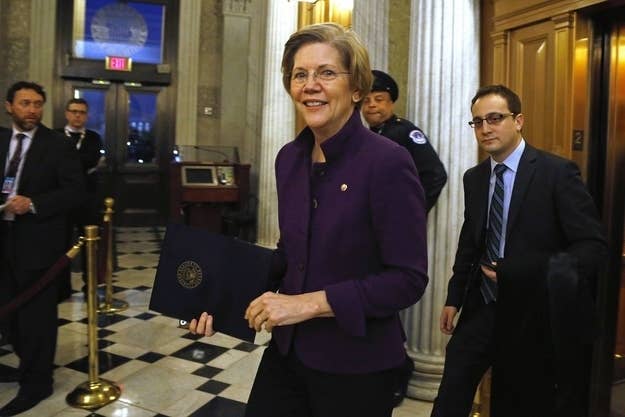 WASHINGTON — Senator Elizabeth Warren gave her first major national security speech on Wednesday focused on warning against civilian casualties in American wars. But neither in her speech nor in a following question-and-answer session did she mention a marquee Obama administration policy that has resulted in many controversial civilian deaths: drone warfare.
"It is critical to consider the chaos and factionalization that can arise in the wake of military intervention," Warren told an auditorium at Georgetown University, "critical to evaluate the potential for military intervention to spark an insurgency or fuel a civil war, critical to consider the possibility that civilian casualties in one conflict could be used as a recruiting tool or rallying cry for extremists in other parts of the world."
"Unintended consequences can have a profound impact," she continued. "Whatever our righteous intentions, the world does not hold us blameless when civilians die."
Her speech, titled "Collateral Damage, National Interests, and the Lessons of a Decade of Conflict," marked the first time Warren — who is mostly known for her tough stances on big banks that have made her a darling of the progressive left — has seriously dipped a toe into the foreign policy and national security worlds.
Warren's speech argued that civilian casualties in warfare have helped to make the United States a target of extremists and called for reform in the military to prevent and to deal with the fallout from such casualties.
She called for "establishing training programs that directly address civilian casualties," improving "our efforts to track civilian casualties during any military engagement" and making that data publicly available, and instituting "best practices for what to do in the wake of civilian casualties."
Quoting David Petraeus, Warren said: "We must continue – indeed, redouble – our efforts to reduce the loss of innocent civilian life to an absolute minimum." Continuing the quote, she added: "Every Afghan civilian death diminishes our cause. If we use excessive force or operate contrary to our counterinsurgency principles, tactical victories may prove to be strategic setbacks."
While Warren's rhetoric against civilian casualties was strong, she avoided the topic of drones completely — an omission that seemed calculated to avoid a conflict with the White House over a signature policy.
In a question-and-answer session after the speech with Dr. Edward Montgomery, the dean of Georgetown's McCourt School of Public Policy, Warren avoided placing blame on the administration for civilian casualties. Montgomery asked her how much responsibility belongs to the president, how much to the Joint Chiefs of Staff, and how much to the commanders on the field.
"Our soldiers on the ground began to teach us the importance of paying close attention to civilian casualties in this very different kind of war that's very different from a war in which everyone wears uniforms and we meet on pitched battlefields," Warren said.
"The real point now is to take that lesson on up the chain of command," Warren said. "This has to be something in my view that has to be absorbed into the military and into our leadership. We need to have this as part of our national conversation. That's true for all of us, so I see this as a question of responsibility borne not just by those in the field, but responsibility borne by all of us."