Scott Walker Won't Take Press On Israel Trip
It's simply a "listening tour."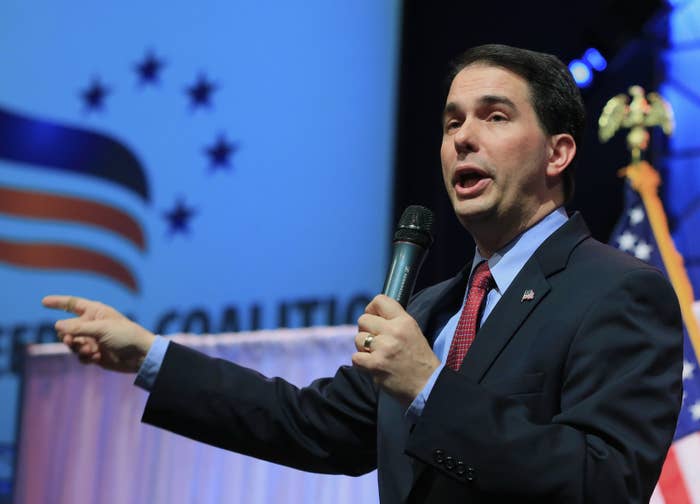 WASHINGTON — Wisconsin Gov. Scott Walker isn't inviting reporters to come along with him on his first political trip to Israel next month, a spokesperson said.
"Gov. Walker's trip to Israel will be a listening tour," said AshLee Strong, a spokesperson for Walker's PAC, Our American Revival, last week. "It'll happen mid-May and we won't be having any press join."
"He is interested in hearing first-hand Israel's concerns about the future of our alliance and identifying ways to restore the ruptured bonds between our two countries," Strong said. "He is very concerned about the rise of Iran, the spread of radical Islamic terrorism, and the turmoil in Syria and Iraq, and is interested in understanding the views of the Israelis on how we confront these shared challenges. The governor will be discussing his trip once he gets back but wants to use it as an opportunity to see for himself and learn before discussing it as he continues talking about big issues facing our country through Our American Revival."
On Monday, Strong reiterated that no press would be on the "listening tour."
Presidential candidates and potential candidates like Walker often take symbolic foreign trips to boost their foreign policy bona fides in carefully staged appearances and meetings abroad. The trips have value especially when, like Walker, potential candidates are seen as having little foreign policy experience. The trips signal a desire to take the issues seriously and can lend an aura of presidential-ness — if they go well.
But having press cover these trips can invite more trouble than it's worth. Rand Paul's Israel trip is remembered mostly for his shirtless photos from the Dead Sea; Christie's attempt in the U.K. was overshadowed when reporters got him on the record equivocating about vaccines in the midst of a measles outbreak; and Mitt Romney's 2012 trip to Poland became a disaster when a campaign spokesperson told reporters to "kiss my ass" when they tried to ask the candidate questions after being shut out for most of the trip. Ben Carson went to Israel in December, compared the U.S. to Nazi Germany while sitting in the cafeteria of Israel's Holocaust museum, and did not know what Israel's Knesset is — all documented by GQ's Jason Zengerle. Even Walker's own trip in his capacity as a governor to the U.K. in February made headlines when he refused to say whether he believes in evolution. Walker's decision to keep press away allows him to control the narrative entirely.