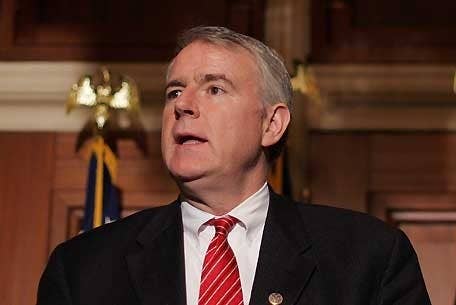 Milwaukee Mayor Tom Barrett, one of two top Democrats running to unseat Wisconsin Governor Scott Walker in a recall election driven by battles over labor union rights, also sought to scale back collective bargaining power in a confidential proposal obtained by BuzzFeed.
Barrett is facing former Dane County Executive and labor favorite Kathleen Falk in a Democratic Primary May 9. The February, 2011 proposal obtained by BuzzFeed helps explain why labor has sided against Barrett: Floated amid the battles in Madison, Barrett's plan would have limited collective bargaining rights on health insurance, overtime hours, and pension for unionized city workers.
Though Falk and Barrett have sought to keep their focus on Walker and avoid primary fratricide, some of the state's labor unions have been less subtle. The American Federation of State, County and Municipal Employees spurred controversy by circulating an edited video from an interview Barrett gave to a conservative radio host in a way that suggested that he backed Walker's bill. AFSCME later walked back the video, calling it "over the top." Barrett supported some parts of the bill at the time, in particular provisions that required public employees to pay more for health insurance and pensions.
In the proposal obtained by BuzzFeed on Monday, dated Feb. 24, 2011, Barrett's office proposes to AFSCME and AFL-CIO District 48 that the new contract with the city eliminate an article in the existing contract dealing with hours of work, as well as limiting pension benefits and eliminating parts of an article dealing with health insurance — in effect limiting the union's ability to collectively bargain in a manner Barrett's labor foes compare to Walker's Act 10.
The union countered with a proposal pushing back on the city's alterations, but on January 1st, the new contract with Milwaukee's changes went into effect. A union source said the contract includes the new limits on collective bargaining, but not the pension reductions.
Wisconsin's Act 10 went into effect on July 1st of last year, overriding much of the agreement between Milwaukee and labor.
Barrett, meanwhile, says he'll roll back Walker's assault on the unions. He countered the AFSCME video, telling reporters that "I have said I will restore collective bargaining rights in this state."
Barrett's spokesman Phil Walzak said that the proposal was part of ongoing negotiations at the time between the unions and the city, and pointed out that the City of Milwaukee hasn't held layoffs this year, current employees continue to pay nothing towards their pension, and there haven't been wage decreases.
"This is not eliminating rights, this was a negotiation about benefits. It was back and forth in a bargaining process," said Walzak. "This is the collective bargaining process at work."