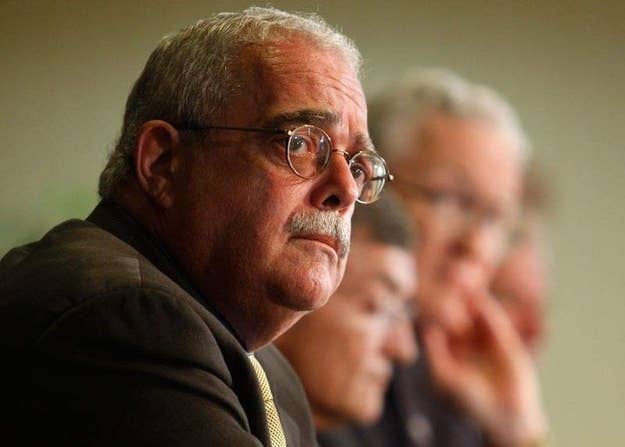 CHARLOTTE, N.C. — Virginia Congressman Gerry Connolly said he's unconcerned by speculation that newly-Republican Artur Davis will run for his House seat, he said on Wednesday morning.
"Last time I checked, this is 2012 and I have an opponent, his name is Chris Perkins, and I'm running against him," Connolly told BuzzFeed in an interview outside the Virginia delegation breakfast at the Sheraton near the airport.
"Why would I comment on speculation about, I don't know, why stop at 2014? Who would run against me in 2020? I've heard names!" Connolly said. "I barely know Artur Davis. You're not going to drag me into a quote on that subject. I have an election in 62 days, I'm focused on that election. Who knows what the future will bring?"
BuzzFeed reported in May that Davis, a former Democratic congressman from Alabama and one-time gubernatorial candidate, was considering running as a Republican in Virginia in the district represented by Connolly. Davis has since raised his profile in the Republican Party, campaigning on behalf of Mitt Romney and speaking at the Republican National Convention last week.
Connolly criticized the RNC, saying that "it was filled with cranky malcontents of a certain complexion and lacked anything remotely resembling the base of America."
"And so what they always do is drag out a handful of people they do have — you mentioned one that's just switched parties — they're so desperate they put him on the friggin' platform to speak," Connolly said of Davis. "This is a guy who, you can look at his voting record — anyway, that's how desperate they are."
"That is a serious problem for their party after this election," Connolly said. "It's a problem for this election. But by 2016 it may be dispositive."
"If they really can't figure out how to reverse their hostility to new arrivals, their incipient racism in a large chunk of the party, the unwelcome mat that's in their front doorstep — I'm telling you it's the seed of their own destruction if they don't turn that around," Connolly said, adding that he thought the convention looked as though "they let the country club out early."
UPDATE: Davis emails: "Interesting: 'cranky malcontents of a certain complexion.' Democrats really are struggling with their word choices."