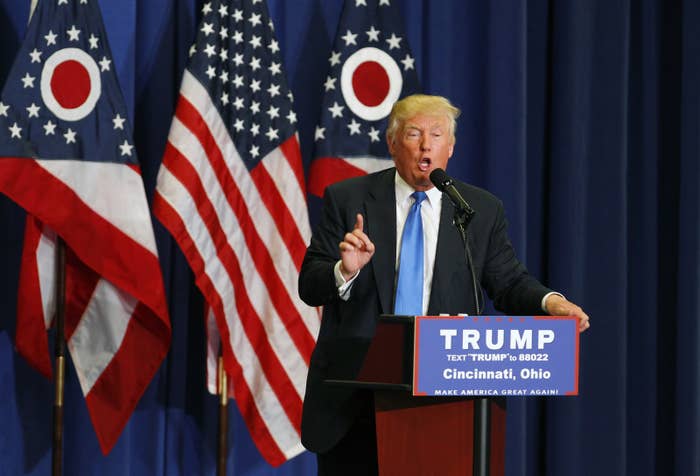 CLEVELAND — An anti-Donald Trump delegate to the Republican National Convention from Virginia has won a court case challenging his state's law requiring him to vote for Trump at the convention.
The decision means that Virginia's law, which would require delegates to vote on the first ballot at the convention for Trump, who won the state's primary, has been cannot be enforced. The decision is a win for the "never Trump" movement that is preparing a last-ditch challenge to Trump's nomination in Cleveland. But state and national party rules determining how delegates vote at the convention are still in place.
Judge Robert Payne of the U.S. District Court for the Eastern District of Virginia released his decision on Monday. The case was argued last week.
Beau Correll contended on a conference call Sunday night with other members of the Free the Delegates movement, a group that has sprung up to advocate that delegates vote their conscience at the convention, that his case could impact 20 other states that have similar binding statutes.
"It's hopeful on our part to win this thing to send a message to the other delegations you're not bound by state law," Correll told BuzzFeed News on Saturday.
Correll's case argued that his being bound to Trump violates his First Amendment right to free speech and free association, and that Virginia's law exceeded its constitutional powers. Correll also argued that Virginia's law conflicted with RNC rules.
A parliamentarian working for the Trump campaign provided testimony in favor of the defendants, and Trump's election law attorney Donald F. McGahn was reportedly in the courtroom during the arguments. A spokesperson for the Trump campaign did not immediately respond to a request for comment.
RNC spokesman Sean Spicer responded to the court's decision on Monday afternoon, saying that it affirms the RNC's rules regarding delegate binding:
Correll's court victory is a morale boost for the anti-Trump movement ("Boom goes the dynamite!" Correll said when reached by BuzzFeed News via text message about Judge Payne's decision on Monday). But despite his win, the real moment of truth for the Free the Delegates and Delegates Unbound movements will come this week when the convention's Rules Committee meets in Cleveland. The anti-Trump delegates are pushing a "conscience clause" that would allow delegates to vote their conscience; Free the Delegates leader Kendal Unruh, a Colorado delegate, said on the conference call on Sunday night that the clause would come up in the Rules Committee on Friday.

Unruh told the Daily Wire this weekend that she has the 28 votes on the Rules Committee that are necessary for there to be a minority report triggering a vote on the rules change proposal on the floor of the convention.
Judge Payne's decision: