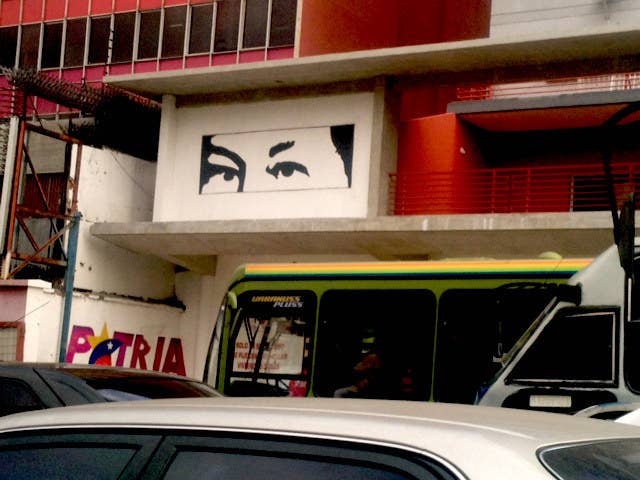 CARACAS, Venezuela — Hugo Chavez is dead, but he's everywhere around Caracas: on billboards, posters, and graffiti. Sometimes it's just his eyes, watching over this teeming city and the hillside slums packed with his supporters. "Peace Prevails," blares graffiti with Chavez's eyes perched above.
Chavez's personality cult remains strong 13 months after his death, and his ideology, Chavismo, still holds a grip on many Venezuelans, especially the poor, many of whom viewed Chavez as a hero. Chavismo's principles of populist socialism and anti-imperialism, and the allure of the Bolivarian Revolution (named after 19th-century Latin American liberator Simon Bolivar), dominate Venezuela's political landscape. They also helped bring about severe economic and security crises that have pushed thousands into the streets of Venezuela's cities for the past two months. And yet, the enduring popularity of Chavismo has proved a difficult problem for the Venezuelan opposition to solve. Protest organizers in both the political opposition and the student movement have not found effective ways to bring large numbers of chavistas, the name given to Chavez loyalists, to protest alongside them.
Carlos Vargas, 20, a student leader from the Universidad Católica Andrés Bello, said that student protesters had been making an effort to reach out to the overwhelmingly Chavismo-supporting poor to convince them that the food shortages, rampant crime, and severe inflation that characterize today's Venezuela are something worth protesting. He and other students have been traveling to the poor neighborhoods on the outskirts of Caracas for "social encounters" like baseball and basketball games, with a side of politicking.
"When we arrive maybe it's a little weird," Vargas said, speaking in perfect English and dressed in a hoodie and jeans. "Maybe a little uncomfortable."
After the "encounters," the students discuss the current crisis, trying to strike a common chord with the people they're attempting to win over.
"After those encounters we talk about what is happening in the country, what they think about it, how they see the situation, what is our perspective, if they have the same perspective, and right there we start creating a bond between all those sectors," Vargas said. "And after that it's a living proof that it's a lie that the popular sectors are not in those protests."
Vargas said that the protesters' main long-term goals were to restore judicial independence and reform the electoral commission, both of which have become riddled with abuses. Three officials remain on the election council despite the fact that their terms lapsed in 2012; the same goes for 11 of the 32 judges at the country's supreme court, whose terms lapsed in 2013. Human Rights Watch has said that "the judiciary has largely ceased to function as an independent branch of government."
"All the public institutions, all of them, respond to one political party," Vargas said. "That is not democracy."
The main criticism of the Venezuelan protesters — the accusation that they are a group of revanchist elites out of touch with regular Venezuelans — is perpetuated by Maduro, who told The Guardian that Venezuela is "the country where the rich protest and the poor celebrate their social wellbeing." The criticisms have some grain of truth, at least when it comes to the political leaders behind the protests. Both sides have inherited a class war that dates back to well before Chavez. But activists say that just because protests mostly aren't taking place in poor neighborhoods doesn't mean no poor people are getting involved.
"They [the government] have tried to sell the impression that low-income areas have not been involved in the protests, but that's a lie," said Yeiker Guerra, 20, a student leader originally from the Petare slum east of Caracas who attends the private Universidad Monteávila on scholarship. "Students from the poorer neighborhoods go down from their slums to Altamira because they feel safer there," he said, referring to Caracas' Plaza Altamira, the focal point of protests.
Opposition activists say that more of Venezuela's large lower class would be out protesting if they felt safe doing so. The country's poorer neighborhoods are where the colectivos are based, paramilitary groups that emerged under Chavez as self-appointed guardians of the revolution. It is they who have been blamed for the deaths of many of the dozens of protesters who have died, and the opposition says they are directly armed and funded by the government.
"Of course people who live in poor localities do not participate as actively in their communities as in other places," said Maria Corina Machado, an opposition leader who was recently stripped of her parliamentary seat. "These communities are controlled by paramilitary groups." On Tuesday, a group of protesters in the Petare neighborhood were attacked by men on motorbikes, the colectivos' favored mode of transport.
Opposition leaders say it's a Catch-22: Venezuela's vast inequalities are partly preventing the poor from protesting those inequalities.
"The middle class has more time, like if they're in university — it's something about what you do in your day," said Rodrigo Diamanti, the head of human rights group Un Mundo Sin Mordaza.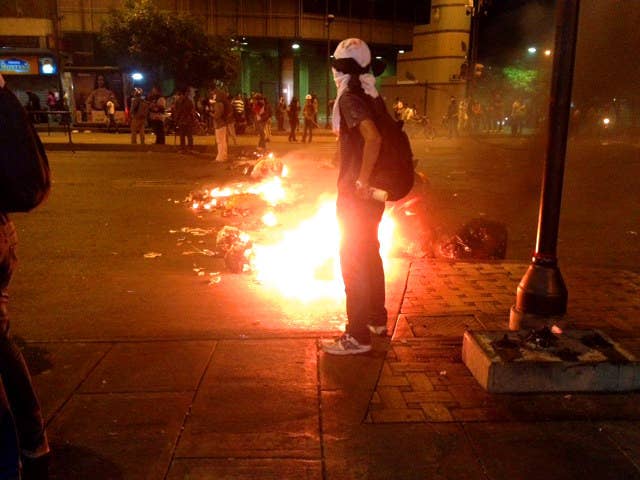 During the day, protesters gather in the relatively well-to-do Caracas neighborhoods of Altamira and Chacao, as well as the student towns of San Cristobal and Merida, for large marches, though their numbers are decreasing as the protests reach their third month with no results. At night, the areas become a tense war zone. Young people in gas masks or V for Vendetta masks and bandanas set barricades up in the streets, sometimes lighting them on fire. They set up trip wires for incoming motorbikes as a way to keep out the colectivos who ride them. National Guard members in armored vehicles line the streets, holding weapons and waving cars around. Anti-Chavez and anti-Maduro graffiti fills the streets.
There's little of that to be found in the barrios that line the hills surrounding the city. Catia is one of those slums, featuring grimy streets and small houses with peeling paint that sit stacked on top of one another.
Saverio Vivas is a community organizer and coordinator for the Primero Justicia party, headed by Henrique Capriles, who nearly beat Maduro in a presidential election held after Chavez's death last year. Vivas and his wife Claret live in a modest apartment with a small rooftop that is one of the nicer houses on their block in Catia.
Vivas says the shortages Venezuelans are experiencing now are the worst he's ever seen — people in his neighborhood can't easily find basic foods like milk and flour, and there are shortages of gas and medicine, he said. He focuses on "getting poor people involved in social and political work. First comes the social work and then comes the political."
"People are getting involved, but not in the way the promoters of this protest would like," Vivas said. "That's another social reality here. Here, they don't think it's the time for protests or for barricades."
"You couldn't close the road here because people wouldn't be able to go to work, and they all depend on their daily work," Vivas said. "They wouldn't have something to eat in the evening."
Asked if the leaders of the student movement and the political opposition had made serious efforts to organize in the neighborhood, Vivas paused.
"Frankly, no," he said.
"There's a problem of empathy between the political leaders that called for this protest and people in the lower-income areas. They don't feel connected," Vivas said. "It's a reality. Whether I like it or not, that's how it is."
There is also the issue of message. State television hardly covers the protest unless it's to attack the opposition, and even private media faces repression and censorship, which affects the ability of the poor to get a clear picture of what's going on. Added to this is Maduro's extreme rhetoric about the protesters; he has compared them to the murderous Chucky doll from horror films, and has referred to the opposition leaders as fascists. Vivas, too, said that in his neighborhood the threat of the colectivos suppresses protest activity: "We have all these paramilitary groups — look down the street, those guys sitting? Those are armed colectivos that are paid by the government."
And the simple fact remains that Chavez is still a beloved figure and his ideology is the predominant one in these areas.
"People are thankful that there are social programs and markets and popular clinics," Vivas said. "Even though all these programs are full of corruption cases and all that, people are still thankful for them."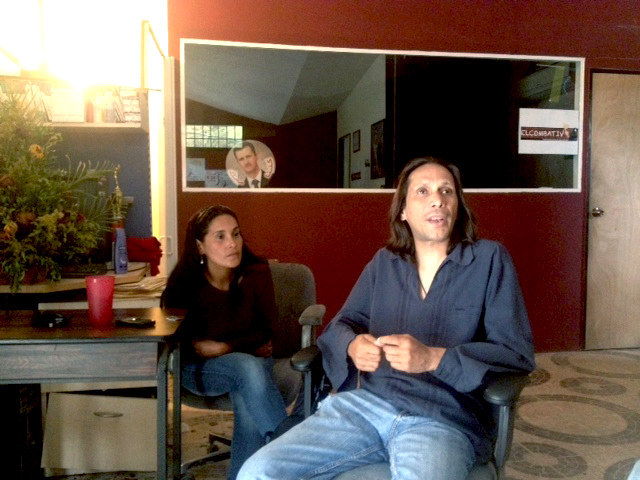 Two of those thankful for Chavismo are Glen Martinez, 43, and Elizabeth Gonzalez, 40, the president and vice president of Radio 23, a colectivo based in the large 23 de Enero slum, a traditional government stronghold. Its name, which translates to "the 23rd of January," commemorates the date when former dictator Marcos Peréz Jimenéz was deposed in 1958. One wall painting in the area depicts a Last Supper of revolutionaries, including Chavez, Mao, Lenin, Simon Bolivar, and Che Guevara.
Martinez and Gonzalez's colectivo, which runs a radio and a theater, is based out of a one-story building decorated with a huge mural of Chavez and dead Libyan dictator Muammar al-Qaddafi. In their small office hangs a picture of Bashar al-Assad. "He's a factor of resistance to the domination policy of the global right," Martinez explained. They don't play English-language music on their radio station. Before agreeing to speak, Martinez asked a Venezuelan translator which neighborhood of Caracas he was from, to determine whether he was bourgeois.
Their colectivo has been around for the last 10 years and is one of 33 similar groups in the area, Martinez said. He claimed that the group receives no money from the government, though he acknowledged that the building was a gift from the state.
Martinez had an answer for everything — food shortages, crime, and who's really behind the protest movement and the violence that has been blamed on pro-government groups like theirs.
"Nobody here from 23 de Enero has gone out to do anything against the opposition or their protests," Martinez said. "Who is burning the barricades? For whom is it convenient to show that there is chaos in the country?"
"We have been vilified and criminalized," Gonzalez said. "To now go out and make more arguments for that – there is no reason why they would now go and attack those protests."
According to Martinez, the food shortages are a myth. Every Thursday, he said, a truck full of fruit, vegetables, and cheese comes to the neighborhood. It's only recently been delayed because of protest barricades. "At the street sellers, they have all the products."
As for the protests themselves, they're a plot organized by right-wing elements from Bolivia, Colombia, Panama, Chile, Canada, and the U.S. — specifically Secretary of State John Kerry and Vice President Joe Biden. Another suspicious factor: actor Jared Leto, who spoke out in support of the Venezuelan protesters during his Best Supporting Actor acceptance speech at this year's Oscars.
"The Oscars show allowed that political thing to happen," Martinez said. "So I find that remarkable."
Martinez said he "hopes the protests wane slowly." His tone is snide: "I've asked Tarzan to speak with the opposition, because he can speak with animals, to explain to them that they should stop destroying the country."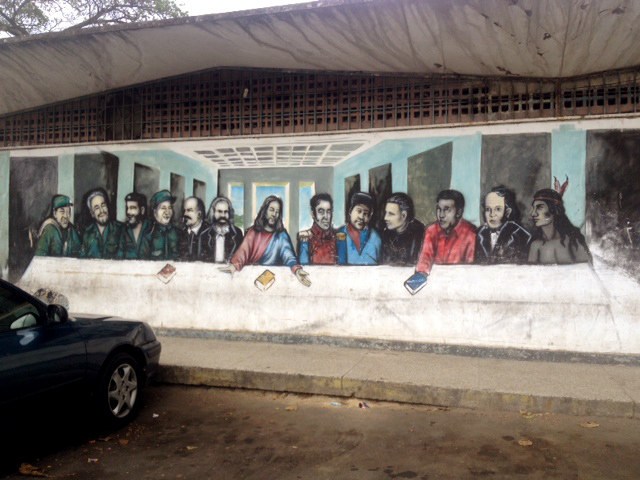 Across town, the Chavista intelligentsia is hard at work coming up with theories for the foot soldiers to buy into.
The Centro Internacional del Miranda, a think tank directed by the Ministry of Popular Power for Higher Education, occupies the top floor of what used to be the Hilton Hotel, before Chavez nationalized it. The Tower of David, the skyscraper slum that has come to symbolize the failures of Chavez's Bolivarian Revolution, is visible through the window. Next door sits a government-controlled supermarket with nearly bare shelves — no meat, no fruit, no fish, and very few dairy products.
Unlike Martinez, Carlos Carcione, an economist for the think tank, acknowledged that the food shortages and currency woes were a real issue and had some criticisms of Maduro's style of governing. But, for Carcione, there was a simple explanation: Producers have been purposefully keeping goods out of stores to stoke unrest.
"They keep it in their warehouses," he said. "They don't bring the products to the market in order to pressure the market."
For Carcione, the government is not going far enough to shore up support among historically chavista blocs. "There is a mistake now being made which is to accept the politics and economic policies of anti-Chavista sectors," Carcione said. "Instead of looking for popular support from the people, which Chavez always did in the past."
Carcione denied that the paramilitary groups in the poorer neighborhoods had acted violently against the protesters.
"There are no such armed colectivos as a problem for the protests," Carcione said, before accusing the opposition of maintaining their own paramilitary groups and blaming the violence on them. Thirty-nine people have died in the unrest so far.
Carcione said the opposition were attempting to "revert to a pre-Chavez era" and didn't expect the tensions to be over soon. The Bolivarian Revolution, he said, is a process.
"It's not a short period, it's a long period; it's going to last some time because it has this central problem of what to do with the oil," Carcione said. He sees the conflict as part of a larger ongoing debate about what to do with the country's oil wealth after the death of Chavez.
Recent polls show that half of Venezuelans are growing weary of the protests. The opposition knows something needs to change.
"We know the condition of the streets now demands us to change strategy," said Alfredo Graffe, 20, a student leader from the Universidad Simon Bolivar. "It's not about going every day to march and march and fight with the police and throw tear gas back. We need to get Venezuelans to come to activities and talk."
The political opposition is split between two strategies: the more radical "La Salida" (The Exit) approach espoused by Machado and Leopoldo Lopez, leader of the Voluntad Popular (Popular Will) party, and the more cautious strategy of Capriles.
"We have different visions," Capriles said in an interview in the small town of Tapipa in Miranda state, where he is the governor. "But to me that is not bad."
"For me, the opposition is not the middle class. The middle class exists and is very important for a country to progress. In the end, the country I want is a country where the majority is the middle class. But the middle class is now not the majority of the country."
Capriles has sought to position himself as the opposition leader most in tune with the needs of the poor, and criticized Lopez and Machado because their "message was tailored for a sector of the population."
"I don't want to sound immodest, but last year, having me in the lead, we managed to break the polarization," Capriles said. "The chavista people voted for me. Which means it is possible. But, in my opinion, you don't achieve that the way it has been trying to be done these last days."
Capriles says the government has punished him for his role in the opposition by cutting off funding for projects in his state. But the more radical protest leaders have faced far harsher penalties: Lopez has been in a military prison since February on charges of arson, terrorism, murder, and conspiracy (the terrorism and murder charges were later dropped), and Machado was stripped of her place in parliament after the president of the National Assembly, Diosdado Cabello, announced that she had broken the constitution by appearing at a meeting of the Organization of American States at the invitation of Panama.
Some of the protest leaders, including Lopez and Capriles, were involved in or supportive of a 2002 coup attempt, when Chavez was ousted from power for two days after military leaders took him into custody following a massive anti-government protest, but the latest actions against Lopez and Machado have been widely seen as a means of punishing their recent opposition activity.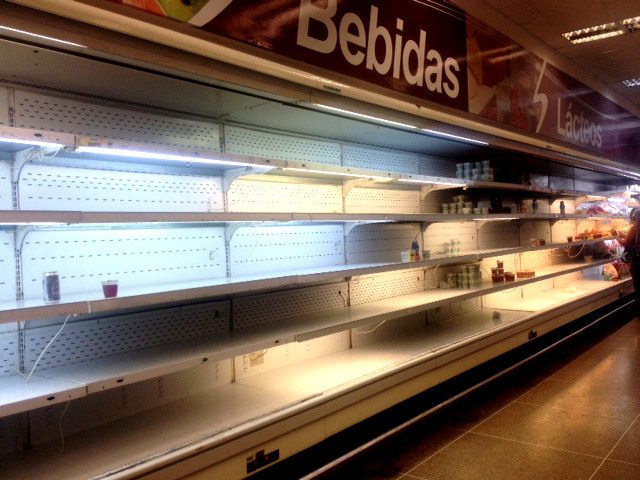 Machado dismissed the idea that Venezuelans might lose interest in street protests that seem to lack a coherent strategy.
"People will not get tired," she said. "It is about dignity. It's about national sovereignty. It's about the life and future of our kids. People don't get tired when we're talking about ideals, when we're talking about these principles and values."
La Salida, which calls for Maduro to resign willingly or face a referendum, does not appear to have enough momentum, though some activists say it's more popular than it might seem. "It's backed by the people in the streets," said Gaby Arellano, 27, a student activist from the Universidad de los Andes. When asked how, she said that one of the main things the protests had accomplished was opening a "broader state of consciousness" among the people.
Meanwhile, there are signs that one or both sides are ready to talk about making a deal. The Maduro government has said it is willing to sit down to a mediated dialogue — an offer seen as disingenuous by many in the opposition, especially in the student movement. In an op-ed titled "Venezuela: A Call for Peace" that ran in the New York Times last week, Maduro called for " dialogue and diplomacy" and wrote: "Within Venezuela, we have extended a hand to the opposition. And we have accepted the Union of South American Nations' recommendations to engage in mediated talks with the opposition."
Members of the Mesa de la Unidad Democrática (MUD) coalition, which includes all the major opposition parties, went to the first round of preliminary meetings on Monday. Machado, who does not belong to a political party, was not invited; nor were the student leaders. The opposition has sent a letter to the UNASUR (Union of South American Nations) regional group, which called for the talks, setting their terms for the dialogue. Capriles has declared himself open to the dialogue, and the first round of opposition-government talks are set to begin Thursday, mediated by UNASUR and the Vatican.
A week ago, dialogue seemed unlikely. The student leaders wouldn't hear of it unless their demands — the release of political prisoners, the disarmament of paramilitary groups, and for cases to be opened against those accused of torturing jailed activists — were met.
"When the government says they want a dialogue and five minutes later they call us terrorists and criminals and criminalize our protests, that is not a real dialogue," said Vargas, the student activist.
But they remain committed to their cause, negotiations or no.
"I wish I wasn't at this table," Vargas said. "I wish I could be with my girlfriend or studying for a midterm, but I'm not. I wish we could live in a democracy and I could have regular classes and be minding my own business."