Venezuelan Student Protesters Say They Face Intimidation, Surveillance
"They are spying on us and trying to know everything we do."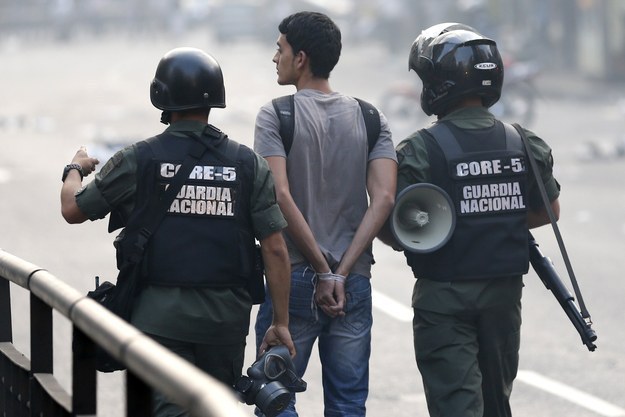 CARACAS, Venezuela — Venezuela's student protesters say they have faced frequent threats and intimidation both on- and offline over the course of the last six weeks of anti-government protests.
The intimidation has ranged from physical intimidation — apartments broken into, verbal threats at the bus stop — to information operations, like publishing the private phone call of a major student leader on state television.
Students say they're being careful to limit their phone conversations, and some have had to change their behavior entirely because of security threats. Six weeks of protests in response to out of control inflation and crime have left 39 people dead.
Venezuela's active student movement has been the driving force in the protests that have rocked Caracas and other major cities since February 12. They have a range of demands; most are demanding an overhaul of the judiciary and the election commission, while some are calling for President Nicolas Maduro to resign outright. They have formed the bulk of the protesters during day-to-day demonstrations.
But the day-to-day pressure is taking a physical and psychological toll.
"They are spying on us and trying to know everything we do," said Alfredo Graffe, a 20-year-old student leader at the Universidad Simon Bolivar. He pointed out that Juan Requesens, one of the leading figures of the student movement, was surreptitiously recorded and his private phone call was played on the state television Channel 8.
Euro Noriega, 37, a student at the Universidad Pedagógica Experimental Libertador, said he had received threats "via Twitter and via text."
Yeiker Guerra, a 20-year-old from the Petare slum who attends a private university in Caracas on scholarship, says that when he makes a phone call, he can hear three other conversations going on in the background, indicating that something has been done to his phone.
Guerra has been the subject of both online intimidation and physical threats. After he appeared on CNN en Español three weeks ago, a blog post about Guerra appeared on a government website claiming that he is an "invention" of CNN and attacking him for belonging to the Primero Justicia party helmed by opposition leader Henrique Capriles. Guerra had the opportunity to travel to France and Spain in 2012; pictures from the trip were taken from his Facebook and published online to imply that he is not actually a poor kid from the slums.
Guerra says he was recently threatened at a bus stop on his way home.
"I was standing in line and two guys came up to me and said, 'We know who you are and how you're moving. We know where you move. So watch out what you say and where you say it,'" Guerra said.
"I've been fighting more since then," Guerra said.
Other threats have gone farther. Gaby Arellano, 27, a student leader at the Universidad de Los Andes, says her apartment in the city of Merida was broken into while she was away last week and she was threatened with death if she continued to speak to the media.
Arellano said that members of one of the colectivos, paramilitary groups connected with the government, broke the gate to the compound where her apartment is, destroyed her building's main door, and destroyed some of her belongings in her apartment. She has been staying elsewhere since the incident.
"I was very upset," Arellano said. "More than scared, upset."
Some student protesters say they suspect that the government has planted provocateurs among them at protests to attempt to incite them to violence.
At a protest on Saturday, Noriega said that the protesters had removed four men in dark glasses who wore garb from the various Venezuelan universities who they suspected of being government plants. Protesters searched them and found papers indicating they were government officials on their person.
The intimidation has not been limited to just the student movement. Rodrigo Diamanti, the head of the human rights group Un Mundo Sin Mordaza (A World Without Censorship) and former student leader, said that his group's website had been shut down four times.
Luis Carlos Diaz, a Caracas-based journalist and cyberactivist, said, "We have a long history of cell phones hacked by the government" and cited an article in the pro-opposition El Nacional newspaper that said the government was using the digital division of its anti-kidnapping police force to spy on the opposition.
Diaz said that CANTV, the state-run internet provider for more than 80% of Venezuela's internet usage, "has the technology" to spy on users because it bought equipment from surveillance company Blue Coat in 2012.
A Venezuelan government spokesperson didn't respond to a request for comment about the students' allegations.