Venezuelan Opposition Leader: U.S. Involvement Would Not Be In Our Interest
Henrique Capriles faces a split opposition and a shortage of funds. "It is not enough to get rid of Maduro."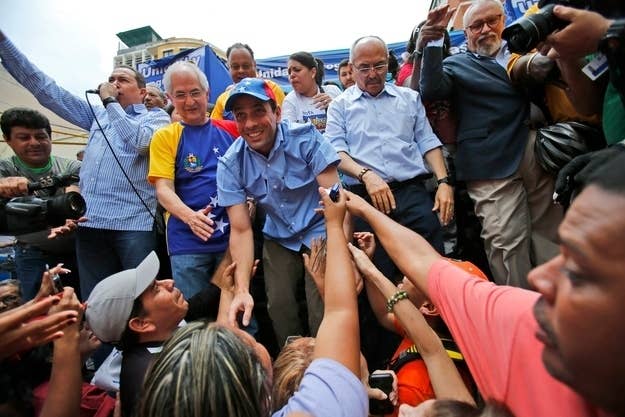 TAPIPA, Venezuela — Venezuela's main opposition leader has urged the U.S. against direct involvement in the country's political unrest.
In an interview with BuzzFeed in the small town of Tapipa about an hour away from Caracas, opposition leader Henrique Capriles, 41, who ran against Hugo Chavez in 2012 and was narrowly defeated by Nicolas Maduro in a presidential election last year, said that while the opposition would welcome the international community speaking out about human rights abuses, direct U.S. intervention would be harmful.
Asked if he supported those in the U.S. Congress like Sen. Marco Rubio or Rep. Ileana Ros-Lehtinen who are calling for sanctions on members of the Maduro government, Capriles said that was an issue for the U.S. to decide — though he suggested he supported the spirit of the proposed sanctions.
"The fact that there are some members of the Venezuelan government, involved in the U.S., there are people related with the government that have airplanes with U.S. ID numbers, how can they justify that money and how come they own planes with U.S. numbers?" Capriles said through a translator in the back of a senior citizens' center in Tapipa. He was there visiting constituents of Miranda state, where he is governor. "But that is a topic from the U.S. and whatever has to happen is their business."
"The situation we are having in Venezuela, we Venezuelans have to find the way to solve," Capriles said. "What do we ask? There is the U.N, there is the OAS," he said, referring to the Organization of American States. "There are other international institutions that should pronounce themselves, not only the U.S. but also other countries in Latin America, so that human rights and the basic democratic principles are respected."
"Now, that is very different to the U.S. wanting to intervene in our affairs, which is something I will never agree with, be it the U.S. or any other country," Capriles said, warning that U.S. action could play into the hands of the Maduro government: "Venezuela government officials having money in the U.S. is an internal affair of the U.S. and I think the U.S. has to be very clear in what it says, not to give the Venezuelan government an excuse to victimize itself and trying to make us Venezuelans believe there is an intervention against Venezuela. That is not in our interest."
Capriles, who has alleged that the election in which he lost to Maduro last year was plagued by irregularities, is seen as the moderate opposition. Unlike Leopoldo Lopez, the jailed leader of Voluntad Popular (Popular Will), or the parliamentarian Maria Corina Machado, who has been stripped of her place in the National Assembly by the government, he has not espoused the La Salida (exit) strategy of calling for Maduro to leave power. And while he was once viewed as the leading figure in the opposition, the protests that have rocked Venezuela for weeks have exposed fractures in a movement full of competing personalities who disagree on the best strategy to bring about change in an increasingly dire situation in Venezuela, where food shortages are rampant, inflation is so out of control that anyone who is able trades their money on the black market, and the murder rate is one of the top five in the world. Anti-government protests in Venezuela's cities have resulted in the deaths of 39 people, which the opposition blames largely on paramilitary groups connected to the government.
Capriles, like his rival Lopez, comes from a prosperous background. Like Lopez, he's been educated in the U.S. He attended graduate school at Columbia briefly, and speaks English well, which he says he learned in Venezuela, although he joked, "It's like a crime here in Venezuela to speak English."
Capriles has been criticized for his moderate approach, with critics saying he hasn't gone far enough to challenge Maduro's repression of protesters or to support the street protests themselves. Capriles acknowledged that the opposition is split. He has tried to position himself as the member of the opposition most in tune with the needs of the poor, who largely support Chavismo, the populist ideology launched by the late Hugo Chavez, and didn't hesitate to criticize Lopez and Machado for, as he sees it, not making enough of an effort to bring Venezuela's poor into the protest movement spearheaded by students in Caracas and other Venezuelan cities.
"I think [Lopez and Machado's] message was tailored for a sector of the population," Capriles said. "Which is valid, but it is not the majority."
Asked if he thinks things would change with a president other than Maduro, Capriles said, "Of course. But not only get rid of Maduro, but to change the model. It is not enough to get rid of Maduro."
Capriles said he was open to dialogue if the government met certain conditions.
"What has to happen is to force the government to dialogue," Capriles said. "And that goes through having no political prisoners, renewing the state powers, a functioning justice system, the disarming of the paramilitary groups ... but, of course there comes the moment where there has to be a dialogue."
Capriles has been less of a visible figure at the major protests in Caracas than other opposition leaders. He had avoided going to a protest in Caracas on Saturday, he said, in favor of visiting his constituents in the largely Afro-Venezuelan village of Tapipa.
"Today there is a march in Caracas. But I am here, I believe it is here where change is built," Capriles said. "This is the majority. Poor people are the majority in this country."
Capriles claimed that the government had denied him funds for over 200 projects for his state in order to punish him for his role in the opposition.
Constituents who had gathered to greet Capriles in Tapipa and bring him their hand-written requests and complaints said they were experiencing shortages of everything — flour, coffee, sugar, even water, as well as electrical outages.
Judith Espinosa traveled from the nearby town of Cupertino to hand Capriles a letter asking for a well to be built. She said she had gone to some of the protests in Caracas and supported the protesters "if they are peaceful."
She said that she'd only been able to find one liter of cooking oil in the town for more than twice the usual price.
Deliana Torres, the director of a Miranda state women's group called Mujeres Miranda, said that her group had been directly affected by Miranda state's shortage of funds.
"Part of the budget that hasn't been approved concerns us directly," Torres said. "Many loans have stopped."
"All we have is the fatherland," Yenny Ramos, a resident of a nearby town, said, making a wry play off of one of Chavez's slogans about the "patria."
"I've never lived through so many bad things," Ramos said.
Andres Schafer contributed reporting.