Venezuelan Opposition Leader To Challenge Lost Parliamentary Seat
President Nicolas Maduro has crossed a "red line," Maria Corina Machado says.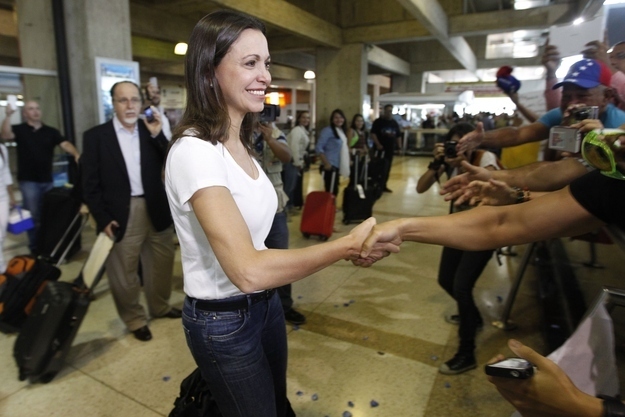 CARACAS, Venezuela — Venezuelan opposition leader Maria Corina Machado said she plans to risk possible arrest and demand entry into the country's parliament building on Tuesday, one week after she was stripped of her seat as punishment for appearing at a meeting in Washington.
"I am an elected deputy to the national assembly, and will be so until the Venezuelan people decides otherwise," Machado told a press conference in the Altamira neighborhood of Caracas. "Therefore, aware of my rights and my duties, tomorrow I will go to the National Assembly, because it is there where the people of Venezuela expects me to exert my office as a deputy and to be the voice of all Venezuelans."
Diosdado Cabello, the head of the National Assembly, a former vice president and a longtime confidant of Hugo Chavez, declared last week that Machado no longer had a seat in parliament because she had allegedly violated the constitution by appearing at a meeting of the Organization of American States in Washington at the invitation of Panama. The move was widely seen as a politically motivated attempt to punish Machado, one of the more radical members of Venezuela's opposition, for her role in the anti-government protests that have rocked the country for the last six weeks and resulted in the deaths of 39 people, mostly at the hands of paramilitary groups connected to the government.
Machado's supporters fear that her march on the assembly building could bring about her arrest. Another opposition leader, Leopoldo Lopez, the head of the Voluntad Popular (Popular Will) movement, was arrested in February on charges of arson and conspiracy (further charges of murder and terrorism were later dropped), also widely seen as a means of punishment for his opposition activity.
Asked if she feared arrest, Machado said, "I think today you too should fear the possibility of being arrested, and you, and you, and any Venezuelan raising his voice for his rights and defending the constitution without fear and without lowering his head."
"Everyone in Venezuela, any citizen in Venezuela, can be subjected today to arbitrary detention," Machado said, "since there is no separation of powers, no respect for the rule of law, no respect for due process and the right to defense in our country."
Machado told BuzzFeed in an interview after the press conference that if she were jailed, the "La Salida" (exit) strategy espoused by her and Lopez, which calls for President Nicolas Maduro to resign, would still be led by "millions of citizens that are in the street."
"This is a movement that has millions of leaders and it's important that the world realizes how unique and unprecedented this social movement is," Machado said.
Machado called on the international community to "start calling things by their name. It is obvious that we're facing a dictatorship in Venezuela."
"Nicolas Maduro took out his facade, his democratic facade, in these last two months months," Machado said. "He crossed a red line."
"How do you call a regime that persecutes, tortures, kills, and censors? It's a dictatorship, and they should start calling things by their names," Machado said.