U.S. Won't Rule Out Strikes Against ISIS Outside Of Iraq, Official Says
"Clearly we're focused on Iraq...But the group ISIL operates broadly and we would not restrict our ability to take action that is necessary to protect the United States."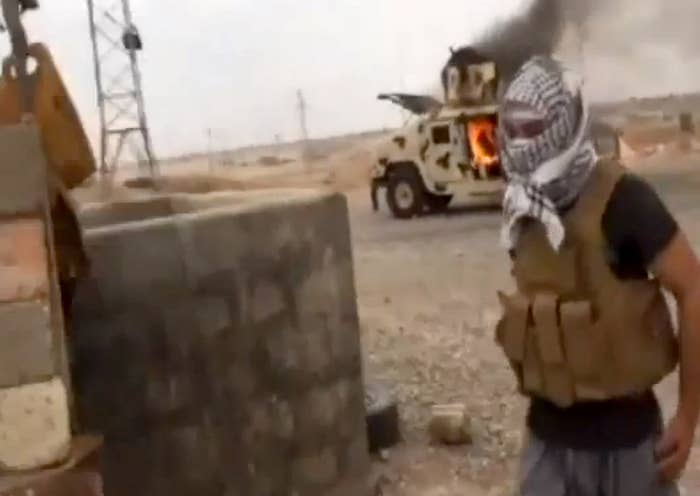 The United States isn't ruling out direct military action against the terror group ISIS even outside of Iraq and inside Syria, a senior administration official said on Thursday.
"The president, again, is focused on a number of potential contingencies that may demand U.S. direct military action," the official told reporters on a conference call following President Obama's announcement that the United States will send up to 300 military advisers to Iraq, where ISIS has taken over major cities and looks set to wage a campaign for Baghdad. "One of those is the threat from ISIL and the threat that that could pose, again, not simply to Iraqi stability but to U.S. personnel and to U.S. interests more broadly, certainly including our homeland."
"In that respect, we don't restrict potential U.S. action to a specific geographic space," the official said.
"The president's made clear time and again that we will take action as necessary, including direct U.S. military action if it's necessary to defend the United States against an imminent threat," the official said. "You know, clearly we're focused on Iraq. That's where our ISR resources have surged. That's where we're working to develop additional intelligence. But the group ISIL, again, operates broadly, and we would not restrict our ability to take action that is necessary to protect the United States."
The official cited other anti-terror operations elsewhere in the world, including actions against Al-Shabaab in Somalia, Al-Qaeda in the Arabian Peninsula in Yemen, and the capture of Benghazi suspect Ahmed Abu Khatalla in Libya.
"We'll continue to focus on the evolving threat of ISIL as we consider different options," the official said.
The moderate Syrian opposition has been pushing for support for rooting out ISIS in Syria as well as in Iraq.
"I would like to remind those who promised us assistance and didn't follow through is a push for terrorists to win," said National Coalition for Syrian Revolutionary and Opposition Forces President Ahmad Jarba in a speech this week to the Organization of Islamic Cooperation. "And I ask here: Will there be a strike against ISIS in Iraq to push ISIS back into Syria? Will sectarian militias be left to do evil in Iraq and Syria? Will dealing with ISIS be an arbitrary process as per usual, or it will be based on a strategic plan to rid us of this cancer called ISIS?"
"So I ask, what are you waiting for?" Jarba said. "Are we going to wait until the Islamic State in Iraq and al Sham (ISIS) establishes its emirate state in two countries violating their sovereignty and sanctity?"
Obama announced on Thursday that the United States, which has boosted its intelligence gathering in Iraq, would be sending teams of military advisers to the country and would be weighing whether to carry out direct military action against ISIS.
Senior administration officials said the advisers were not primarily being sent to Iraq to order air strikes.
"We have not decided to have these types of teams calling in air strikes," an official said. "However it is the case that one of the things you can do at a joint operations center is share information and help them develop targets and plans for pursuing ISIL."
"Tactically speaking it's not an instance where their mission is to support that type of campaign," the official said.