U.S. Officials Change Course, Refuse To Say Paris Attack Targeted Jews
Equivocation from across the administration after President Obama called the attack "random."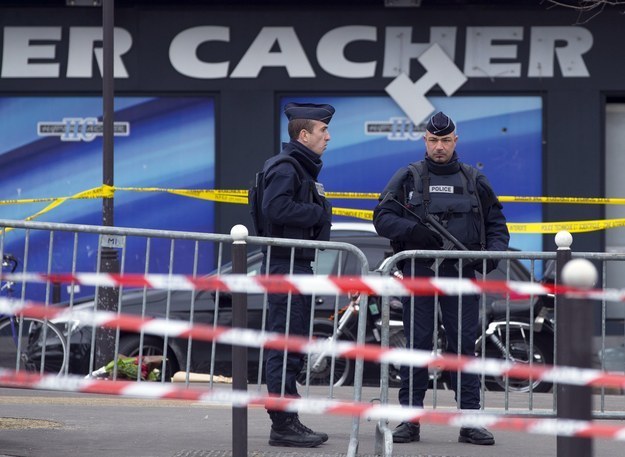 WASHINGTON — U.S. government spokespeople wouldn't say on Tuesday whether the attack last month on a Paris kosher market that left four hostages dead was a specifically anti-Jewish attack, after President Obama referred to it as "random."
In an interview with Vox conducted in late January and published this week, Obama said, "It is entirely legitimate for the American people to be deeply concerned when you've got a bunch of violent, vicious zealots who behead people or randomly shoot a bunch of folks in a deli in Paris."
On Tuesday, spokespeople for the White House and State Department refused to say whether the attack was designed as an attack against Jews.
In the White House briefing, spokesman Josh Earnest did obliquely refer to anti-Semitism as a motive in the attack, saying, "because of the writings they put out afterwards, we know what their motivation was." One suspect, Amedy Coulibaly, carried out the Hyper Cacher attack during the attack in early January, while two others, Cherif and Said Kouachi, killed 12 in and around the offices of satirical newspaper Charlie Hebdo two days prior.
"The adverb that the president chose was used to indicate that the individuals who were killed in the terrible tragic accident were killed not because of who they were, but because of where they randomly happened to be," Earnest said. "These individuals were not targeted by name. This is the point."
"There were people other than just Jews who were in that deli," Earnest said.
State Department spokesperson Jen Psaki was also asked about Obama's comment during a press briefing on Tuesday. She said: "If I remember the victims specifically, they were not all victims of one background or one nationality so I think what they mean by that is, I don't know that they spoke to the targeting of the grocery store or that specifically, but the individuals impacted."
"I don't think we're going to speak on behalf of French authorities and what they believe was the situation here," Psaki said, adding "It's an issue for the French government to address."
The French government has addressed this. After the attack, French authorities deployed an extra 4,700 soldiers to guard the country's Jewish schools and institutions, and several high-level government officials gathered with members of Paris's Jewish community the day after the attack to show solidarity. French President François Hollande met with Jewish leaders after the attack as well. French Prime Minister Manuel Valls conducted a phone call with U.S. Jewish leaders after the attacks last month, telling them that the Jewish community in France "remains a target for the terrorists."
French prosecutors have investigated whether Coulibaly had actually been targeting a Jewish school before attacking the kosher market.
What makes Tuesday's equivocation stand out even more is the fact that the U.S. had already condemned the attack as anti-Semitic; State Department spokesperson Chanan Weissman last month condemned the "cowardly anti-Semitic assault against the innocent people in the kosher supermarket," and Obama himself released a statement on Holocaust Remembrance Day saying, "The recent terrorist attacks in Paris serve as a painful reminder of our obligation to condemn and combat rising anti-Semitism in all its forms, including the denial or trivialization of the Holocaust."
Spokespeople for the White House and State Department didn't immediately respond to requests for comment.
Psaki later appeared to walk back her previous comments in a tweet:
And Earnest later tweeted that the president "didn't intend to suggest" that the attack wasn't anti-Semitic: