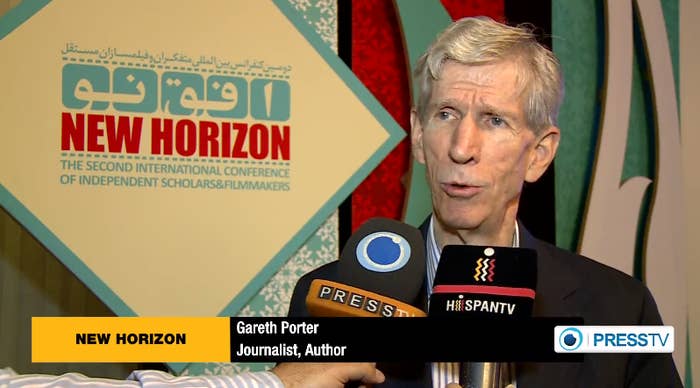 WASHINGTON — An American journalist who attended and spoke at a recent anti-Zionist conference in Tehran said that if he had known the extremist views of other conference participants, he would never have gone.
The journalist, Gareth Porter, also said an official at the Iranian foreign ministry was involved in organizing the conference.
Porter, whose recent book Manufactured Crisis claims that Iran has never sought to build a nuclear weapon and that the evidence for its non-peaceful aims was concocted by Israel's Mossad, told BuzzFeed News that he was upset by the content of the conference and that the organizers had assured him that extremists wouldn't be there. He also said that Code Pink founder Medea Benjamin and Brazilian journalist Pepe Escobar, also in attendance, were equally upset about the conference.
The conference last week featured several 9/11 truthers, Holocaust deniers, and anti-Semites, and included panel topics that accused the Mossad of having planned 9/11 and claiming that the Holocaust is a "public myth," according to the schedule, which was posted online. Iranian President Hassan Rouhani canceled the conference last year but it was evidently allowed to take place this year. Also in attendance this year were former nuclear negotiators Saeed Jalili and Ali Asghar Soltanieh, according to the schedule.
Porter told BuzzFeed News in an email:
In August, after being invited to participate in the conference, I insisted on knowing what the specific topics for discussion would be for the conference, because the invitation did not specify that information. I finally got an e-mail from my foreign ministry contact during the earlier reporting trip. As a result of that e-mail, I objected to one of the individuals the contact told was being invited on the grounds that he was clearly an antisemite, not just an opponent of Israeli policy and the influence of the Israeli lobby on U.S. policy. My contact immediately wrote back to thank me for passing that information to him and said the he person would not be invited to the conference. The person was not in fact invited. That fact, along with the identification of the three topics, finally made me comfortable enough to accept the invitation.

I found when I arrived, however, that there was a bewildering assorting of people and issues that went well beyond what I had been told would be the topics. I did not participate in most of the conference sessions, and in only one where the discussion veered off the announced topic of conflicts of interests between the United States Israel and the Zionist lobby into an extremist rant by an Italian whose name I had not previously known. I was so upset by what I had found he had written about Jews an Judaism that I complained immediately to conference staff, and I am quite sure my complaint reached the organizers. Medea Benjamin and Pepe Escobar were equally upset by that and other presentations that I had not witnessed myself.

We were all equally upset by the role played in the conference by 9/11 conspiracy advocates, and conveyed that unhappiness to the conference staff as well.

Had I known about the roles to be of given to people whose views I oppose quite strongly, I would not have agreed to participate.
According to Porter, he had met conference organizer Nader Talebzadeh, an Iranian television host, "during a previous trip and was on his show, and had no indication that he held extremist views on either conspiracy theories about 9/11 or jews." Talebzadeh previously hosted a conference focusing on the dangers of "Hollywoodism" as a response to the movie "Argo."
Porter was in contact with another organizer of the conference — an Iranian foreign ministry official "whom I had dealt with extensively during a reporting trip to Iran last summer. Again, I had no indication from the contacts with him that he held any such views either."
Porter said his travel was paid for by an organization called Catalytic Diplomacy. He emphasized that he was attending the conference as a journalist and plans to write articles based on his reporting there. His said his hotel room was paid by the conference. Catalytic Diplomacy, a nonprofit founded by former Federation of American Scientists president Jeremy Stone, "sponsors some work, mainly travel grants to encourage dialogue, related to trouble spots such as Afghanistan, Angola, Burma, Cuba, Iran, and North Korea," according to its website.
"It is sad, but definitely true, that the Middle East is full of crazies, of which the Holocaust deniers and the 9/11 truthers are, certainly, among the sickest," Stone told BuzzFeed News when asked if he was aware of what kind of trip he was paying for Porter to go on. "But in our half-century of efforts to prevent war, terrorism and genocide, and forestall the collapse of civilization, it is not feasible to avoid attending Middle East conferences that might, in the end, be attended by various nuts in varying proportions. In particular, anti-antisemitism is endemic in the Middle East and rising."
According to another conference attendee, travel for other participants was covered by the NGO organizing the conference.
"The conference organizers, New Horizons, an Iran NGO, paid air fare and hotel but not visas, airport parking or other incidentals," said Wayne Madsen, a 9/11 conspiracy theorist who was also at the conference, regarding his own travel plans. "I should add that Israel conducts such seminars in which they pay for hotel, business class air fare, and much more. Most of us flew economy on Emirates, Lufthansa or Austrian Airlines."
Porter provided emails that he exchanged with Reza Montazami, an Iranian foreign ministry official, in which the two of them discuss Porter's attendance at the conference and Porter says he will not go if Mark Glenn, an anti-Semitic conspiracy theorist who was also invited, attends the conference.
The emails, in reverse chronological order and with contact information redacted, are below:
From: Gareth Porter
Date: Fri, Aug 15, 2014 at 2:35 PM
Subject: Re: Invitation
To: Reza Montazami


Dear Reza,

Thanks very much for these very helpful details about the conference. With this information in hand, I now have a clearer picture of how it will work and what is expected of me.

I have only one problem at this point. One of the people who has been invited to speak at the conference, Mark Glenn, is someone about whom IPIS should be extremely wary. He is notorious for his hatred of Judaism and Jews, which needless to say, IPIS would certainly not want to be associated with.

He has posted a commentary on his blog, the URL for which is here:

http://crescentandcross.wordpress.com/2006/11/07/judaism-is-nobody%E2%80%99s-friend/

In this blog, Glenn says the following:'

Judaism is nobody's friend, short of those few who profit from it, and they are certainly small in number, as we have already discussed. Whether these people are one of 'God's chosen' who do the bidding of their overlord Rabbis or whether they are one of those lowly Gentile types who were created for the purpose of serving 'God's chosen', it is the same–Judaism is not their friend. It works to no one's real benefit, short of those at the top who are giving the marching orders. It does not belong in the same class with other faiths dedicated to improving the individual and making him or her more pleasing to the one responsible for all creation. It does not make people better, it makes them worse. It is like a highly radioactive element that can bring nothing but sickness and eventual death. It does not bring liberation but rather enslavement.

I'm quite sure that Foreign Minister Zarif would be quite upset to know that such a hate-monger is going to be speaking at a conference that is co-sponsored by IPIS, and would insist that he at least not be given a speaking role at the conference.

I have discussed this issue with Allison Weir, and she agrees with me that Mark Glenn's role in the conference is a very big problem that the organizers need to address quickly. It can be explained to Glenn that the organizers of the conference have learned that he has espoused a kind of extremist view that cannot be given legitimacy by allowing him to be a speaker -- especially in light of the opposition of the Rouhani government to any expression of intolerance toward Jews.

I am prepared to send you scans of my passport and visa application immediately, if you can assure me that this issue will be addressed by the conference organizers.

I'm sorry to delay my acceptance of the invitation in this way, but I hope you will understand the difficulty that Mr. Glenn's participation presents. I would have the same reaction, of course, to the participation in a conference by someone who espoused the view that Islam is a faith that "bring nothing but sickness and death". I'm sure you have the same reaction.

All best wishes,

Gareth


On Fri, Aug 15, 2014 at 12:34 AM, Reza Montazami wrote:
Dear Gareth,

-The name of the conference is independent thinker and filmmaker.
- The two other main part the conference is related to Iran phobia, Israel lobby and Israel attack in Gaze.
- Each topic would be defined by one of the whether Iranian or international specialist and it will take two days. But as it has been mentioned it is not necessary your participation. You just give your lecture in opening the conference, in order to have enough time to follow your different meeting and interview which would be program.
- President Rohani, Dr Zarif and Dr. Salehi has been invited to be the speaker of the opening of the conference. But not yet confirmed which of them could attend.
- The speakers from Iranian part whether authorities or scholar would be at this level. In international part, may you look at the below list:

01- Alison Weir
02- Art Olivier
03- Judge Jim Gray
04- Charls Wayne Madsen
05- Cyrus MacGoldrick
06- Eric Walberg
07- Stephen Sizer
08- Mark Glenn
09- Mateuzs Piskorski

Best wishes,

Reza


On Fri, Aug 15, 2014 at 6:05 AM, Gareth Porter wrote:
Dear Reza,

I appreciate your getting back to me with more information. This information is helpful, but it still doesn't tell me the name of the conference, or how the topics are being defined. As an independent journalist I can't commit myself to a conference, especially one in which I am expected to make a major presentation without knowing what the program is going to look like and who who else is speaking. What is the title of the conference? Who is being invited?

I really am interested, of course, but I need much more information.

Hoping to hear from you soon!

Best wishes,

Gareth


On Thu, Aug 14, 2014 at 5:43 PM, Reza Montazami wrote:
Dear Gareth,

Thank you for your kind reply.

1- This conference is not sponsoring by IPIS. It,s co-sponsoring with
cinema organization.

2- Sure, there is a program.

3- As i mentioned, the main part of the conference is focused on the
nuclear issue.

4- Some Iranian Authorities will speak, but you are the special
speaker of opening the conference. Then you would be free, to have
some meeting with religious thinker in Qom who are interested to meet
you and we could prepare other meeting with different authorities. If
you have any propositions in this regards or any other idea let me
Know.

5- Regarding the translation of your book, and your introdution, sure
i will be in touch with her

6- Since the time is not on our side, please send a copy of your
passport and visa form Implication, in order if you decided to visit,
every thing would be ready.

Best wishes,

Reza M.


On Sun, Aug 10, 2014 at 9:07 PM, Gareth Porter wrote:

Reza,

I'm glad you wrote again. I realize now that a message that I had thought I had sent to you never actually went out. I had asked for more information about the conference. Is IPIS sponsoring or co-sponsoring? Is there a program? How much of the conference is focused on the nuclear issue? Who is speaking?. What role would I be expected to play? I could still come if you can just fill in some of the blanks.

Regarding the the translation of the my book, which publisher are you talking about? Are you speaking for the publisher with whom the original publisher, Just World Books, has signed a contract? I will need to check with her about writing the introduction to avoid any confusion about this.

Thanks and all best wishes,

Gareth



> On Sun, Aug 10, 2014 at 12:01 PM, Reza Montazami wrote:


Dear Gareth,

It seems that your agenda not let you to attend the conference in late September.

Since your book has been translated to Persian, may i kindly ask you to write at least 2-3 pages as your introduction for Iranian reader. It,s going to be published in 3 weeks.

Best,

Reza

On Thu, Jul 24, 2014 at 1:49 AM, Reza Montazami wrote:

Dear Gareth,

I just wanted to ask, whether you received invitation and are you interested to attend in the International Conference on Resistance, which will be held in Tehran, Iran from September 27 to September 29, 2014. If you remember. If so and you are interested let me know

The ticket and hotel will be covered by conference. Iranian nuclear Question is a main part of the conference. Some religious thinker in Qom are interested to meet you and we could prepare other meeting with different authorities. If you have any propositions in this regards let me Know.

Best,

Reza
Montazami told Porter that Glenn would not be at the conference after Porter brought it up, saying that he was "not aware" of Glenn's views on Jews and that "We don't invite him whether you come or not. It means that is vrery [sic] critical point for us. if not, what is the different between us and Takfirist. You know what means takfir. May you look at dicionary [sic], and you will find that it makes no differnt[sic] whether you are an American scholar or Libian [sic] primitive, While you hate other, you are takfirist
just like Daesh."
IPIS, which Montazami says in the emails is not co-sponsoring the event, is the Iranian foreign ministry's think tank. Montazami did not respond to a request for comment.
Porter was also in Iran for the unveiling of the Persian-language version of his book at the headquarters of Fars News Agency, the news outlet connected to Iran's Revolutionary Guards Corps.