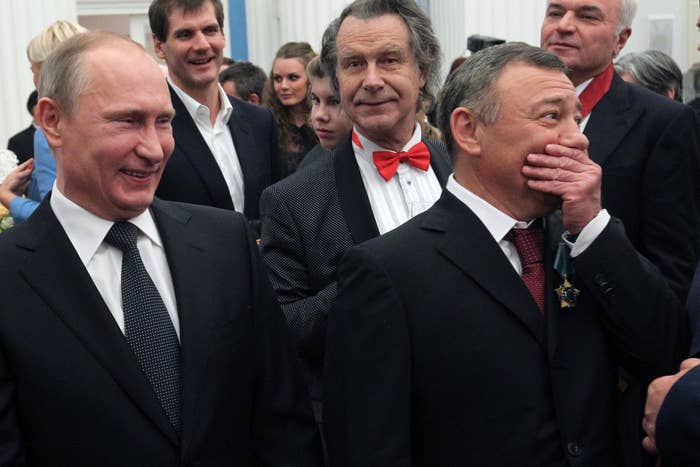 WASHINGTON — The U.S. levied sanctions against some of the most powerful people in Russia on Thursday, including members of Vladimir Putin's inner circle, as well as a major bank that services them.
Senior administration officials said in a telephone call with reporters that they had targeted Russia's financial services, energy, mining, defense, and engineering sectors — and that further punitive measures could come if Russia does not de-escalate in Ukraine.
"If Russia further escalates this situation they will be met with severe consequences," a senior administration official said.
The new sanctions go significantly further than the measures the White House announced Monday against seven Russian officials with high profiles but little perceived influence on the levers of policy-making.
Some of the men targeted Thursday are known to be in the room when Putin makes major decisions and in the past were considered potential successors to him. Presidential administration chief Sergei Ivanov was strongly favored to take over from Putin when he took a four-year sojourn from the Kremlin in 2008; according to the New York Times, he is one of only three officials who served alongside Putin in the Leningrad KGB academy and made the decision to seize Crimea in late February.
Kremlin spokesman Dmitry Peskov said Ivanov reacted to appearing in the list with "humor," the RIA Novosti news agency reported. "In his past professional life [as a Russian spy] most Western countries denied him entry because of his fieldwork, so he's already used to it," Peskov said. Peskov added that Russia was "still studying" the list and would take any further action later.
Ivanov's deputy, Alexei Gromov, is in charge of the Kremlin's media strategy and believed to be behind the recent steamrollering of Russia's remaining free press. Sergei Naryshkin, speaker of the lower house of parliament, and Sergei Zheleznyak, his deputy, are part of a younger generation of officials seen to enjoy Putin's confidence.
Other figures on the list are key "cronies" with longstanding ties to Putin but no official government position. Some of them were members of Ozero, a St. Petersburg summerhouse community in the 1990s whose members shot to astonishing wealth through uncompetitive state contracts after Putin came to power. Vladimir Yakunin became the head of Russia's state railway monopoly, RZhD, the largest single direct recipient of state funds at the Olympics (about $7 billion) and was also once talked of as a potential successor to Putin. Construction billionaires Arkady and Boris Rotenberg, Putin's former judo sparring partners, were awarded almost as much; Arkady Rotenberg once told the Financial Times he thought Putin was "sent to our country from God." Former education minister Andrei Fursenko, another Ozero member, also appears on the sanctions list.
The sanctions also target figures believed instrumental in handling money for Putin personally. Gennady Timchenko, who also sparred with the young Putin at judo, now runs the oil trader for Gunvor, which former Russian officials and an U.S. ambassador for Russia say is a front for Putin's personal wealth.
"Timchenko's activities in the energy sector have been directly linked to Putin," a Treasury memo accompanying the sanctions said. "Putin has investments in Gunvor and may have access to Gunvor funds."
Timchenko, knighted by France last year, and Arkady Rotenberg saw the sanctions as "indirect recognition of their achievements for the Russian state," Russian news agencies reported, citing an anonymous source close to the two men. Yakunin said he believed he was being punished for his political views.
Putin chief of staff Vladimir Kozhin was reportedly in charge of a vast $1 billion palace built for Putin near Sochi. Funds for the palace were reportedly put up by a bank on the sanctions list, the secretive St. Petersburg-based Bank Rossiya, which amassed its capital through buying state-owned gas assets. The Treasury memo referred to it as "the personal bank for senior officials of the Russian Federation." The U.S. will now work internationally and try to "prevent it from operating to the greatest extent possible," a senior administration official said. Another senior administration official called Bank Rossiya a "crony bank."
"If you are on a U.S. OFAC sanctions list, there is no respectable bank in the world that will do business with you," William Browder, a London-based investor who campaigns for Western governments to place sanctions against corrupt Russian officials, told BuzzFeed. "This is like being [on a list] next to Osama bin Laden."
Yuri Kovalchuk, the bank's chairman and an Ozero member, is also on the sanctions list. The Treasury memo described him as "the personal banker for senior officials of the Russian Federation including Putin" and referred to him as "one of Putin's 'cashiers.'" A senior administration official noted that the sanctions would make it difficult for those targeted to access not only American financial services but those in Europe as well.
They "will find it difficult to transact in the dollar and will find it difficult to transact in Europe and elsewhere," the official said.
"There's an aspect to the designation process that also serves as an important deterrent" to other officials and cronies, the official said.
Another official stressed that this round of sanctions is the real deal: "People may think they're a real wrist slap I can assure them that they are not."
In addition to sanctions, the U.S. is in touch with the Ukrainian military in a consulting role, senior officials said.
The Pentagon is reviewing non-lethal support to the Ukrainian military but has no plans to introduce US forces to the equation, a senior administration official said: "In terms of support for the Ukrainian military and the Ukrainian government it is our view that, as the president said yesterday, further escalating the conflict through the introduction of US military forces in Ukraine is not something anyone is suggesting."
Russia has responded by putting sanctions on some U.S. officials — a move that some on the list are perfectly happy about.
"It's a totally asymmetric economic war in the sense that Russia depends much more on the West than the West does on Russia," Browder said. "Russia can give their middle finger to the West, but this is what comes back at them."