U.S. Government Says It Has Been Unable To Reach Cecil The Lion's Killer
The U.S. Fish & Wildlife Service has asked the dentist who killed Cecil to come forward. The State Department said yesterday it was "saddened" by the lion's death. Updated: the Service said on Friday that it has now been in contact with him.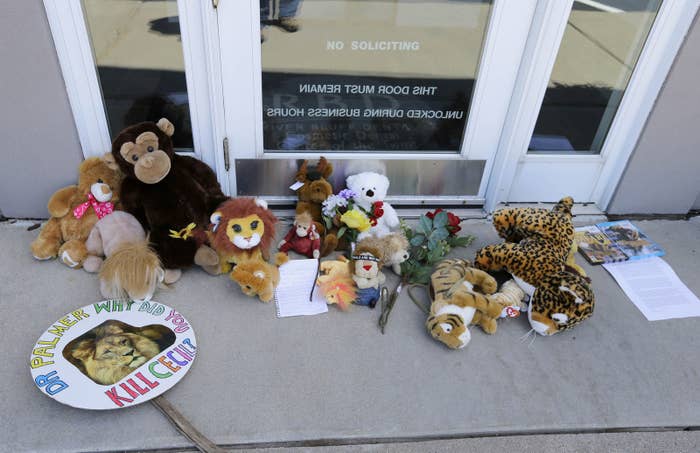 WASHINGTON — The American dentist who admitted to killing Cecil the lion has not responded to attempts at contact, a U.S. Fish & Wildlife Service official said on Thursday.
"The U.S. Fish & Wildlife Service is investigating the circumstances surrounding the killing of 'Cecil the lion,'" Edward Grace, the agency's deputy chief of law enforcement, said in a statement provided to BuzzFeed News. "That investigation will take us wherever the facts lead. At this point in time, however, multiple efforts to contact Dr. Walter Palmer have been unsuccessful. We ask that Dr. Palmer or his representative contact us immediately."
The agency said on Wednesday that it would be investigating the case of the Minnesota dentist, Walter Palmer, who has admitted to killing Cecil, a beloved lion in Zimbabwe's Hwange National Park. "We are currently gathering facts about the issue and will assist Zimbabwe officials in whatever manner requested," spokesperson Laury Parramore said on Wednesday.
Zimbabwean authorities say that killing Cecil was illegal and two Zimbabwean hunters were arrested in connection to the crime and have been released on bail. Palmer is now reportedly being sought by Zimbabwean authorities in connection with Cecil's death. Palmer's killing of Cecil has resulted in an outpouring of online outrage. Palmer has reportedly temporarily shuttered his dental practice, and people have placed a stuffed animal memorial to Cecil in front of the office.
Palmer said in a statement on Tuesday that he "deeply regrets" killing Cecil. "I had no idea that the lion I took was a known, local favorite, was collared and part of a study until the end of the hunt," Palmer said in the statement. "I deeply regret that my pursuit of an activity I love and practice responsibly and legally resulted in the taking of this lion." In the statement, Palmer said that he had not yet been contacted by U.S. or Zimbabwean authorities.
U.S. government spokespeople reached on Wednesday declined to comment on the possibility that Palmer could be extradited to Zimbabwe; the two countries have an extradition treaty. A State Department spokesperson said that the agency was "saddened" by Cecil's death and aware of reports that U.S. citizen had been involved.
A U.S. Fish and Wildlife Service spokesperson said on Friday that the agency had now been in touch with Palmer. "Late yesterday afternoon the U.S. Fish and Wildlife Service Office of Law Enforcement was contacted by a representative of Dr. Walter Palmer," the spokesperson said. "The Service's investigation is ongoing and appreciates that Dr. Palmer's representative voluntarily reached out to the Service."