U.S. Firms Cagey On Business With Sanctioned Rosneft Chief
ExxonMobil and Morgan Stanley decline to comment on the future of their dealings with the head of the Russian oil giant.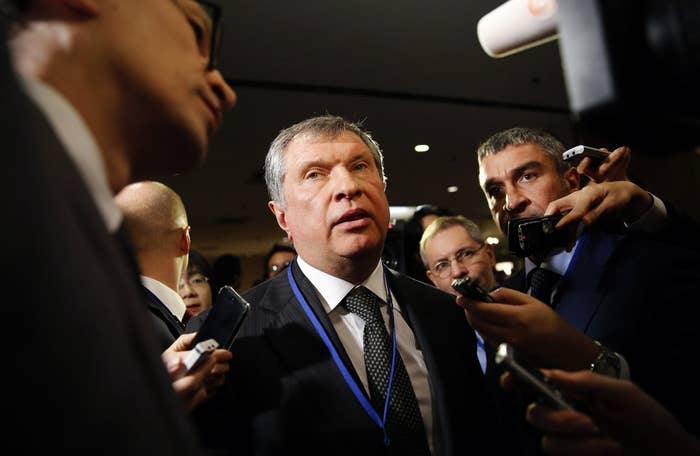 WASHINGTON — The Obama administration's decision to slap sanctions on Igor Sechin, the CEO of Rosneft, complicates things for two major U.S. companies that have become entwined with the Russian state-run oil company: ExxonMobil and Morgan Stanley.
Both companies declined to engage on the specifics of their future plans with the company, though both have shown signs that they'll continue with their respective relationships with Rosneft.
Exxon signed a deal with Rosneft in 2011 with potential investments in the range of tens of billions of dollars, and the Russian company made it clear on Monday they would move ahead with plans to explore two Arctic oil fields together.
Sanctions rules forbid U.S. businesses or persons from doing business with people or businesses on the sanctions list. Asked how Exxon would handle that, Jeffers said: "We will comply with all sanctions. I don't have anything beyond that at this time."
"We don't have any comment at this time," Exxon spokesman Alan Jeffers said, when asked whether the addition of Rosneft's CEO to the sanctions list would have any effect on Exxon's partnership with the company.
Meanwhile, financial services firm Morgan Stanley said it plans to continue with the sale of its oil trading unit to Rosneft, a deal announced in December.
"Our view is that we are very much on track to close [the deal] in the second half of this year," Morgan Stanley CFO Ruth Porat told Bloomberg television on Monday. The deal is subject to regulatory approval from the Committee on Foreign Investment in the United States (CFIUS), an interagency committee that reviews business deals for potential national security issues.
"Obviously it is subject to regulatory approval," Porat said, adding that she "can't comment on the regulatory environment."
"Our view is we are continuing to focus on closing the second half of this year," she said.
A spokeswoman for CFIUS declined to comment on the Morgan Stanley–Rosneft deal, which Bloomberg has reported has not yet been submitted for review and which may have to wait until tensions with Russia cool down.
"By law, information filed with CFIUS may not be disclosed by CFIUS to the public," the spokeswoman, Holly Schulman, said. "Accordingly, the department does not comment on information relating to specific CFIUS cases, including whether or not certain parties have filed notices for review."
A spokesman for Morgan Stanley didn't respond to a query about how the company plans to handle the new restrictions.
The deal would see Morgan Stanley, one of the first investment banks, to invest heavily in the physical commodities business, like shipping oil or gas, sell Rosneft its physical oil trading unit, which includes about 100 employees who work as traders and shippers in the U.S., U.K., and Singapore. Morgan Stanley also agreed to sell its 49% stake in the tanker company Heidmar to Rosneft.
The U.S. has imposed sanctions on Russian businesses, oligarchs, and government officials in response to Russian aggression against Ukraine. The latest round was announced after the U.S. judged that Russia had failed to live up to a de-escalation agreement reached in Geneva two weeks ago.
The Kremlin owns more than 70% of Rosneft. Sechin, its CEO, is a longtime ally of Russian President Vladimir Putin. Sechin had no experience in the energy business before joining Rosneft as chairman in 2004; he took over as president of the company in 2012.
Rosneft is one of the world's largest energy companies, with more oil and gas sales and reserves than Exxon (although it is is considerably less profitable), according to data compiled by Bloomberg. John Mack, Morgan Stanley's former chairman and chief executive officer, sits on the board of the company. Rosneft was a middling oil company until it bought up the assets of Yukos after the company was forced into bankruptcy following a Kremlin campaign. Yukos' former CEO, Mikhail Khodorkovsky, accused Sechin of organizing the campaign against him and his company. Sechin also oversaw Rosneft's $55 billion acquisition of TNK-BP, which was completed last year.
Insiders say the U.S. business community is nervous about the sanctions.
"They wish it weren't happening and wish that their business interests weren't being affected," said Ed Chow, a senior fellow in the Energy and National Security Program at the Center for Strategic and International Studies. He warned that the sanctions could have more of an impact on the companies than they realize. "There's a lot of wishful thinking on their part right now given how fast the Ukraine crisis has moved and given how things have increasingly gotten worse."
American companies' business relationship with Russia is small compared to Europe's; oil giant BP has a 20% stake in Rosneft and its chief executive sits on the Rosneft board. A spokesman for BP told the Wall Street Journal that it was "considering today's announcement to see specifically what this may mean for BP" but did not plan to stop investing in Russia.
Speaking about Exxon, one energy industry source said: "For a company of that size they [Exxon] have limited exposure, but obviously were planning for this to grow significantly. In terms of exposure it's not like BP which has major investments and not like Shell."
In Europe, companies with massive energy interests in Russia have succeeded in slowing down the European Union's efforts to levy sanctions against Russia. German and Italian energy companies as well as BP have reportedly been lobbying behind closed doors against increasing economic sanctions, convincing European officials that a cautious approach is best. The U.S., with its shale gas reserves, does not share Europe's dependence on Russian energy.
The risk to the companies is "a reputational risk," said Alexander Kliment, director of Russia research for the Eurasia Group. "No one wants to extend a loan to companies that, if things escalate, could be on a sanctions list."