Defense Secretary Says Chemical Weapons Have Been Used In Syria
The red line. The White House is advising Congress that sarin gas has been used.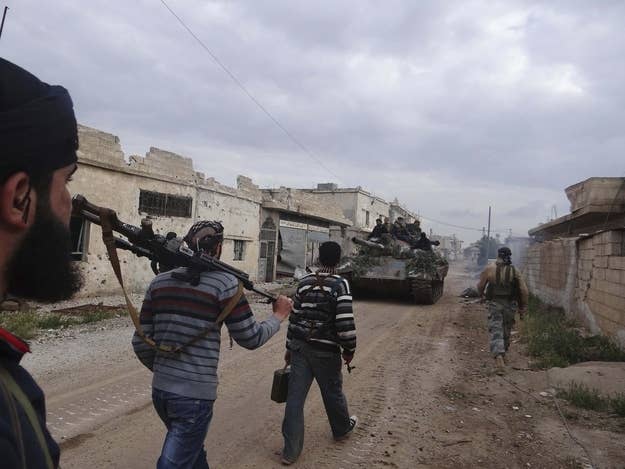 WASHINGTON — Defense Secretary Chuck Hagel said on Thursday that the government has evidence that chemical weapons have been employed in Syria, according to NBC News.
The use of chemical weapons has been the administration's stated "red line" which, when crossed, means the U.S. will intervene.
Hagel reportedly said that the specific agent used was sarin gas, and that it was done "on a small scale."
There have been allegations and some evidence of the use of chemical weapons in Syria before this, but this is the first time the U.S. government has confirmed their use.
The White House has sent a letter to Congress advising members that chemical weapons have been used.
Secretary of State John Kerry confirmed this information on Thursday, telling reporters that the government has evidence that chemical weapons were used in two instances.
Update: The letters sent from the White House to Sens. McCain and Levin are below:
National Security Council spokesperson Caitlin Hayden said on Thursday that the intelligence community had discovered "with varying degrees of confidence" that the Assad regime had used sarin:
Our intelligence community does assess with varying degrees of confidence that the Syrian regime has used chemical weapons on a small scale in Syria, specifically the chemical agent sarin. This assessment is based in part on physiological samples. Our standard of evidence must build on these intelligence assessments as we seek to establish credible and corroborated facts. For example, the chain of custody is not clear, so we cannot confirm how the exposure occurred and under what conditions.

Precisely because the President takes this issue so seriously, we have an obligation to fully investigate any and all evidence of chemical weapons use within Syria. That is why we are currently pressing for a comprehensive United Nations investigation that can credibly evaluate the evidence and establish what took place. We are also working with our friends and allies, and the Syrian opposition, to procure, share and evaluate additional information associated with reports of the use of chemical weapons so that we can establish the facts.

Given the stakes involved, and what we have learned from our own recent experience, intelligence assessments alone are not sufficient – only credible and corroborated facts that provide us with some degree of certainty will guide our decision-making, and strengthen our leadership of the international community.