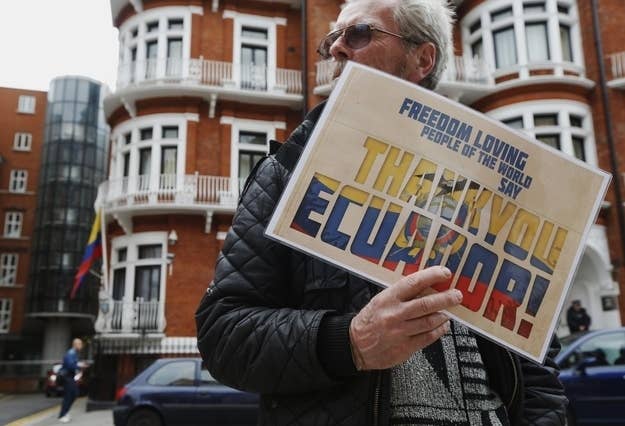 WASHINGTON — Uploading service Scribd Thursday pulled down a trove of Ecuadorian intelligence documents published by BuzzFeed in response to a copyright complaint from a Spanish firm with apparent connections to the Latin American government.
BuzzFeed received a notification from Scribd that the documents, which appear to show a deal between the Ecuadorian intelligence agency and an American broker for the purchase of spy equipment made by Israeli companies, had been removed. According to the notification, the documents were removed "because Scribd received a legally valid claim of copyright infringement pursuant to the Digital Millennium Copyright Act of 1998 (DMCA)."
The complaint was filed by Jonathan Palma of Spanish anti-piracy firm called Ares Rights, wrote to Scribd on behalf of Gabriel Guecelevich, Pablo Romero, Jose Miguel Delgado, Kobi Reuven, Amit Morag, Gabriel Marcos, and Carlos Diaz. Those names include two officials in SENAIN, Ecuador's spy agency, as well as the American intermediary and two of the Israeli manufacturers.
Palma asked Scribd to
Please suspend Accounts for massive copyright Violations***

d) The name, address, telephone number and email address of the Complainant:

Referred in section "a" (Electronic Signature)

e) I have a good faith belief that the disputed use of the material or activity is not authorized by the copyright or intellectual property owner and that the information provided in the notice is accurate.

f) I swear, under penalty of perjury, that the Complainant is the copyright or intellectual property owner or is authorized to act on behalf of the copyright or intellectual property owner and that the information provided in the notice is accurate.
In an email to BuzzFeed, Palma refused to confirm that he held legitimate rights to the material and refused to identify his client.
Unaware that any of the thousands of files that regulates our company was directly related to you, with an article or news content.

I see that apparently, some sources hosted on other servers, totally unrelated to Buzzfeed have been eliminated. Obviously our action has triggered a drop of the content that you embed, so I feel your content has been affected by a violation of another person. It was not our intention.

I can't explain the motives, strategies or identity of our clients. The reasons are part of our confidentiality agreement, our knowhow strategies, and with respect to customers, the Organic Law on Data Protection (LOPD) Spanish, prohibits the dissemination of data from our customers.

I just saw your second email. If the service you mentioned has sent the request to you, you are the uploader, which is very interesting and valuable information. Too I see now more sources in your post, hosted in Documentcloud and dropbox.

Ares Rights, does not have to discuss with the uploader, only to the server or service provider. If you need information, Ask him for the server or service provider.

Sorry I can't help more, now also, I confirm that you are the author of the publication of illegal files, With Copyright Violations.
Asked directly if he had been employed by the Ecuadorian government, Palma refused to answer.
"Sorry Rosie, i dont need make any statement," he said. "I wish you luck."
This is not the first time Ares Rights has involved itself in matters of concern to the Ecuadorian government.
In December, Ares Rights brought a copyright complaint to YouTube and Vimeo and tried to have a documentary that was critical of Ecuadorian President Rafael Correa taken down.
On Friday, Correa alluded directly to BuzzFeed's story on Twitter, saying that the allegations of surveillance had been a "farce" cooked up as punishment for Ecuador's rebelliousness. At a press conference on Thursday morning, the Minister of the Interior threatened the press: "We invite the national or international press to demonstrate one single case of groundless wiretapping. You have 24 hours to do so, or you will be determined to be liars."
BuzzFeed has re-uploaded the documents to DocumentCloud and into a Dropbox folder and has formally contested the complaint with Scribd. As of this writing, Palma had already sent another copyright claim to DocumentCloud.
Update - 1:55 p.m.: DropBox, like Scribd, also received a copyright complaint and removed the documents that BuzzFeed had uploaded.
Update - 7:55 p.m.: Legal blogger Adam Steinbaugh has dug up more examples of Ares Rights seeming to work on behalf of the Ecuadorian government, including this complaint lodged with Google that shows Ares claiming copyright on behalf of Ecuador's communications secretary, Fernando Alvarez.
Update - July 9: DropBox decided last week to reinstate the documents, according to a notice sent to BuzzFeed after BuzzFeed sent a counter-notice to contest the copyright claim by Ares Rights.
"The DMCA notice was submitted on behalf of Ares Rights, and our email to you on June 28 identifies the allegedly infringing material," DropBox's July 3rd email to BuzzFeed reads. "On June 28, we received and approved your DMCA counter notice, and have unblocked your public links. However, we need to continue to block the allegedly infringing material for the time period provided in the DMCA (not less than 10, nor more than 14, business days after our receipt of your counter notice)."