Ukraine Visa Bans Said To Include Top Government Officials
The Obama Administration responds to escalating official violence in Kiev.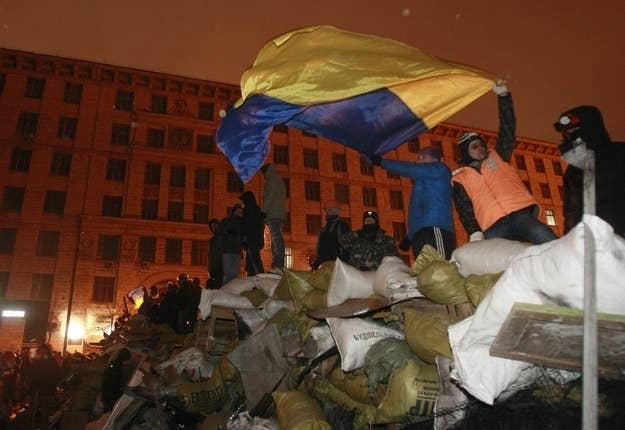 WASHINGTON — Ukraine's interior minister and top national security official are among those who have been slapped with a U.S. visa ban in the wake of the country's deteriorating political situation, Russian and Ukranian media are reporting.
The Russian newspaper Izvestia reported that a Ukrainian member of parliament said that the list of banned officials includes the Minister of the Interior, Vitaly Zakharchenko, as well as the Secretary of National Security, Andriy Kluyev.
Voice of America journalist Myroslava Gongadze reported on her Facebook page that two Party of Regions MPs, Volodymyr Oliynyk and Olena Bondarenko, had also been banned. Bondarenko has denied the ban, calling it "rumors." Oliynyk, who is one of the authors of the recent law that seeks to curb protests, told a Ukrainian outlet that "I do not have information about sanctions against me from the side of the US."
Two other sources close to the situation — one Ukranian and one American — said they had been told the list of visa bans, which the State Department does not typically make public, includes Prosecutor General Viktor Pshonka, President Viktor Yanukovych's legal adviser Andriy Portnov, and Justice Minister Olena Lukash.
The U.S. announced a new round of visa bans this week after violence in Kiev left at least four protesters dead. Mass street protests have sprung up in Ukraine after Yanukovych's decision to reject an effort to move closer to the European Union, and to turn closer to Russia instead, accepting a $15 billion last-minute Russian bailout to stave off default.
Spokespeople for the White House and the State Department declined to confirm the names on the list.
A spokeswoman for the State Department directed BuzzFeed to deputy spokeswoman Marie Harf's comments in Wednesday's press briefing:
Well, we obviously – we do have broad authority to revoke visas. As we said, these were several officials implicated in violence against peaceful protestors. For privacy reasons, I can't go into who they were. Obviously, we don't always talk about specifics on visas, but if information comes to light indicating that a visa holder may be inadmissible to the U.S. or otherwise ineligible, we do have a fairly broad authority to revoke those visas.
"In response to actions taken against protestors on the Maidan in November and December of last year, the U.S. Embassy has revoked the visas of several Ukrainians who were linked to the violence," reads a statement from the U.S. Embassy in Kiev from Wednesday. "Because visa records are confidential under U.S. law, we cannot comment on individual cases. We would like to underscore that the Department of State has broad authority to revoke visas based on information indicating that a visa holder may be inadmissible to the United States, and we are considering further action against those responsible for the current violence."
Senator John McCain (R-AZ), who visited Kiev to show his support for the protests in December and has stridently called for more U.S. action against the Yanukovych government, declined to confirm the names, but said, "the list is fairly extensive and unless something changes I would not be surprised if the Congress and the administration take some action." Senate Foreign Relations Committee chair Bob Menendez (D-NJ) said last week that Congress would take further action on sanctions on its own if the White House and State Department did not move forward.
The U.S. has also floated the idea of taking "additional steps" beyond visa bans.
"But we will continue to consider additional steps, as I said, including sanctions, in response to the use of violence," Harf said in the briefing on Wednesday. "We urge — continue to urge President Yanukovych and his government to protect the democratic rights of all Ukrainians, including the right to peaceful protest. And if we have to take additional steps, we will."