Two Volunteers Fight The Wisconsin Recall To The Finish
The bitterly polarized vote over Scott Walker is tomorrow. Today, a frantic scramble for the final votes.
Jason Pipes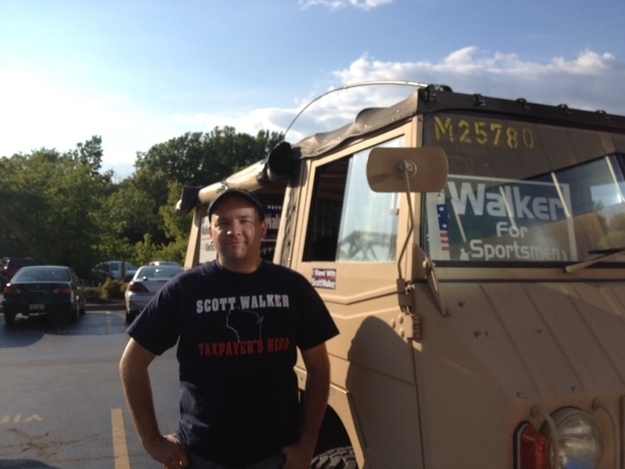 MILWAUKEE, Wisc. — Jason Pipes is not getting paid.
"I'm just a guy with a cool truck who realized he could do something with it," Pipes, 38, said on Monday during a drive through the cushier areas of Milwaukee, where he is campaigning for Governor Scott Walker from a 1970s Swiss military vehicle; he stops occasionally, and hands out signs.
In Greendale, a suburb to the north, Linda Greene, 55, was also in a truck. Hers was an orange Dodge Ram belonging to her husband, and she was out on yet another canvassing trip to get out the vote for Milwaukee mayor Tom Barrett. "Sometimes they'll slam a door in your face and that's okay," Greene, a Milwaukee Department of Public Works employee, said. She's gone on multiple canvassing trips organized by labor coalition We Are Wisconsin, knocking on doors with a bright smile and a clipboard of addresses.
Greene and Pipes are two cogs in the giant machine that is the get-out-the-vote effort in Wisconsin today, as both sides scramble in the day before voters will decide whether or not embattled governor Scott Walker stays in office. Both Democrats and Republicans tout their massive ground games, which are similar in scope and size but with an important difference: on the Walker side, the campaign and the state Republican Party are responsible for much of the frantic canvassing and phone calling, while on the Democratic side, a dizzying number of outfits — labor groups, the Barrett campaign, the Democratic Party, and others — are doing their own work in the final push. Sometimes this means multiple groups are knocking on the same doors and calling the same houses.
Greene is one of thousands of volunteers sent out by We Are Wisconsin this weekend; the group says they hit over 737,000 doors this weekend and will have made 1.5 million calls. The Barrett campaign puts its numbers at 940,000 doors knocked between Saturday and Monday morning and calls to around 880,000 voters, according to a Democratic source.
Wisconsin Republican Party spokesman Ben Sparks says that there were 500,000 volunteer voter contacts this weekend, and four million total — "double all of 2010."
Linda Greene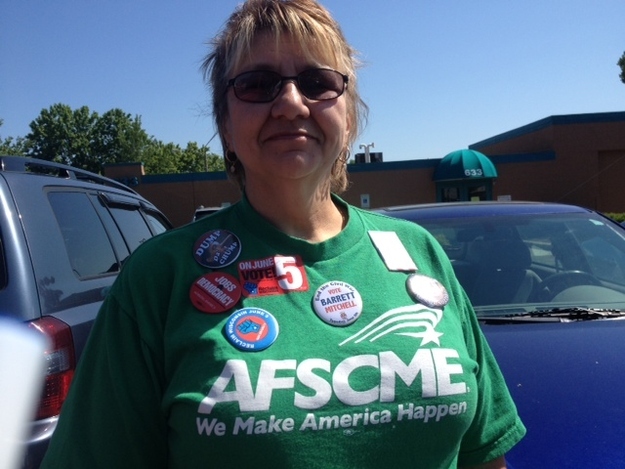 Today, Greene knocked on doors on Honey Creek Drive, a manicured suburban block with a an equal amount of Walker and Barrett signs. She is one of "thousands of volunteers" who came through the We Are Wisconsin office in the suburb of West Allis this weekend, according to organizer Helen Cox.
"You can always tell Walker versus Barrett by the sound of their voice," Greene said after a door-knock at the home of an unenthusiastic woman. "At that point I just try to smooth things over."
Greene knocked on 50 doors the past two days, she says. The organizers don't send her to houses that they think contain Walker supporters; most people on the list signed the petition that forced the recall election. And sometimes there's overlap with other groups canvassing; Greene said she's run into other canvassers covering the same blocks before, and on today's trip, four houses already had Democratic Party of Wisconsin fliers on them.
Most people's minds have long been made up anyway, something that became increasingly apparent on an excursion with Pipes.
Pipes drove around some of Milwaukee's most liberal neighborhoods today in his Walker-themed truck, before heading to the suburbs in the north, where a campaign office had asked him to come help out. The Walker campaign has 22 "victory centers" throughout the state.
"I've been to three or four campaign offices and they're all enthusiastic," Pipes said. "Everyone's been very excited about it."
Pipes is between jobs and his fiancée was away last week, so he came up with the idea of helping the campaign with his unique truck.
The truck alternately draws boos and cheers. Outside a vegetarian deli in Milwaukee, one man shook Pipes' hand, but two women threatened to have words with him. "Are you with him?" one of the women asked BuzzFeed. "I want to talk to him." (Pipes was inside the deli.)
The volunteers plan to keep hitting the streets tomorrow — after visiting the polls, of course.
Greene said she's not sure what they'll do when this is all over: "It's been the focus of everything for so long."