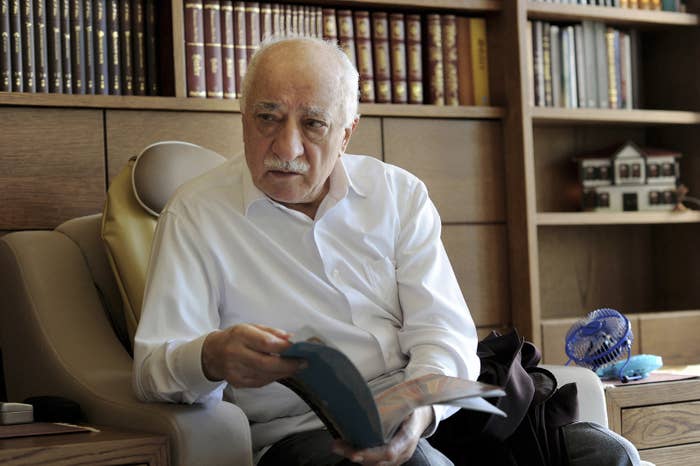 The failed military coup attempt in Turkey on Friday has brought a renewed round of attention to the public feud between the country's president Recep Tayyip Erdoğan and Fethullah Gülen, the secretive cleric who lives in a remote Pennsylvania compound, whom Erdoğan has accused of plotting the coup.
On Saturday, Erdoğan demanded that the U.S. extradite Gülen to Turkey, while Gülen suggested that Erdoğan had staged the coup as a false flag. But amid the war of words between Erdoğan and Gülen, it is worth keeping in mind that both sides have invested in influence operations in the U.S. Most recently, a Gülen-linked group hired the Podesta Group, a top lobbying firm with ties to the Clintons.
A Senate lobbying disclosure form filed last month shows that the Podesta Group registered in May to lobby for the Alliance for Shared Values, an umbrella organization that comprises several Gülen-linked groups in the U.S. Though the Alliance presents itself as being "inspired" and not necessarily directly speaking for Gülen, it frequently serves as his conduit to the media, releasing statements from him, including two most recent ones since the coup attempt began.
The Podesta Group filing with the Senate does not show the size of the contract nor the exact scope of the firm's responsibilities. A spokesperson for the Podesta Group, which was co-founded by Hillary Clinton's campaign chairman John Podesta — he is no longer with the firm — with his brother Tony, did not immediately return a request for comment.
In the filing, the Alliance for Shared Values' business is described as "promotion of peace, tolerance and interfaith dialouge [sic]." A spokesperson for the Alliance did not immediately return a request for comment.
Gülen leads an Islamic religious and social movement called Hizmet, meaning "service," and his followers in Turkey are thought to be well-represented in the country's power structures. Once an ally of Erdoğan, Gülen had a bitter falling out with him in 2013 over a corruption investigation into the ruling Justice and Development Party — something Erdoğan blamed on Gülen and his followers. Gülen has been living in the Poconos since 1999. His movement has developed a wide network of sometimes controversial charter schools in the United States, and has also made efforts to influence members of Congress.
Gülen has denied involvement in the coup in a statement released by the Alliance for Shared Values, and told reporters that "there is a possibility that it could be a staged coup."
Erdoğan, who immediately blamed Gülen for the attempted putsch and is demanding that the U.S. extradite him, also employs high-powered lobbyists in the U.S. The Erdoğan government hired lawyer Robert Amsterdam's firm last year to sue Gülen in federal court in Pennsylvania (the lawsuit was later thrown out by the judge). Amsterdam is bringing other litigation against Gülen in courts in Texas and California. According to Department of Justice filings, the Turkish government also hired the Gephardt Group in February.
U.S. Secretary of State John Kerry did not rule out the possibility of extraditing Gülen on Saturday, saying "We fully anticipate that there will be questions raised about Mr. Gülen. And obviously we would invite the government of Turkey, as we always do, to present us with any legitimate evidence that withstands scrutiny. And the United States will accept that and look at it and make judgments about it appropriately."