Trump's Attacks Aren't Fooling Ted Cruz's Supporters
What's worked on other Republicans doesn't seem to be working on Cruz in Iowa, where supporters say Trump's birther-style questions about the senator's eligibility aren't affecting their enthusiasm at all. "Ultimately any time [Trump] attacks anybody it's because something good is happening with them."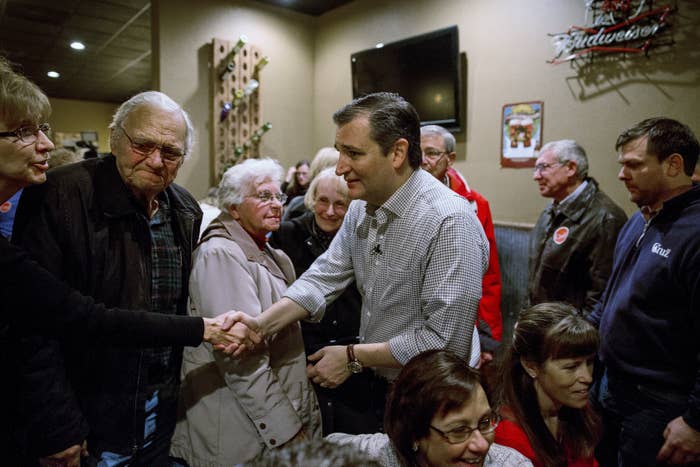 WEBSTER CITY, Iowa — Ted Cruz is doing his best to avoid Donald Trump's birther-style attacks, but it's not easy when you're on a bus tour with a pack of reporters questioning you about it every chance they get.
And when another rival candidate echoes the questions about whether Cruz is really eligible to be president, given his Canadian birth. And when a nemesis of yours in the Senate lends credence to the question, too.
So far, Cruz has dismissed the growing miasma the same way he has done in the past. (Trump has also raised questions about Cruz's evangelical Christianity and claimed Cruz.) He tries to ignore the jab, responds with a jokey counter-jab, blames the media for inflating the controversy and forcing him to talk about it, insists he likes Trump, and repeats as needed. Trump has succeeded — again — in getting the media and other candidates to deal with the topics he wants them dealing with, in the midst of Cruz's splashy Iowa bus tour.
But if Trump's goal is to turn voters against Cruz, there's no evidence it's working. It's just not clear that this is an issue voters are particularly interested in litigating, though, unlike with the birther movement that centered around Obama during the 2008 election — and there's just too much goodwill for Cruz here in Iowa. The same genre of attack that destroyed the likes of Jeb Bush seemingly can't be applied to Cruz, whose supporters are much more committed and less tenuous than Bush's.
"[Trump] goes after everybody, even poor people who have handicap issues," said Mary Lawson, 59, before Cruz's appearance in Sioux Center. "He says some awful things. I don't want that as our president, can you imagine?"
"Ultimately any time [Trump] attacks anybody it's because something good is happening with them and that's why he does it," said Jim Bolkema, 61, after the same event. "So the moment somebody starts emerging, that's when he goes on those kind of attacks. I'd say if [Cruz] is getting those kind of attacks from Donald Trump, he should be happy, because that means he's scared of him."
"I would care if I thought it was legitimate," said Vickie Froehlich, 61, who drove from Minnesota to see Cruz in Pocahontas, Iowa, on Thursday. "But I don't. And I admire Mr. Cruz, who has said he is not attacking people."
Trump has said stuff that's "not necessary," said Amber Bailey, 37, who is choosing between Ted Cruz and Marco Rubio and attended Cruz's event on Wednesday in Spirit Lake. "This week he's going after Senator Cruz for the Canada thing – like, mind your own business and take care of your own stuff."
Trump is a "jerk," said Nathan Lichter, 28, who saw Cruz on Wednesday night in Storm Lake. "I think he's not nice. I think you can be conservative, be very far right conservative, and still be kind and unifying and not divisive."
Trump is a "bum," said Tim Bever, 65, who went on Wednesday to see Cruz at a town hall event in Spencer. "I think we see through him. We see a suit, all the money, what goes with it."
There's also a contingent of Cruz supporters who see this as just the cost of doing business.
"It was a legitimate concern with Obama," said Wayne Wolf, 56, at Cruz's stop in Pocahontas. "People fall on both sides of the issue, I think it's a legitimate question to raise. I don't have a problem with him raising a question about Cruz." However, Wolf said, he's read up on it and doesn't believe there's a problem with Cruz's eligibility.
Gary, 71, who was attending Cruz's event in Storm Lake and didn't want to give his last name, said he's still choosing between Cruz and Trump and that Trump's attacks don't influence him either way.
"It's part of the politics, part of the game," he said.
Trump's motivation isn't really a mystery. Cruz is basically tied or leading in Iowa polls and is rapidly consolidating support among Iowa's conservative elite. Family Leader head Bob Vander Plaats and Rep. Steve King, both conservative stalwarts known and loved in Iowa and key endorsements for Cruz, have been accompanying Cruz on stops along his bus tour. Over the past two days, the campaign has named both of them as national co-chairs.
Speaking with BuzzFeed News on Tuesday night, King dismissed the Trump birtherism out of hand.
"I think Ted Cruz is a natural born citizen of the United States of America, so that would be my answer to that," King said. "Do you see anybody that was in the polls that looked like they were closing in or polling ahead of Donald Trump, and [him] not having attacked them? He promised he was going to do this, so I think it's completely predictable."
Cruz responded early to Trump by gently implying that Trump has jumped the shark, and has refused to go further than that. "I'm gonna stick with Fonzie jumping the shark and I'm gonna let the rest of y'all battle it out and that's fine," Cruz said on Tuesday evening. "I like Donald Trump, I like everyone on the Republican side who's running for president, and you guys have seen as others have thrown rocks, as others have tossed insults, I haven't reciprocated, and I don't intend to start now."
(This approach hasn't slowed down Trump at all; on Thursday morning, Trump tweeted at Cruz offering "free legal advice" for avoiding a legal entanglement over the birth question.)
While Cruz is largely giving Trump a free pass on the citizenship questions, he's not doing so with John McCain, who said in a radio interview that it's legitimate to question Cruz's eligibility and that he doesn't know whether Cruz is a natural-born citizen or not. Cruz told Bloomberg Politics in an interview on Thursday that McCain is playing into the birther rumors because of his alleged clandestine support for Rubio. Cruz repeated this claim while talking to reporters ahead of a campaign appearance in Webster City on Thursday afternoon.
"It is no surprise, everybody knows that John McCain is going to endorse Marco Rubio. Their foreign policies are almost identical, their immigration policies are identical, and so it's no surprise that people who are supporting other candidates in this race are gonna jump on the silly attacks that occur as we get closer and closer to election day," Cruz said.
Cruz noted that most of the voters he encounters don't seem particularly interested in this issue.
"As we travel the state of Iowa, none of these silly attacks that other candidates are pushing are being raised by real live voters," Cruz said.