Trump Is Mostly Behaving In The Final Days Of The Election
"We've gotta be nice and cool, nice and cool," Trump said. "Stay on point, Donald, stay on point. No sidetracks, Donald. Nice and easy."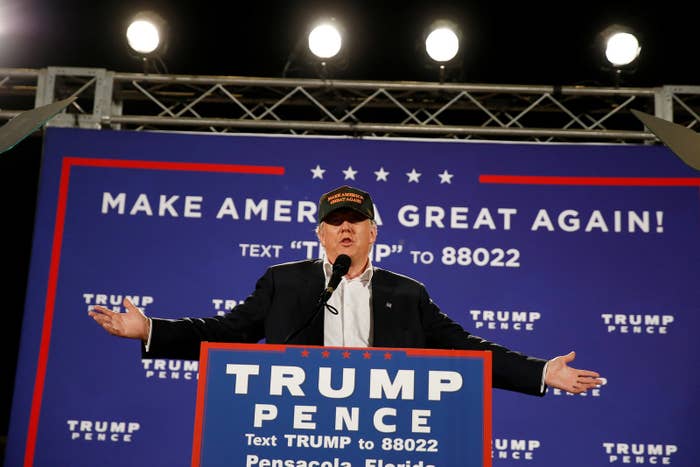 MIAMI — Less than a week before the end of the election, Donald Trump has finally started to get on message.

Over several rallies on Tuesday and Wednesday, Trump refrained from tangents about the women who have accused him of sexual assault and focused on Hillary Clinton's email scandal and his policy proposals, and even threw in correct local references tailored to where he's giving his rallies, mentioning the Pulse shooting while in Orlando and the Three Mile Bridge in Pensacola.
Trump also attempted to help a down-ballot Republican on Tuesday, telling an audience in Eau Claire, Wisconsin, to "get out and vote for Ron," referring to Sen. Ron Johnson, who is running for re-election against former Sen. Russ Feingold (though not Marco Rubio during three stops in Florida on Wednesday).
With so little time left, it remains to be seen whether Trump's newfound discipline will make a difference. And this is still Trump; he still at every rally incites the crowd against the media, and even singled out one reporter, NBC News' Katy Tur, at a rally on Wednesday in Miami, prompting attendees to jeer her. As far as that local color goes, his references are still often off-key, for example talking about mining and steelworking in Pensacola. And for weeks prior to this Trump's focus had been on fully embracing the dark, conspiratorial worldview of Breitbart, speaking of globalist conspiracies against him and a rigged election. But the aggressive darkness of his recent rallies has lightened somewhat in the past few days.
At Wednesday night's rally in Pensacola, Trump mused out loud about the need to stay on track, speaking to himself in the third person.
"We've gotta be nice and cool, nice and cool," Trump said. "Stay on point, Donald, stay on point. No sidetracks, Donald. Nice and easy."
Trump appears to be taking almost a nostalgic view of his own campaign, telling a Florida crowd that "this is the end of the beginning, when you think about it" and ruminating about how his parents aren't here to see him running for president.
The FBI telling Congress that it is looking into additional emails possibly pertinent to its investigation of Hillary Clinton's email server has ignited a firestorm in the election, and recent polls have shown the race tightening up a bit from Trump's mid-October cratering following revelations of a tape showing him bragging about assaulting women, and numerous accusations of assault.
Trump is at his most outrageous when he's most under attack. In one of the rare weeks in the election in which Clinton is more beleaguered than he is, he seems more capable of controlling himself on the trail.
And his rallies have also been given an imprimatur of normalcy by the sudden re-emergence of Republican National Committee chairman Reince Priebus, who was conspicuously absent from Trump events following the Access Hollywood tape bombshell but has campaigned with Trump several times this week so far, in Wisconsin and Florida. The Eau Claire rally in particular had the aura of a normal Republican affair, featuring appearances by Gov. Scott Walker and Sen. Ron Johnson as well as Priebus (House Speaker Paul Ryan was conspicuously absent).
Priebus made an enthusiastic case for Trump at several rallies, telling audiences that Trump and running mate Mike Pence would "protect the sovereignty of the United States" and slamming Clinton for the email story.
On Wednesday, Trump supporters at his rallies appeared to respond well to the more toned-down Trump.
At Trump's Miami rally, supporter Katrina Waugh said Trump's change in tone helped secure her vote. "I love it," she said. "At first I would sink" when Trump said something offensive. "Oh my god, he didn't say that. And then, all of a sudden, he came out like a whole new man!" Waugh always knew she wasn't going to vote for Hillary, but "I had doubts in the beginning," when it came to Trump, particularly during "the bickering and fighting."
"Today he said everything I liked," Waugh said.
Santiago A. Cueto, who runs his own law firm in Miami, was selling boxes of novelty cereal called "Trumpies" outside the amphitheater. Cueto said the change in Trump's demeanor was easy to explain. "When you're on the defense, you get angry. Now you're seeing a different Hillary and a different Donald."
Although the public "never really got a glimpse of the cool and calm" Trump, Cueto said this is the candidate's natural state. "That's generally him because things usually go his way."
Hannah Knowlton, a supporter at Trump's Orlando rally, said "I think from being a politician for this long of time his level of professionalism has risen. I think he's keying in on key points that need to be discussed here in the last couple days before the election."
Still, Trump's rough edges form a large part of his appeal to his core supporters, whom he still spends most of his efforts focusing on. (In Pensacola he said people had mentioned to him that he might not need to still campaign in the area, where he already has strong support; "you don't need to go there, you've got there vote," Trump said he was told. "I said, that's why I want to go there!").
"Unlike Hillary Clinton, where she's already admitted she's got a position for her public appearances and a position for her private appearances, I'd much rather have somebody like a straight-talker to just be totally honest with me," said Teresa Rivers, a supporter at the Orlando rally. "I think he's always going to be real."
Nitasha Tiku in Miami and Paul McLeod in Orlando contributed reporting.