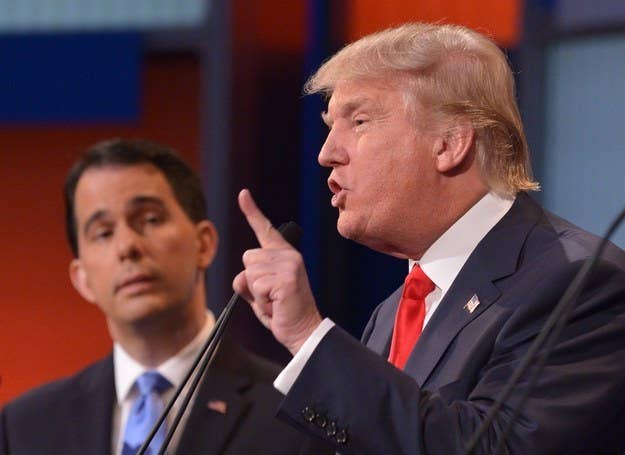 CLEVELAND — Donald Trump criticized the questions asked by Fox News in the opening presidential primary debate on Thursday, calling them "inappropriate" and saying that Megyn Kelly "behaved very badly."
"The questions to me were far tougher, and that I — supposedly, according to what everyone's telling me, I won the debate, according to the call-ins and everything," Trump told reporters after the debate. "But the questions to me were not nice, I didn't think they were appropriate, and I think Megyn behaved very badly personally."
Trump said Kelly's question about Trump's history of sexist remarks about women's appearances was an "unfair question," but said, "The answers were good obviously, because everybody thinks I won."
Asked if he would call Roger Ailes about this, Trump said no. Ailes and Trump reportedly had a private lunch shortly after Trump announced his presidential campaign in June.
"They weren't even questions, they were statements that they asked," Trump said of the questions the moderators posed.
The Fox News hosts who moderated the debate — Kelly, Bret Baier, and Chris Wallace — were tough on Trump throughout. They made him admit that he would consider a third-party run, asked him when he became a Republican, and asked tough questions about his record on sexism and his business career. The debate may have signaled a shift in tone for Fox, which has heavily covered Trump since he became a candidate and whose hosts often defend him.
Trump's lawyer Michael Cohen also went after Fox on Twitter after a focus group on Fox led by Frank Luntz criticized Trump's performance after the debate.
Trump himself went on to rant (or RT rants) about Kelly in the early morning hours of Friday.
While speaking to reporters, Trump also discussed his phone call with Bill Clinton this spring.

"He called me, we had a nice chat about something, and he's not happy that I'm running, I can tell you now, because I think he thinks I'm the worst nightmare for Hillary," Trump said. Trump said he had decided to run before speaking with Clinton.