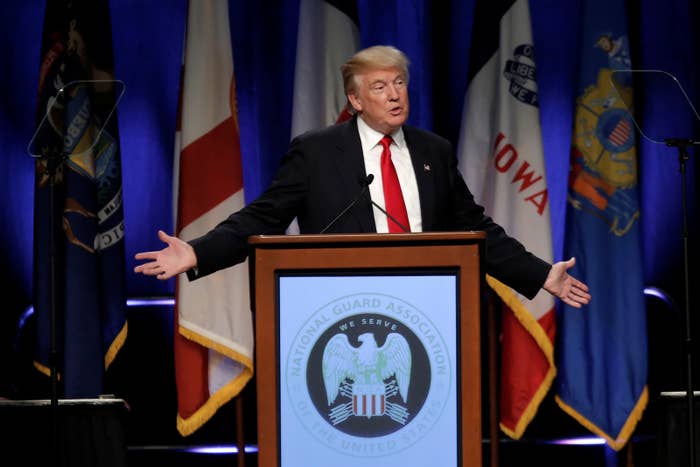 BALTIMORE — Donald Trump encouraged Hillary Clinton in a speech on Monday to get out of the race if she doesn't take back her comments about half of Trump supporters being in a "basket of deplorables."
Trump was speaking to the National Guard Association conference at the Baltimore Convention Center, using a teleprompter, when he made the comments. The first section of Trump's speech focused heavily on Clinton's remarks, which she made at a fundraiser last week.
"If Hillary Clinton will not retract her comments in full, I don't see how she can credibly campaign any further," Trump said.

"These were lengthy, planned and prepared remarks," Trump said. "It was perhaps the most explicit attack on the American voter ever spoken by a major party presidential nominee."
"You can't lead this nation if you have such a low opinion for its citizens," Trump said. Trump's defense of his voters against Clinton's accusation played into themes that have energized his supporters, like opposing political correctness and rejecting accusations of racism or xenophobia.
Clinton has said in a statement that she "regrets" saying that half of Trump's supporters are in the "basket of deplorables," though she has not actually apologized or taken back the comment.
Trump did not mention Clinton's health incident over the weekend, in which she left the 9/11 memorial ceremony early and was then filmed appearing to be unable to walk as she was helped into a van. Clinton went to her daughter Chelsea's apartment in Manhattan and left to her home in Chappaqua, while the campaign said she had "overheated" and only later admitted that she had been diagnosed with pneumonia on Friday.
Trump did mention the issue earlier in an interview with Fox News on Monday morning, saying "Something's going on, but I just hope she gets well and gets back on the trail." Even before Clinton's public health scare on Sunday, there had been heavy speculation in the conservative media and talk radio spheres that Clinton has been hiding some medical condition. Neither candidate has released as much medical information as previous candidates.
Trump's remarks to the National Guard Association conference lasted around 20 minutes. Much of the speech was aimed at Clinton, though Trump also touched on foreign policy and national security.