Top Ukrainian Diplomat Hints At Need For Lethal Aid
Some in Congress agree.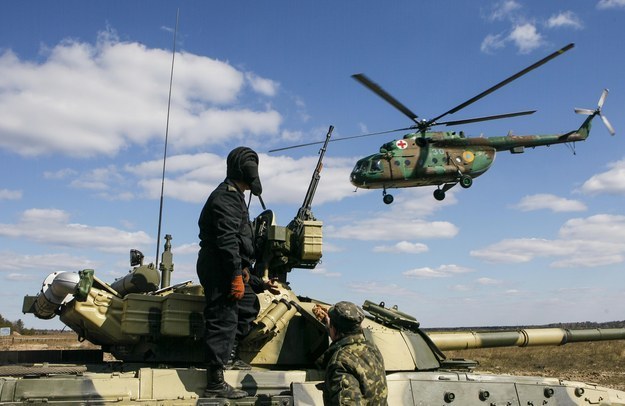 WASHINGTON — Ukraine's deputy foreign minister hinted on Thursday that the Ukrainians still want the United States to send weapons to their military, as some in Congress have ramped up calls for lethal aid to be provided to the country.
"We would definitely be interested to gain all necessary means to protect our country," Danylo Lubkivsky, the Ukrainian deputy foreign minister, said at a briefing at the Carnegie Endowment for International Peace in Washington, when asked if the Ukrainians were asking for defensive weapons from the U.S. "We have to protect Ukraine against the aggression. All possible means that may help in this case should be used."
"We will defend ourselves and we do believe that we will not be alone in that fight if that fight will turn into a direct conflict," Lubkivsky said.
Oleksandr Motsyk, the Ukrainian ambassador to the U.S., said, "We need all kinds of assistance."
"It was already pledged to provide to Ukraine some nonlethal weapons like helmets, like some dress, uniforms, and so on," Motsyk said. "We hope for the continuation of this process."
The U.S. has so far rebuffed Ukrainian requests for lethal military support during the crisis, though it has agreed to provide some nonlethal aid like helmets and MREs. Ukraine has requested arms and intelligence assistance.
Sen. John McCain has been calling for the Obama administration to arm the Ukrainians, telling the Wall Street Journal on Tuesday, "Please give the Ukrainians defensive weapons."
Sen. Bob Corker, the top Republican on the Senate Foreign Relations Committee, called last week for the U.S. to "consider anti-tank weaponry, anti-aircraft weaponry."
The Ukrainian officials on Thursday also called for increased sanctions on Russia — not just personal sanctions on officials and oligarchs, but broader economic sanctions.
Lubkivsky said that they had had to restart "anti-terror" operations in the east due to aggression by pro-Russian separatists, and that they hadn't consulted with Vice President Joe Biden about it during his recent visit to Ukraine.
"The antiterrorist operation is our internal decision," Lubkivsky said. "We did not discuss that. This is our internal sovereign decision to protect our people."
Ukraine has launched an "anti-terror operation" to take back parts of east Ukraine, occupied by pro-Russian Ukrainian forces. There were reports that several people had been killed and wounded. In response, Russia launched military exercises on its border with Ukraine on Thursday.