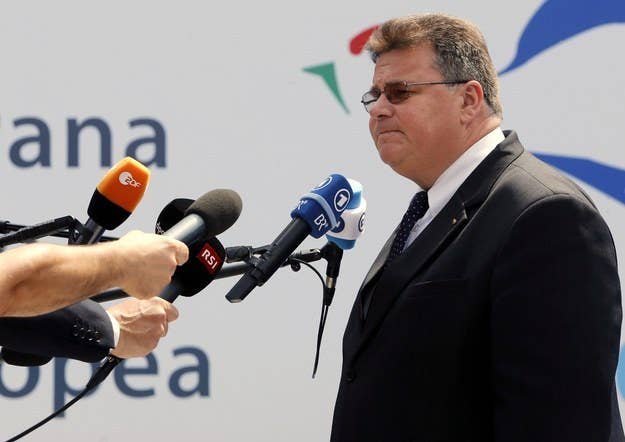 WASHINGTON — Lithuania's foreign minister said Tuesday that Russia's attempts to destabilize the Baltic states are increasing and that it is financing propaganda inside the country.
Speaking in an interview with BuzzFeed News after an appearance at Johns Hopkins' School of Advanced International Studies, Lithuanian Foreign Minister Linas Linkevičius said that Russia is "testing" what it can do, and said that Russia's alleged abduction of a security officer in neighboring Estonia is part of a pattern.
"This is testing," Linkevičius said. "This is [a] method of testing what kind of reaction — could be political level, practical level, public mood — and this increases tensions."
Linkevičius cited more examples from Lithuania, including Russia's decision to re-open cases against Lithuanians who refused to be conscripted into the Soviet army before Lithuania's independence. He also accused Russia of having illegally seized a Lithuanian fishing vessel.
"And that was really additional tensions with regard to fishery activity," Linkevičius said. "And I believe it's not the end."
But he said Lithuania was not overly concerned about facing the same level of aggression as Ukraine, which has faced escalating aggression by Russia since last winter, culminating in a recent land invasion.
"There are threats but when you're talking about conventional threat to security, fortunately we joined the European Union and NATO 10 years ago and that was the right decision obviously, now we can really feel this is the case," Linkevičius said.
Asked whether Russia was spreading its influence by funding NGOs or other groups in the country, Linkevičius said, "I shouldn't say about extremist groups in Lithuania because they're not existing so far, but when it comes to the information propaganda machinery, this is really definitely true."
Russia is "financing propaganda sources" in Lithuania, he said, and using companies like Gazprom to influence issues in Lithuania, spending "billions of dollars" along the way.
"It's a big big deal," he said.
"You cannot occupy so easily NATO territory but you can conflict, make tensions, use some minorities," Linkevičius said, adding that he didn't think Russia would be able to use the Russian minority in Lithuania because they are well-integrated and loyal to the state.
"I don't think we could be manipulated so easily," he said. But "we do feel this influence really quite quite strongly."
Linkevičius said he hoped the European Union would level harsher sanctions against Russia, since the sanctions enacted so far have not prevented it from invading Ukraine and he fears a repeat of the West's response to the Russia-Georgia war in 2008.
"It went back to business as usual in two months in Georgia," he said. "In two months, we go back to business as usual, and they can do it again."
He said he had confidence in Federica Mogherini, the newly appointed E.U. foreign policy chief who critics have accused of being soft on Russia, despite the fact that Lithuania's president had originally voted against her nomination.
"Not time to talk about that, because now she's appointed and we have to cooperate. I trust she will do her best to streamline the process, to be impartial moderator, and let's give her a chance to implement the tasks and challenges, so no need now to come back to these discussions," Linkevičius said.
Linkevičius said a Russian-style anti-gay propaganda law that was introduced earlier this year in Lithuania wasn't a sign of Russian influence, but that Lithuania's own culture has to change — and is changing, he said.
"Time is healing this situation and we are progressively moving ahead," he said. "The progress every year is very visible. We cannot speed up or force the process, it would be counterproductive."