Top Democratic Iran Sanctions Supporters Back Off Sanctions Bill
Senate Democrats sent a letter to the president telling him that they won't support a vote on the Kirk-Menendez sanctions bill until March.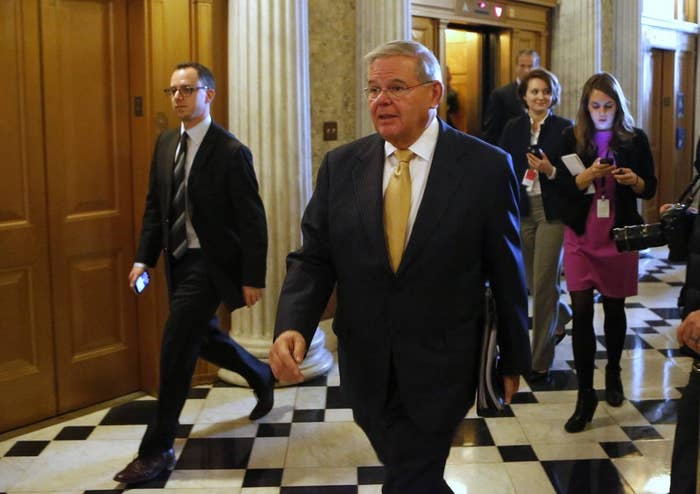 WASHINGTON — Two of the top Democratic supporters of a controversial Iran sanctions bill publicly backed off the legislation on Tuesday.
Sen. Robert Menendez, who is the co-author along with Republican Sen. Mark Kirk of a bill that would impose new sanctions on Iran immediately if current nuclear negotiations fail, said during a Senate Banking Committee hearing that he does not want the bill to come to the Senate floor for a vote until after a March 24 deadline in the negotiations.
Menendez confirmed that he along with other Senate Democrats who have supported the bill sent a letter to the administration Tuesday morning saying that they will not push for a vote on it before March 24.
"This morning, however, many of my Democratic colleagues and I sent a letter to the president telling him that we will not support passage of the Kirk-Menendez bill on the Senate floor until after March 24, and only if there is no political framework agreement," he said Tuesday, "because, as the letter states, we remain hopeful that diplomacy will succeed in reversing Iran's ability to develop a nuclear weapon capability in accordance with the timeline that the P5 +1 and Iran negotiating teams have set for themselves, which is March 24, 2015, for political framework agreement."
"But we also say in this letter that we remain deeply skeptical that Iran is committed to making the concessions required to demonstrate to the world that its nuclear program is exclusively peaceful by March 24," Menendez said.
Sen. Chuck Schumer, the number three Democrat in the Democratic caucus, also said he does not want a vote on the bill before March, though he said he still supports it. Schumer's office said last week that he intends to co-sponsor the bill.
"The president has said that he needs a little more time," Schumer said. "I, along with a group of my colleagues...are releasing a letter that states we will not vote for the bill on the floor of the Senate till then."
Schumer said he still intends to vote for the bill when it comes up in committee on Thursday.
"Barring significant changes to the bill, I intend to vote for Kirk-Menendez in the committee on Thursday so a bill can be ready to go" if a preliminary agreement is not reached by March 24. The final deadline for a completed deal is June 30.
Even Senate Democrats who co-sponsored the bill last year have been hesitating on it this year. he bill never came to a vote last year because Democratic leadership prevented it at the behest of the White House; this year, however, the new Republican leadership has promised to put it to a vote, which would force Democrats into a direct confrontation with the White House. The Obama administration staunchly opposes it and President Obama has threatened to veto the bill. Without enough Democrats, the Republicans would not be able to cobble together a veto-proof majority.