1.
Uptown Cabaret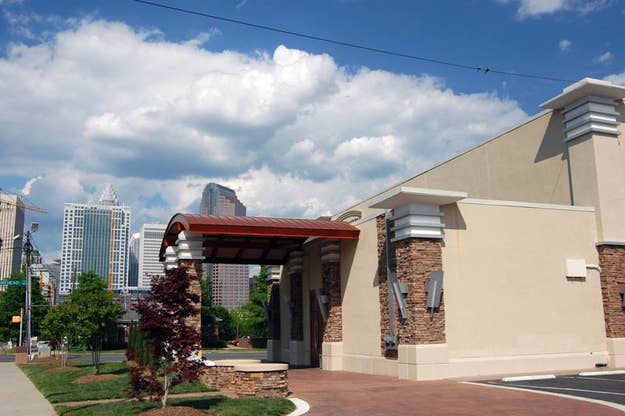 Uptown Cabaret, a mere 10 minute walk from the convention center, is considered one of the nicer strip clubs in Charlotte. Lapdances run for $20 or more, and drinks are reportedly expensive. The cover on Friday and Saturday nights after 1:30 a.m. includes breakfast.
Reviews are positive, praising a relaxed atmosphere and not too much sleaziness:
So ladies and gentlemen, this is my favorite "dance" club in the big CLT. Partly do to the layout, more do to the women! Though in the past couple years the women have gone down hill. It seems after the remodel the women left and the younger girls came in. I don't know about anyone else but I like a WOMAN, not a young girl. Regardless this is the spot. It's close to uptown right on Tryon and well worth the $10 taxi ride there. Seriously.
However, it is apparently sticky:
I was immediately turned off. Everything was sticky...the bar where I sat down to fill out my employment application was covered in some kind of sticky funky ickiness. It was not sexy.

The dancers were lovely, and they seemed friendly...I hear this is Charlotte's best strip club, but I was just so skeeved out by the stickiness that I couldn't appreciate the rest of the environment. Also, the cheesy sex hotel behind the place freaks me out as well.
And no one wants to see this:
Best part of the night? A 400 lb. (at least) man being brought on stage by a bunch of dancers and they slowly took all his clothes off down to his underwear. Probably the best night of that guys life next to his wedding (he was the bachelor).
2.
Men's Club of Charlotte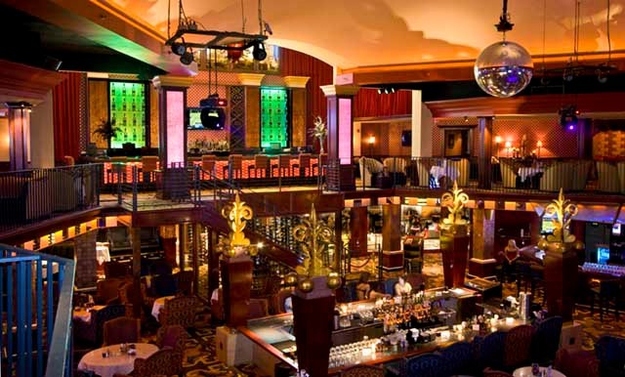 Along with Uptown Cabaret, considered one of the higher-end strip clubs in Charlotte. The Men's Club is located in the residential Starmount neighborhood in south Charlotte, only a 10-15 minute drive on the highway from the convention center. Per its website, the club is "popular with the business crowd, sports-watching fans and couples out for date night," and looks to be a popular lunch spot as well as strip club. Like Uptown, they have a breakfast deal.
Reviews make the place seem targeted towards men who like steak first, naked women second:
The best part of this club though... the FOOD!!! They have specials during the week, my fav being free steaks on Fridays with $2 sides. Beer IS cheaper than water here so ya might as well drink a corona with your lunch, one wont hurt! Like uptown this place has a breakfast buffet late on Friday and Saturday nights. Unlike uptown the selection is huge and you can go in line more than once. You may as well just go once as the line is HUGE. Go early, get in line first... Trust me.
Don't expect a "special" lap dance:
The ladies on the stage start off with clothes on, and then they quickly remove them. They are as naked as Meck County and North Carolina allow them to get. While I managed to snag the seat that wasn't facing the stage directly, there was still a lot of eye candy about, from our bustier and mini-skirt dressed waitress (her name is 'Hollywood') to the dancers (before and after their stage time) asking if we wanted company at our table and the ones who did offer 'company' to some of the tables nearby. The ladies are quite... flexible and... friendly. The lap dances were lengthy and very hands on (above the waist). I have no doubt that the place is completely above board and that there are no 'special deals' going on in the side rooms.
Distance from the convention center:
3.
Twin Peeks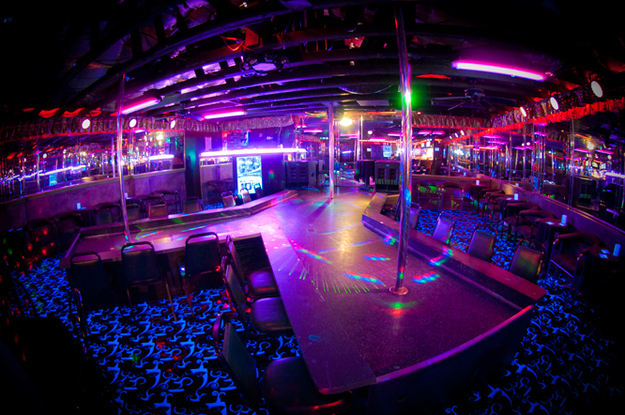 On the lower end, Twin Peeks is popular. It's located in the University area of Charlotte, and is by all accounts a regular and affordable strip club, for any non-high-rollers that will be at the convention.
Apparently you can really enjoy Twin Peeks on the cheap:
The women... this place is a wonder. Generally they are mediocre at best but sometimes.. sometimes there will be some good looking ladies. Again I generally go with $$$ and after a few drinks everyone knows people start looking better but, you seriously can catch an occasional good looking girl.

They do have a VIP section which consists of a leather couch, and twice the price of a table dance... so whats the point. Get a stack of cash, spread it on your table, and the girls will come. Table dances are only $10, if there is a new girl tell her its 2 for $10 and she wont know better! Only happened to me once but hey it was worth it! Eventually she'll catch on.
But are the dancers too demanding about lap dances?
Twin Peaks, On any given night you can see some of the sexiest lady that Charlotte have to offer. The club is a very open space with the dance floor in the middle of the club, so there is no bad sit in the place. On the average the drinks are $5 to $7 which are about the same at any other club around the area. The men room is small but clean. The dancers are friendly but some could use a little more tact when asking for a dance. I understand that is their job but if they took the time to just say hello one might be welling to get more then just one dance.
Distance from the convention center:
4.
Chasers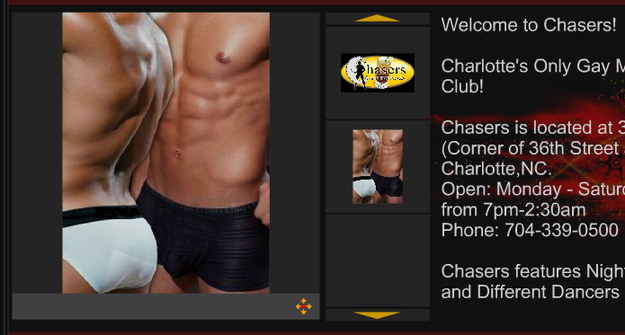 For those who would like to watch men dance instead of women: Chaser's is Charlotte's only gay male strip club. It features male dancers every night of the week until 2:30 a.m., plus drag acts as well as "All Request Wednesdays" with "Mike, David & All the Chaser's Boys!". Roughly a ten minute drive from Bank of America Stadium.
Reviews, however, are mostly to the tune of this:
Dear God. Bring a Clorox wipe.
They have at least one fan:
fun flirty and welcoming. i like this bar.yes they have dancers that is their job to entertain the patrons.you have control of what you do! most of them are hot,nice and care about their patrons.i have been attending for 7 weeks now and 2-3 times a week. you are made to feel wlecome they don't hustle they talk to you,and listen. the bartenders are great too they have made me feel like a part of their community. if you have not been come and check it out bring money to drink and tip the boys they do their jobs and should be tipped just like a waiter etc.this is now my home away from home.
Distance from the convention center:
The Gold Club aspires to best Uptown Cabaret and the Men's Club in classiness, advertising its "an upscale decor without the upscale attitude or prices" on its Facebook page (where it posts photos of the strippers and asks fans to vote on their hotness). It even has a video promo. It's close to downtown and across from the light rail; according to the breathy stripper in the promo, you can get in free with your light rail ticket. A good option for convention attendees who aren't renting cars.
Don't get scammed like this guy:
Best 5 lap dances (upstairs) I have ever had. Only problem was they tried to charge me for 9. Paid for 6 after a long hassle with the manager. Definately got scammed! If you go upstairs pay as tpu go so you don't get scammed!
This one had a bad experience at Uptown:
I GIVE THIS CLUB 4 THUMBS UP BECAUSE UNLIKE THE SNOOTY AND OVER-RATED MEN'S CLUB OR UPTOWN CABARET, GOLD CLUB HAS BETTER CUSTOMER SERVICE AND TREATS THEIR ENTERTAINERS SO WELL!!!! I TOTALLY RECOMMEND THIS CLUB TO ANYONE WHO WANTS TO HAVE FUN WITHOUT BEING ROBBED BY GREEDY MANAGERS. THE ATMOSPHERE AT THE GOLD CLUB IS CLASSY YET MORE RELAXED AND WELCOMING TO PEOPLE OF ALL RACIAL BACKGROUNDS UNLIKE THE SNOOTY MEN'S CLUB AND UPTOWN CABARET ( I HATE THESE TWO CLUBS, DON'T GO THERE) ! GO TO GOLD CLUB INSTEAD!!
Distance from the convention center: